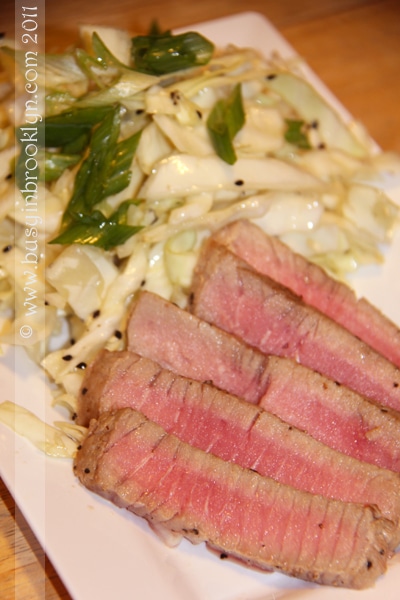 Years ago, I ordered tuna steak at a restaurant for the first time. I had never eaten it before, so I had no idea what it was supposed to taste like. When the kitchen delivered a bone-dry piece of tuna, I thought that was the way it was meant to taste, and that was it for me. I had no interest in ever eating it again. Fast forward a few years and I was watching an episode of Chopped on the Food Network. They mentioned one of the competitors websites so I checked it out. I happened upon a video of the chef preparing a pan-seared tuna steak and it was the most beautiful piece of fish I had ever seen. The very next day I was off to the fishmonger. I heated up my skillet, and in 5 minutes flat I had the most juicy, mouth-watering piece of fish. I can't say enough how simply delicious this is. No need for spices, sauces or fancy marinades – just a sprinkle of salt and pepper and you'll be blown away!
Pan Seared Tuna Steak
1 tuna steak
olive oil
kosher salt
freshly ground pepper
Method:
Rinse tuna steak and pat dry on paper towel. Heat up a frying pan over medium-high heat and drizzle with olive oil. Sprinkle tuna steak with kosher salt and freshly ground pepper and add seasoned-side-down to the pan. You should hear it sizzle (if you don't, your pan is not hot enough). Sprinkle the top with salt and pepper. Sear for 2 minutes and flip, searing the second side for 2 minutes as well. Using tongs, hold the fish on its side and sear all around. Remove from pan and slice into 1/4″ slices. If you like your tuna more well done, continue to cook until desired doneness.
Simple Cabbage Salad
1/2 head cabbage, sliced
1 tbsp sesame oil
1 tbsp safflower oil
2 tbsp rice vinegar
salt and pepper, to taste
black sesame seeds
scallions, for garnish
Method:
Slice cabbage into thin strips. Mix with oil, vinegar, salt, pepper and sesame seeds. Garnish with scallions.