I gave you a sneak peek at this light summer salad a few weeks ago, and I'm so excited to finally share it here for keeps! Credit for this awesome combination actually goes to a restaurant named "BLUEBERRY" on Avenue M in Brooklyn. It's a family-friendly place with fluorescent green walls (not their finest choice) and some great outdoor seating. I love to take my kids there because they've got great kid food and a frozen yogurt bar to boot! They've also got some really great salads on the menu, like a version of this blueberry salad (you've got to make a mean salad if it's literally got your NAME written all over it, right?), and a delicious haloumi salad with grilled veggies and a sesame teriyaki dressing. I must reinvent that one next! They've also got an assortment of malawach and shakshuka, and you all know how I love me some Israeli food.
Thanks to Blueberry for giving me the awesome idea of putting granola on a salad, it's such a fun way to add crunch, especially during the summer months. Enjoy!
Blueberry Sweet Potato Granola Salad
1 large sweet potato, cut into bite size pieces
1 tbsp olive oil
salt and pepper, to taste
mixed greens
1 pkg blueberries
1/2 cup granola (make your own)
Preheat oven to 400 degrees. Spread the sweet potato out on a baking sheet and toss with olive oil, salt and pepper. Bake for 25-30 minutes until tender and crisped around the edges.
Place greens in a large bowl and top with sweet potato and blueberries. Sprinkle with granola and drizzle with yogurt dressing.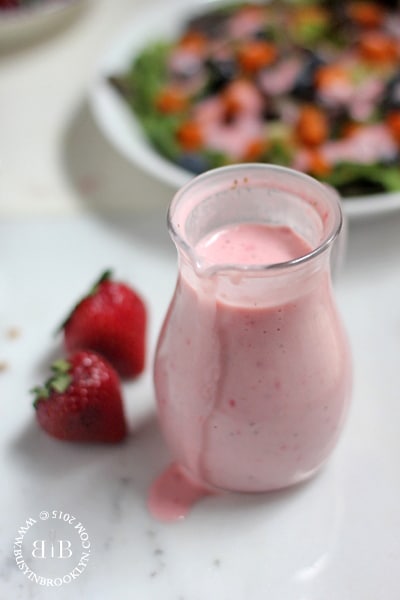 Strawberry Yogurt Dressing
6oz. plain Greek yogurt
4 large strawberries
1 heaping tbsp honey
drop of vanilla extract
Puree the dressing ingredients in the blender until smooth.