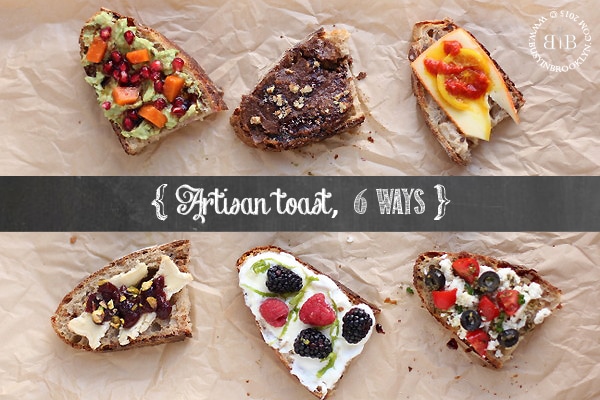 Making my own sourdough bread has been on my wish list for years. I love the dark, crunchy crust on the outside and the chewy, tender crumb on the inside. Give me some sourdough bread and I'm a happy gal.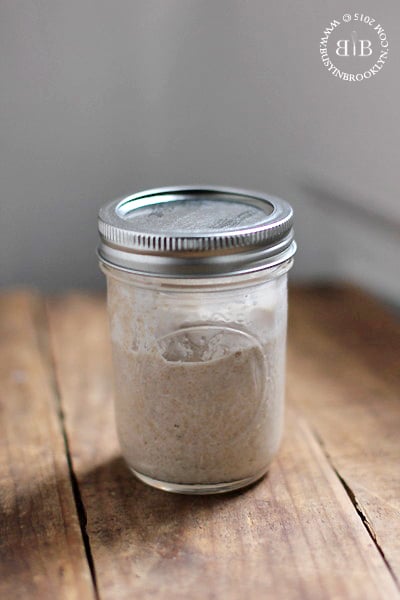 I've even turned my husband into a sourdough snob and now that the Artisan Bakeshop has opened in my neighborhood, we splurge on their bread every week for Shabbat. We can't go back to regular Challah even if we wanted to. We are sourdough snobs, period.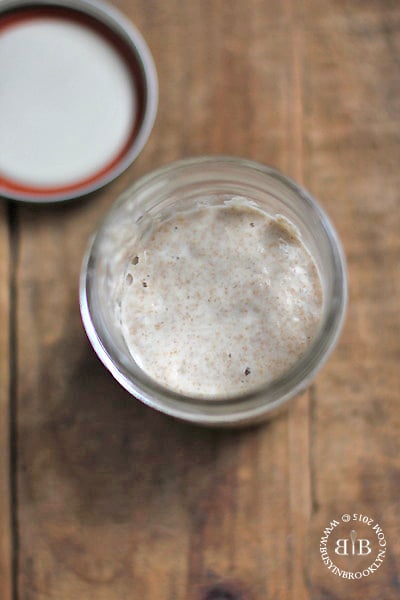 Well, somehow, G-d was listening to my inner sourdough goddess when I ended up sitting right next to the Queen Of Sourdough at the recent Kosher Food Blogger Conference. Chaya Suri (also known as Spice & Zest) is a talented home cook who doesn't shy away from a challenge. She taught herself the ins & outs of sourdough when she began her starter three years ago, and she's never turned back! She makes sourdough everything – crackers, pizza, pretzel buns, pita, challah, even sweets like babka and donuts! I invited her over for a hands-on sourdough class-turned-artisan toast party and Oh. Em. Gee. you guys. Her bread is insane. And now, now I have my own starter blooming in the fridge, and my own batch of sourdough bread ready to be baked! I've hopped on the sourdough train and I'm never turning back!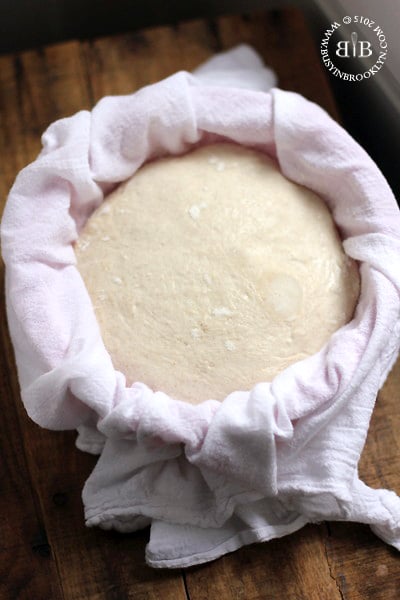 The best part of cooking together with another foodie is that we speak the same language. Chaya Suri loves using herbs and spices in her cooking (hence the name Spice & Zest, soon to be a food blog!) and her creations are healthy, creative and full of flavor. I drool over her Instagram posts and I can't wait to cook with her again! Of course I picked her brain about some of her favorite cookbooks, kitchen tools and spices, and lets just say my Amazon shopping cart is loaded to capacity.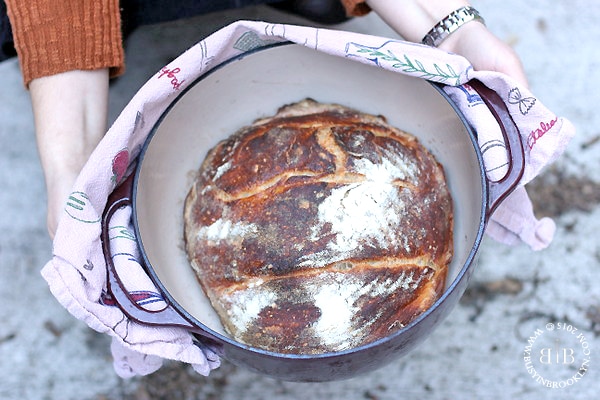 So first things first, Chaya Suri came with her cast iron pan, a batch of ready made dough and sourdough starter. We baked up her bread and a quick batch of her amazing (and easier than ever) sourdough crackers and then started on a new batch of sourdough bread from scratch. To say I was a little overwhelmed by the whole you-need-to-take-care-of-your-starter-like-another-child thing is an understatement. I've been known to kill every plant I ever had. But I'm going to try. And if my starter "chokes", I'm just going to have to bother the Queen of Sourdough for a fresh batch! ;)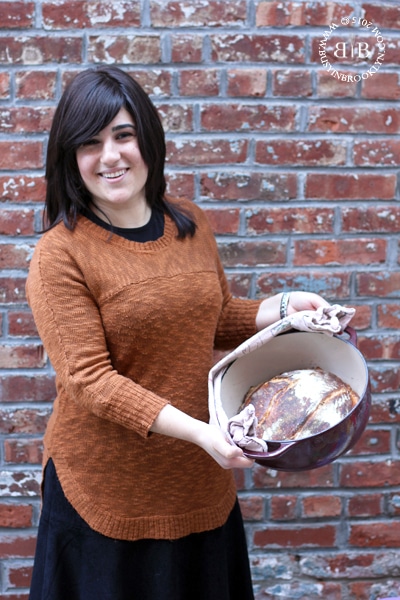 After we put together our 85% hydrated dough, we set it aside for the autolyse stage (don't ask me what that is, just hire Chaya Suri for your own class!) and got started on our toasts. Artisan toasts are all the rage right now, and being a huge fan of Zak The Baker, I couldn't wait to put together my own Artisan bites.
In true Zak the Baker style, I even made a custom chalkboard for the occasion!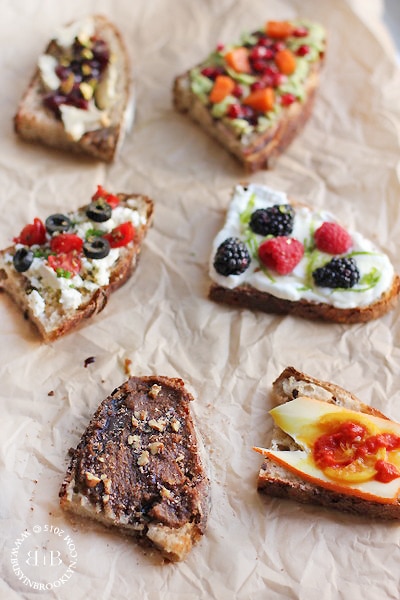 We made some fun combos including avocado toast with persimmon and pomegranate (with pomegranate molasses and sriracha salt!), Gingerbread toast with my own homemade gingerbread pecan butter (it's as good as it sounds!), camembert toast with port cranberry jam, berry toasts with creme fraiche, honey & lime, feta toast with tomatoes, olives and za'atar (because I always HAVE to have za'atar on the table) and finally, a spicy cheese toast with preserved lemon and harissa (because you know I'm obsessed with the stuff).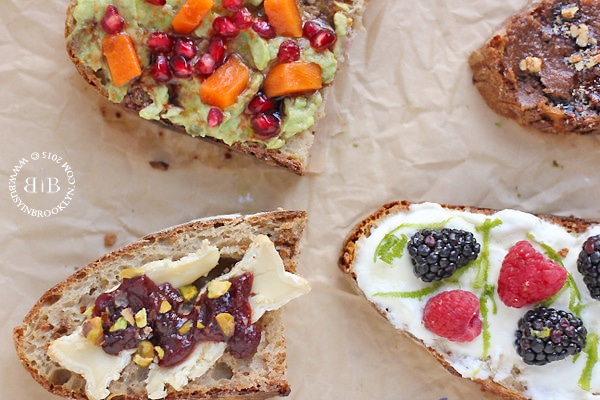 My favorite, hands down, was the avocado persimmon toast, followed closely by the gingerbread and the feta with za'atar. The others came close behind because they were all winners!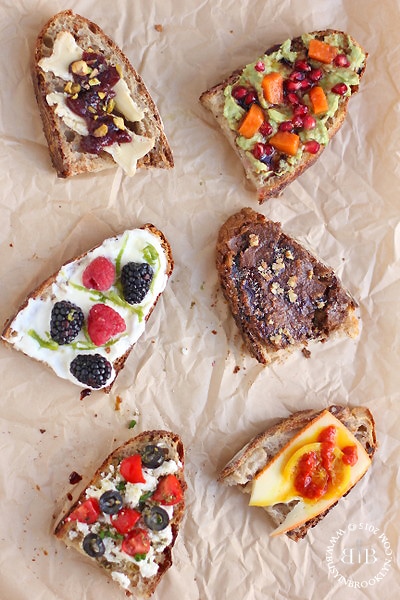 What are your favorite artisan toast combinations? Share them with me in the comments below!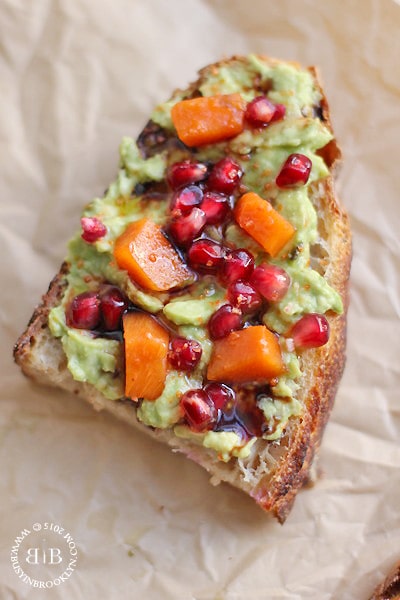 Avocado Toast with Persimmon & Pomegranate
artisan bread
mashed avocado, lightly seasoned with lemon and salt
persimmon
pomegranate seeds
pomegranate molasses
sriracha salt
Spread the avocado over the toast and top with persimmon and pomegranate seeds. Drizzle with pomegranate molasses and sprinkle with sriracha salt.
VARIATION: Use thinly sliced jalapeno instead of sriracha salt.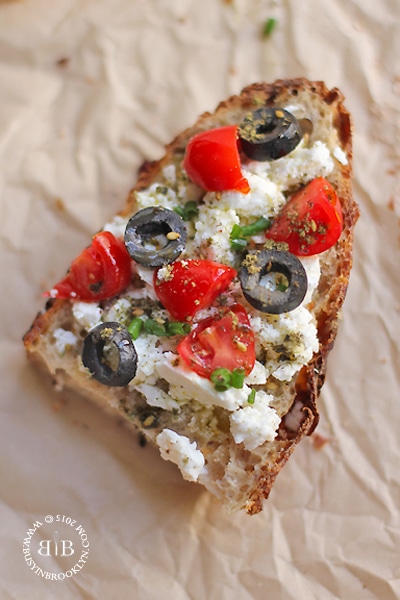 Feta Toast with Za'atar
artisan bread
feta cheese
tomatoes
black olives
za'atar
chives
lemon olive oil (available at Trader Joes)
Crumble the feta over the toast and top with tomatoes and olives. Garnish with chives and sprinkle with za'atar. Finish with a drizzle of lemon oil.
Gingerbread Toast with Pecan Butter
artisan bread
gingerbread pecan butter (recipe follows)
molasses
chopped pecans
freshly grated nutmeg
Spread the pecan butter on the toast and drizzle with molasses. Top with chopped pecan and garnish with freshly grated nutmeg.
Gingerbread Pecan Butter
7 oz. pecans, approximately 2 cups
1/2 tsp cinnamon
1/4 tsp ginger
1/8 tsp nutmeg
1/8 tsp cloves
1/8 tsp sea salt, or, to taste
2 tbsp molasses or silan
2 tbsp brown sugar
Toast the pecans at 400 degrees until fragrant, about 5 minutes and set aside to cool. Place in a food processor and blend until the pecans turn into butter, about 4 minutes, scraping down the sides of the bowl as you go (it may take longer, depending on the strength of your food processor). Add remaining ingredients and blend until smooth.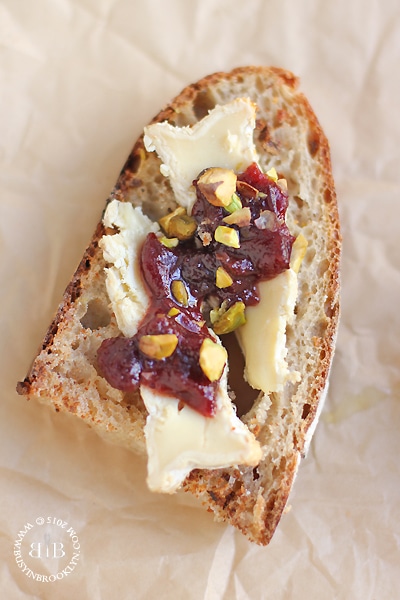 Camembert Toast with Cranberry Port Jam
artisan bread
camembert or brie
spiced port cranberry jam (recipe follows)
chopped pistachos or walnuts
Spread the cheese over the toast and top with jam and chopped nuts.
Spiced Cranberry Port Jam
1 12oz. bag fresh cranberries, rinsed
3 cinnamon sticks
3 strips lemon zest
4 peppercorns
3 cloves
1 cup Port
1/2 cup brown sugar
Add cinnamon sticks, lemon zest, peppercorns and cloves to a spice bag, or create your own using a piece of cheesecloth (just tie the corners together).
Place spice bag, wine and brown sugar in a saucepan and bring to a boil over medium heat. Add cranberries and return to a boil. Reduce heat and simmer for 10 minutes, until cranberries burst and the sauce thickens. Remove from heat and rest until completely cooled. Refrigerate until ready to serve.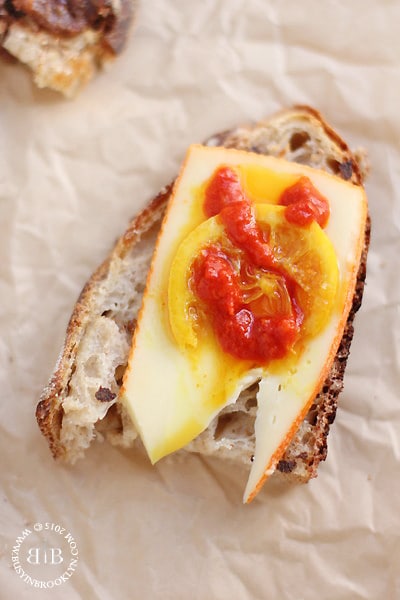 Spicy Toast with Preserved Lemon & Harissa
artisan bread
St. Pauline or Edam cheese
preserved lemons
harissa
Place the cheese on the toast and top with preserved lemon and harissa.
VARIATION: Use labneh or soft Israeli cream cheese. Garnish with parsley.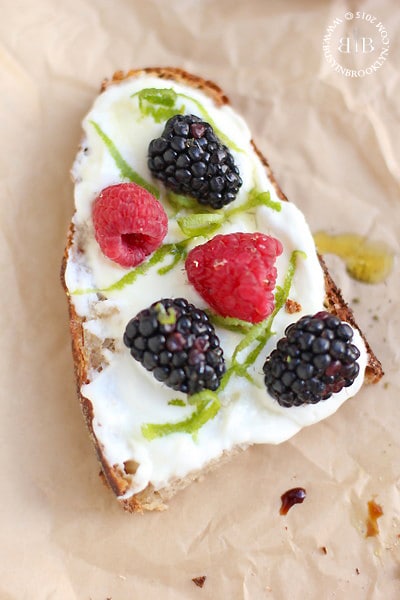 Berry Toast with Honey, Lime & Creme Fraiche
artisan bread
creme fraiche
fresh berries
good quality honey
lime zest
lime juice
demerara sugar
Spread the creme fraiche on the toast and top with berries, lime zest and a drizzle of honey. Squeeze a little lime over the top and sprinkle with demerara sugar.
VARIATION: add fresh mint, or, mix vanilla bean into the creme fraiche.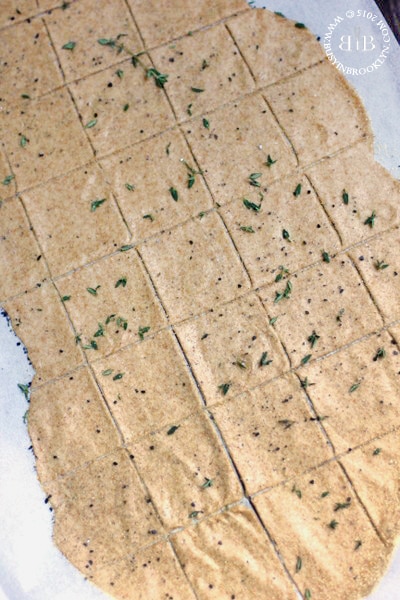 Chaya Suri's Sourdough Crackers
1 cup spelt flour
1 cup starter (does not have to be hydrated)
1/4 cup oil
Mix the ingredients with a spoon until combined into a dough. Wrap in plastic wrap and leave on the counter for 6-12 hours. Roll the dough out between 2 layers of parchment paper until thin and cut into squares. Top with fine sea salt, or use fresh thyme, garlic powder and black salt (as pictured). Bake at 400 degrees for 15-20 minutes, until browned and crispy.
If you want to get started on making your own sourdough, here are some of Chaya Suri's book/tool recommendations. To attend one of her sourdough workshops, email her at cookwithspiceandzest@gmail.com.
Tartine Bread
Tartine Book No. 3
Sourdough
Lodge cast iron pan
Proofing Basket
Bread Making Container (stainless steel is not recommended)
Bread Lame
Flour Sack Towels
Bench Scraper
Disclosure: This post contains affiliate links, which means that a small percentage of every purchase made through that link goes to help support this blog.