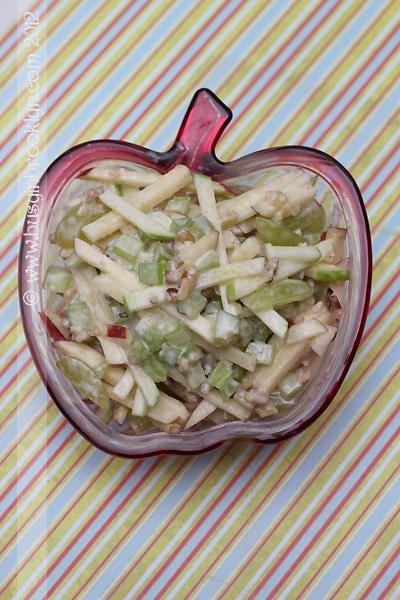 Like me, I'm sure most of your Shavuous menus will involve some sort of pasta and blintzes, and with cheesecake for dessert, there's not much room for a heavy appetizer. Instead of serving up a bowl of cheesy french onion soup, give waldorf salad a try. It is a welcome addition to the otherwise heavy menu. With sweet & tart apples, crunchy celery, walnuts and grapes in a light yogurt dressing, this salad offers a refreshing start to your Shavuous meal.
Waldorf salad with Yogurt Dressing
1 green apple, julienned
1 fuji apple, julienned
1 stalk celery, finely diced
1/4 cup green grapes, quartered
1/4 cup chopped walnuts
1/2 cup plain yogurt
1 tbsp lemon juice
1-2 tsp sugar
pinch of cinnamon
Boston lettuce, optional
Method:
Add apples, celery, grapes and walnuts to a bowl. In a separate bowl, mix yogurt, lemon juice, sugar and cinnamon. Pour yogurt dressing over fruit and stir gently to combine. For individual servings, scoop into cups of Boston lettuce.
Variation: For a pareve version, use 1/3 cup of mayonnaise instead of yogurt.