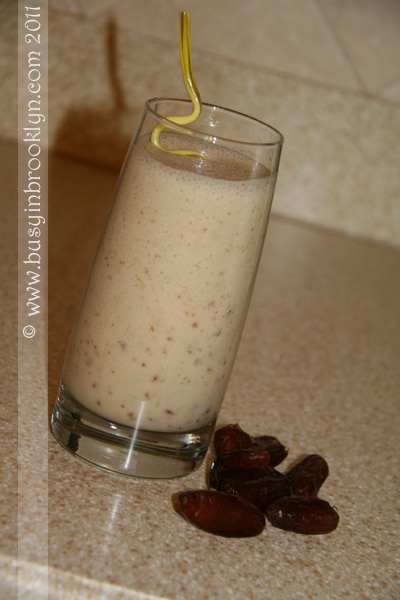 For all those Brooklynites out there, you may remember a certain little establishment on the corner of Coney Island and Avenue P called Bissale. It used to be opened till the wee hours of the morning (I'm not sure if it ever really closed) and hailed its own psychic, who's only charge was to pay for her meal! The place had the absolute best Israeli food, but there was some shady business going on there (not to mention it was far from clean, but we turned a blind eye). At one point they opened up a secret hooka bar in the back (there might have been more than just hooka going on there!). Anyway, my friend Dina and I used to frequent the place and we always ordered up the same thing: ftut, french fries, and a banana, date, milk and honey smoothie. The ftut was basically some chopped malawach dough, mixed up with cheese and mushrooms, with a tomato dipping sauce. The french fries were incredible. But the prize, for me, was the smoothie. It was creamy and sweet, full of delicious flavor! Bissale closed its doors a few years ago, and while I miss the great food, and even better memories (not including the calories!), I'm happy to savor my favorite shake in my favorite place, home sweet home.
The original recipe uses whole milk, but I use almond milk to pack a protein punch and nutty flavor. Also, to eliminate the need for ice cubes (which will just water it down), I freeze the banana and dates a few hours in advance.
Banana Dates Milk & Honey Smoothie
1 cup almond milk
1 banana
3 dates
1 tbsp honey
Method:
Add ingredients to blender and blend until smooth.