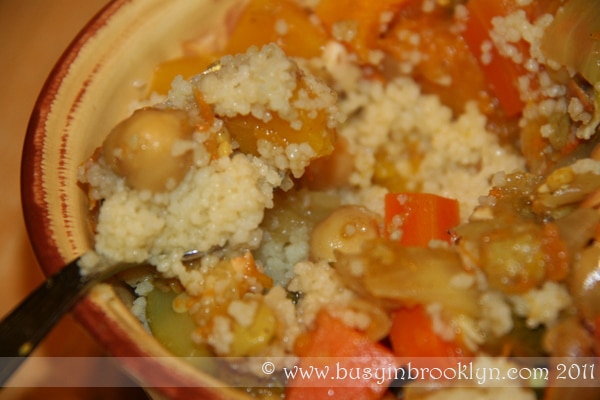 This stew is really chock full of flavor. All the warm earthy spices complement the naturally sweet vegetables for a satisfying meal, when served over couscous. If you wish, you can add beef or chicken as well. The stew freezes very well so I like to freeze single-serving containers that I can eat for lunch. I just cook up some fresh couscous, which takes no time at all.
6-Spice Morrocan Stew
3 cloves garlic, minced
1 medium onion, diced
1/4 tsp turmeric
1/4 tsp nutmeg
1/2 tsp cinnamon
1/2 tsp cumin
1/4 tsp chilli powder
1/4 tsp coriander
1 32oz. container vegetable stock
bottom half of butternut squash (I reserve the top for butternut squash fries), diced
2 medium zucchini, diced
4 small carrots, diced
1 small sweet potato, diced
1 can chickpeas, drained and rinsed
1 lg handful golden raisins
1 1/2 tsp salt
slivered almonds, toasted, for garnish
Couscous, prepared according to package directions
How to:
Saute garlic until fragrant but not brown. Add diced onion, saute for 3 minutes. Add turmeric, nutmeg, cinnamon, cumin, chilli and coriander. saute for 2 minutes until fragrant. Add stock, vegetables, salt, chic peas and raisins. Cook on high heat until it comes to a boil. Lower heat and simmer, covered, for 25 minutes or until vegetables are tender. Ladle stew on top of couscous and top with slivered almonds.
NOTE: If desired, add stew beef or chicken with the vegetables and cook for an additional 30 minutes (or longer for the meat).