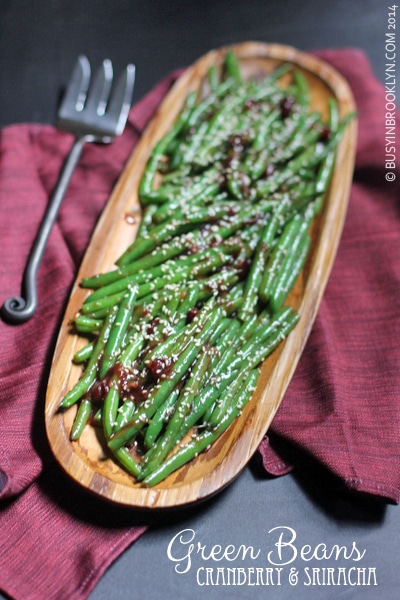 Fall is my absolute favorite time of year. I don't know if it's all the beautiful leaves on the ground, or the fact that I can cover up in a  cute jacket, without having to bundle up in a stuffy down winter coat. It probably has a lot to do with all the amazing pumpkin recipes, the sweet apple cider, and of course,…Thanksgiving! I'm on to Thanksgiving food weeks before the holiday (and not just because I'm a food blogger)! Case in point: my dinner last night was turkey burgers with cranberry pear relish, fried sage and Paleo pumpkin biscuits. I just can't get enough of classic Thanksgiving dishes and flavors – I can eat them all year round.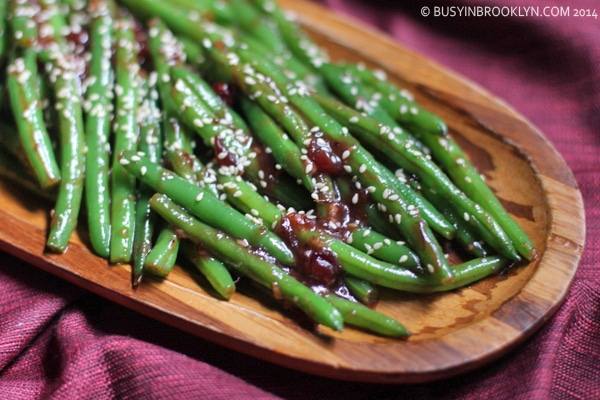 Now speaking of classic Thanksgiving dishes, y'all know how traditional green beans are – especially green bean casserole. I'm not one for casseroles, but sriracha? yes please! Whether you are going Asian or not with any of your dishes – this sweet and spicy recipe makes the perfect Thanksgiving side dish! The sweet cranberries add the perfect festive touch, making this a great addition to your holiday meal. Gobble Gobble!
Cranberry Sriracha Green Beans
1 lb green beans, ends trimmed, blanched
2 cloves garlic, minced
2 tsp oil
1/2 cup whole berry cranberry sauce (not jellied)
1 tbsp soy sauce
1 tsp sriracha
1 tbsp sesame seeds
Method:
Add the cranberry sauce, soy sauce and sriracha to a bowl and stir to combine. Set aside.
Heat the oil in a wok or skillet and saute the garlic until fragrant, but not browned. Add the blanched green beans and stir fry until coated and heated through. Pour in the cranberry sauce and continue to stir until well coated. Sprinkle with sesame seeds.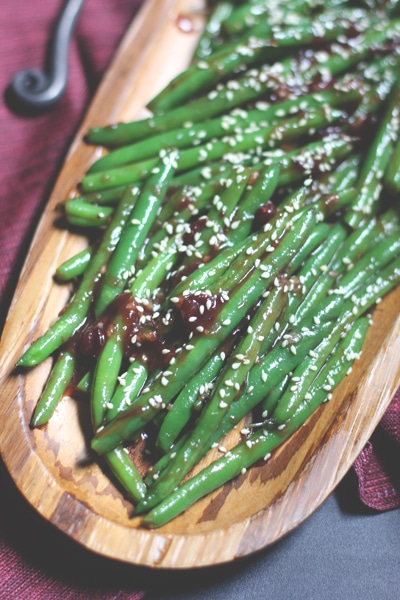 Related Recipes:
crunchy shriveled green beans
spicy roasted edamame
teriyaki mushrooms