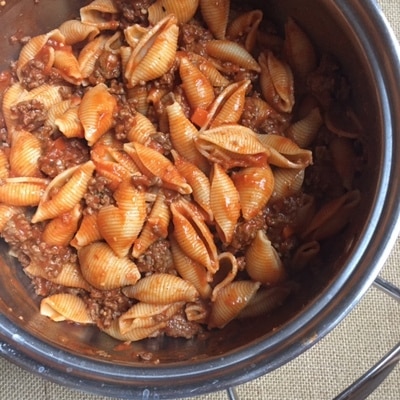 Easy Pasta Bolognese
1 lb. ground beef
1 26oz. jar marinara sauce
1 lb. f your favorite pasta (we love large shells)
Method:
In a large skillet, brown the ground beef until no longer pink, breaking it up with a spatula as it cooks. Add the marinara sauce and simmer until heated through. In a separate pot, cook pasta according to pasta directions. Drain and return to the pot.
Mix the pasta with the bolognese sauce and serve.
VARIATION: Try using ground chicken or turkey in place of beef. You can also add in spinach, diced carrots, mushrooms, or any other veggies of your choice.
LOW CARB OPTION: Serve over zoodles instead of pasta.
Related Recipes:
spaghetti squash bolognese
veal marsala bolognese
lazy 2-ingredient meatballs