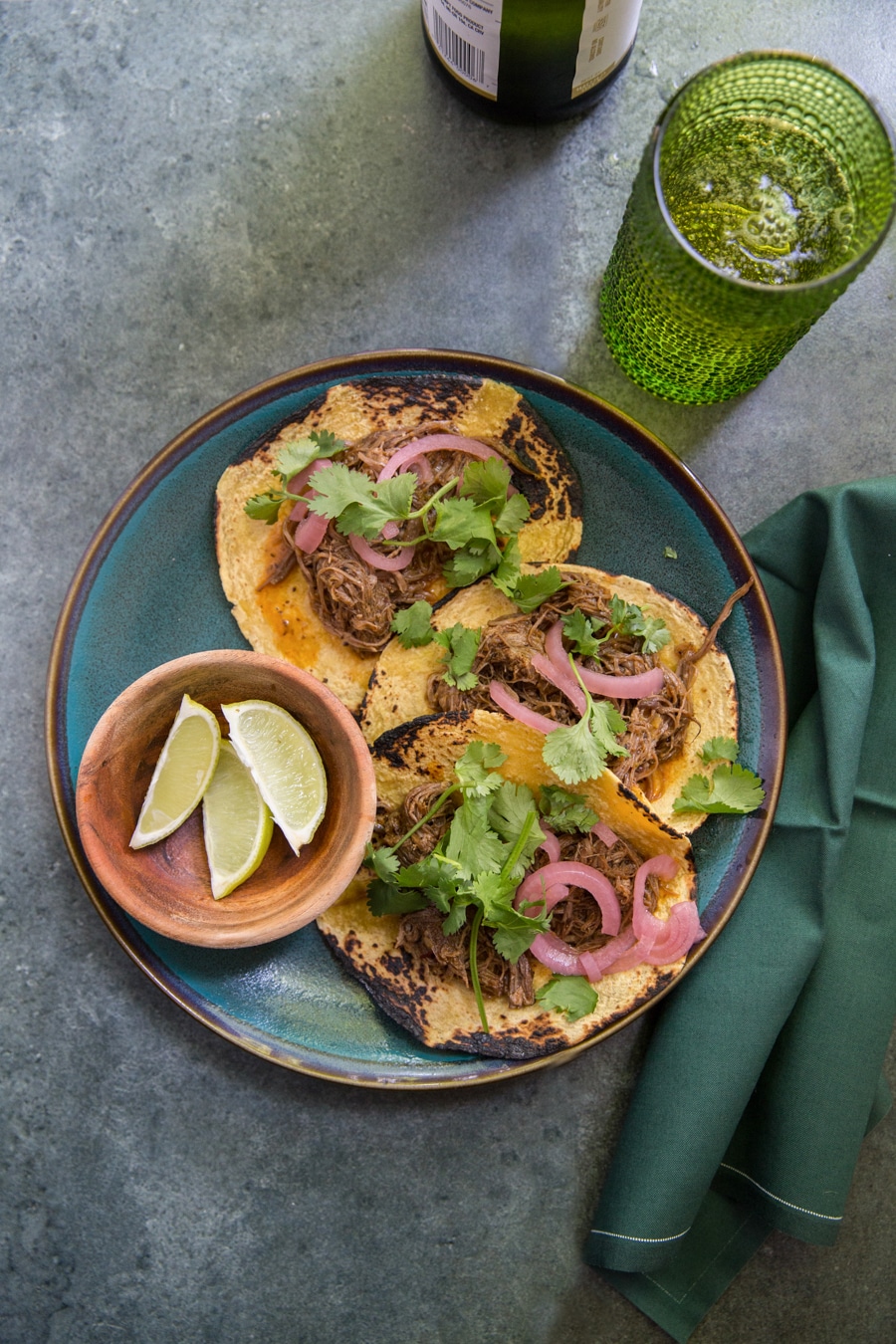 This week, my foodie friends and I decided to throw a dumpling party, where each attendee contributed another dumpling from around the world! You can watch a roundup here! I decided to go with tamales since I've always wanted to learn to make them the authentic way. First, I researched barbacoa recipes for the tamale filling (which you can also fill with beans, pulled chicken, cheese or veggies).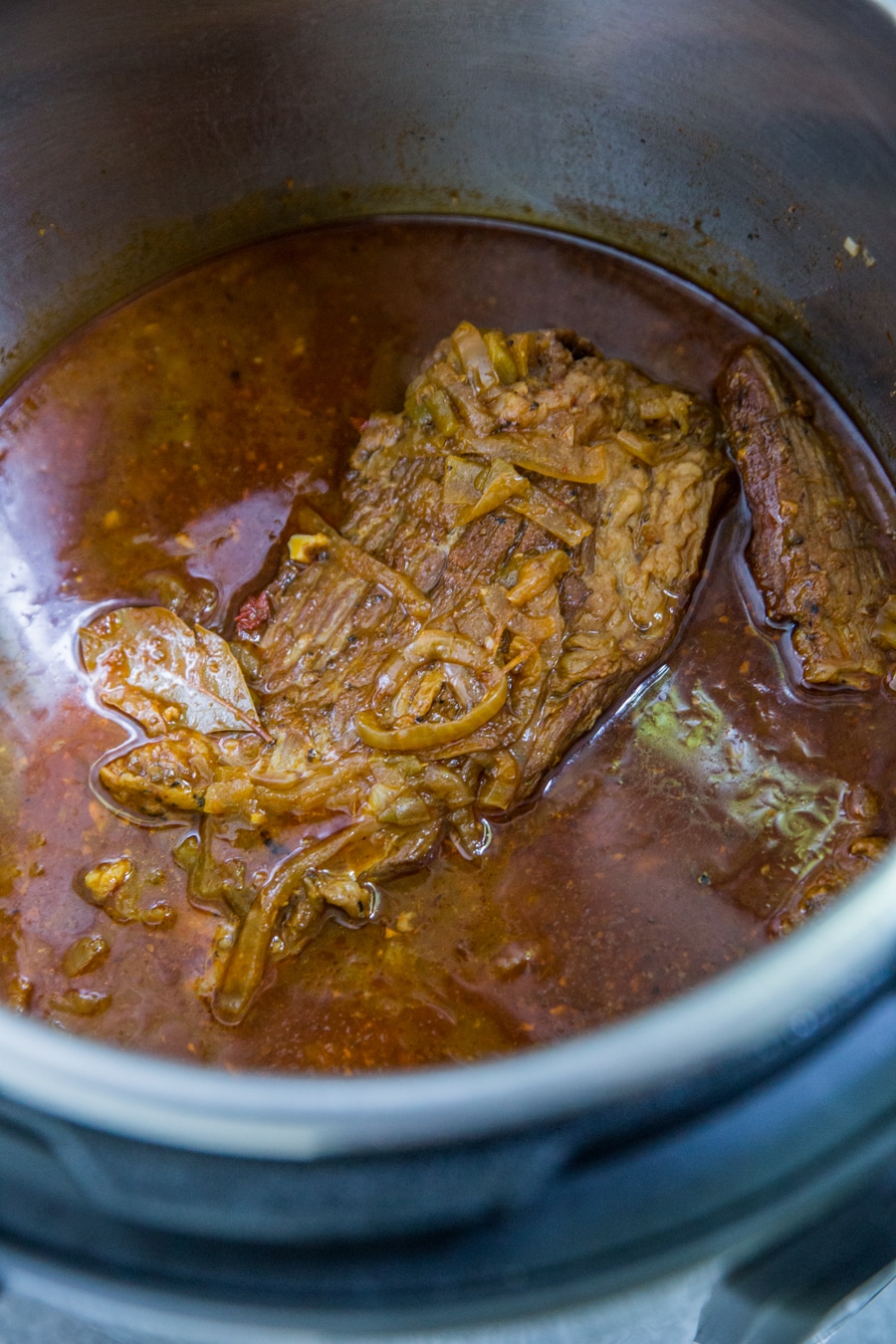 Barbacoa is actually the Spanish word for barbecue. It generally refers to meats over an open fire, but in Mexico, barbacoa evolved into a specific cooking style in which meat is slowly cooked in a pit dug into the ground, which is covered with agave leaves. Cooking the meat sealed in a pit steams the meat by sealing in the moisture while also imparting it with smoky flavor. Home cooks adapted barbacoa to the kitchen and converted it into braised beef, which works well in the Instant Pot or crockpot.
Barbacoa is typically made out of tougher cuts of meat, goat or lamb that require long, slow cooking times. Chuck roast, brisket and beef cheeks are common, but I used deckel because it's a budget friendly with good marbeling. While tough, the meat breaks down into tender pulled beef in the Instant Pot.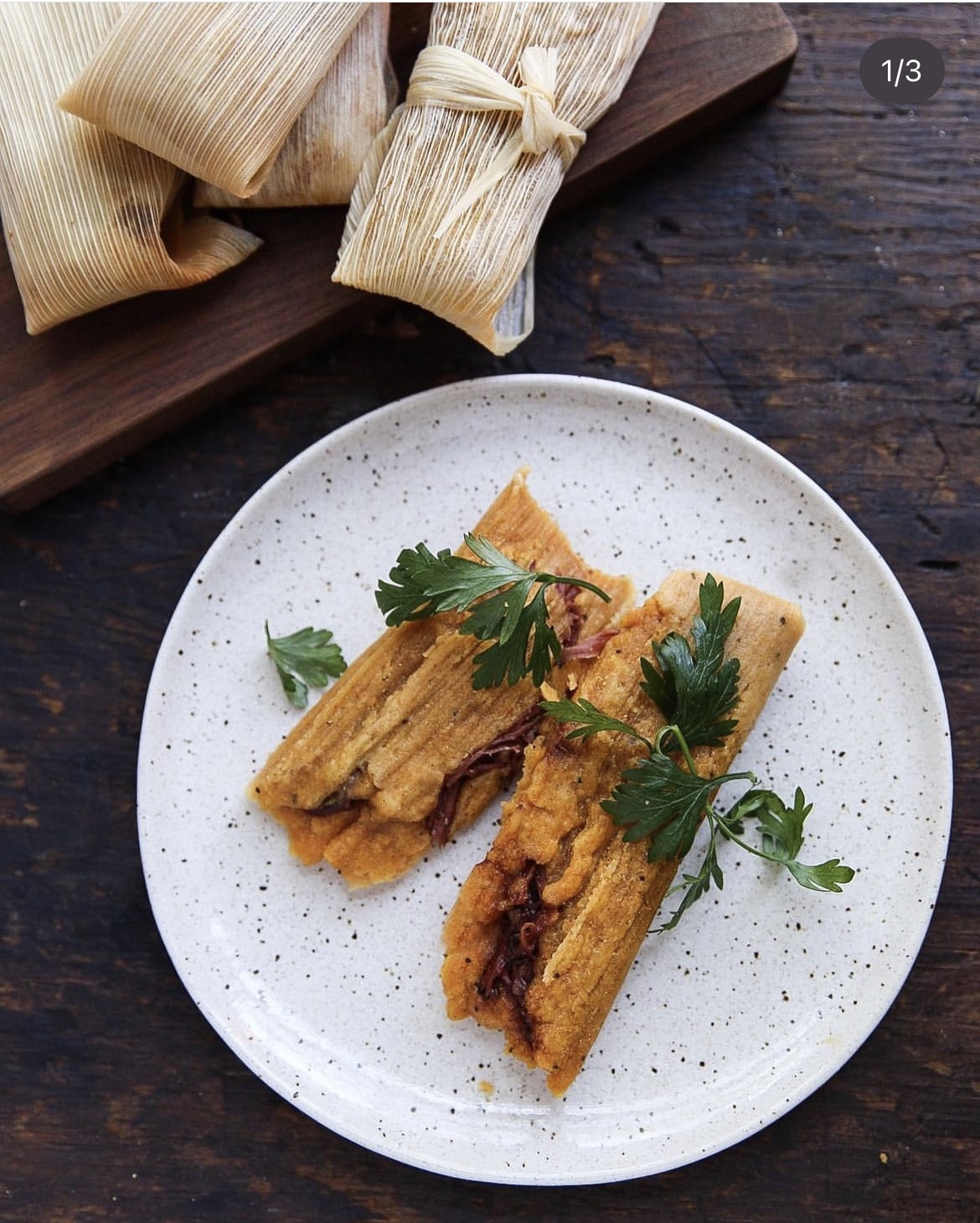 The tamales were a huge hit at the party (full recipe coming soon), and I used my leftover meat to make pulled beef tacos for dinner the next night. I love that this recipe is spicy, savory and full of flavor, different from the sweet pulled beef I'm used to eating. Give it a try!
Instant Pot Barbacoa Beef
Chipotle Sauce:
2 chipotle peppers in adobo sauce
1 tbsp adobo sauce (from the can)
3 tbsp lime juice
2 tbsp apple cider vinegar
4 cloves garlic
1 tbsp ground cumin
1 tsp smoked paprika
2 tsp oregano
1/4 tsp ground cloves
1 tsp kosher salt
1 tsp black pepper
Beef:
3 lb. beef chuck, deckel, 2nd cut brisket or other fatty braising cut
salt and pepper, to taste
2 tbsp olive oil
1 Spanish onion, thinly sliced into half moons
2 tbsp tomato paste
2 cups beef broth
4 oz canned diced green chilies
3 bay leaves
Method:
In a food processor, blend the chipotle sauce ingredients and set aside. Heat the instant pot to the sauté setting. Season the beef with salt and pepper and add the olive oil to the pot. Sear the meat until browned (you can cut it in half if it doesn't fit into the pot), remove from the pot and set aside. Add the onions and sauté until translucent. Stir in the tomato paste and continue stirring until it darkens in color. Pour in the beef stock and scrape any bits from the bottom of the pot. Add the green chilies, bay leaves and chipotle paste and stir until incorporated. Return the meat to the pot and set it on high pressure for one hour.
Release the pressure and pull the beef apart. Serve in tamales, tacos, over rice or in pulled beef sandwiches.
VARIATION: If you don't have an instant pot, sear the beef in a pot and continue as above. Transfer to a slow cooker and cook on high for 6 hours, or prepare the recipe in a Dutch oven and braise at  325 degrees for 4 hours or until fork tender.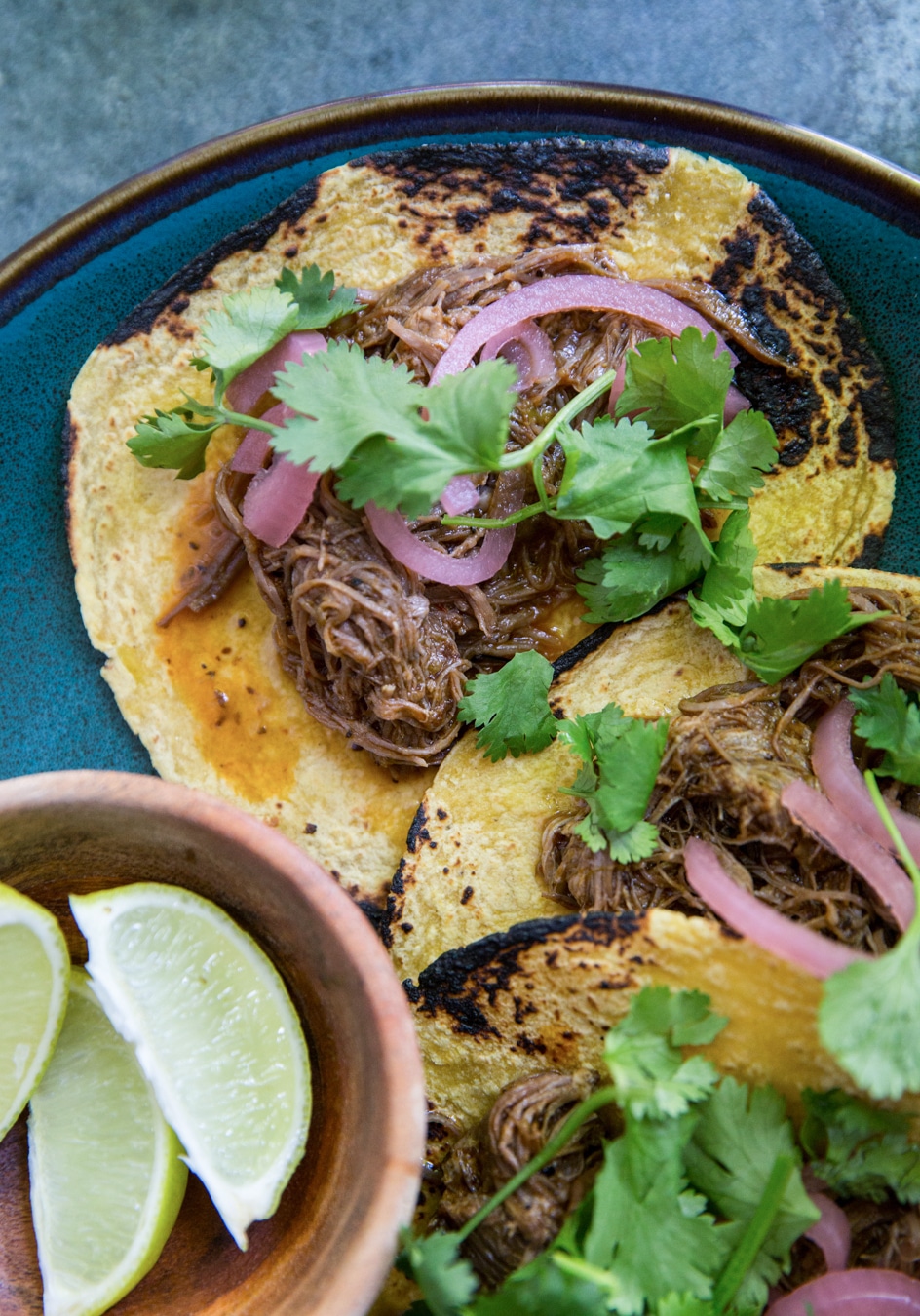 Related Recipes:
Blogoversary BBQ Brisket
easiest crockpot pulled beef
skirt steak tacos