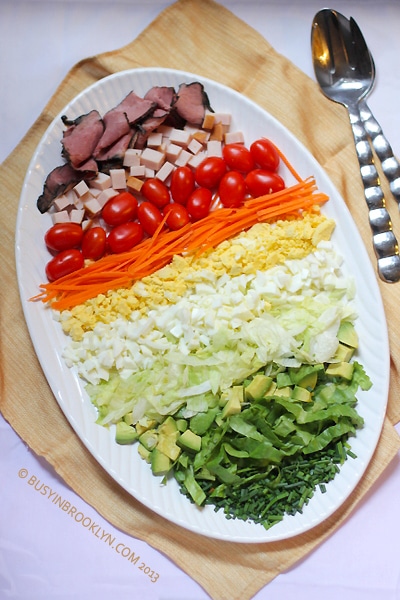 Each year, the week that the Torah portion of Noah* is read, my kosher newsfeeds are flooded with rainbow cakes and crafts of all kinds. It's fun to get the kids involved in the Shabbat menu but if I had it my way, I'd rather not load them up on food coloring. I'm guilty of creating these rainbow cupcakes last year, but this year I decided to think of something a lot less sugary, and a lot more healthy. Which is how THIS happened.
If you're not familiar with Cobb salad, it's a culinary classic, alongside the popular Nicoise and Caesar varieties. Classic Cobb salad is not kosher, as it calls for both bacon and blue cheese. In my kosher version, I subbed pastrami for the bacon and smoked turkey for the traditional grilled chicken. Incorporating popular Shabbat food like cold cuts, will make this rainbow salad a sure hit on your lunch menu. And with all the bright beautiful colors – you may just get your kids to eat it too!
*In the story of Noah, G-d promised never to destroy the world again with a flood, and as a symbol of that promise, he made a rainbow appear.
Rainbow Cobb Salad
1 handful chives, roughly chopped
1 cup romaine lettuce, chopped
1 avocado, diced
1 cup iceberg lettuce, chopped
4 hardboiled eggs, whites and yolks chopped separately
1 cup shredded carrots
1/2 pint grape tomatoes
1 cup smoked turkey, cut into cubes
5 slices pastrami
Dressing:
1/2 cup light olive oil
2 tbsp red-wine vinegar
1 tbsp fresh lemon juice
1 tbsp Dijon mustard
1 tbsp honey
1 clove garlic, minced
salt and pepper, to taste
Method:
Prepare all the salad ingredients and set out strips of each on a serving platter. Whisk the dressing ingredients until emulsified and drizzle over salad (or serve separately).
VARIATION: Feel free to experiment with different vegetables of similar color to suit your taste.