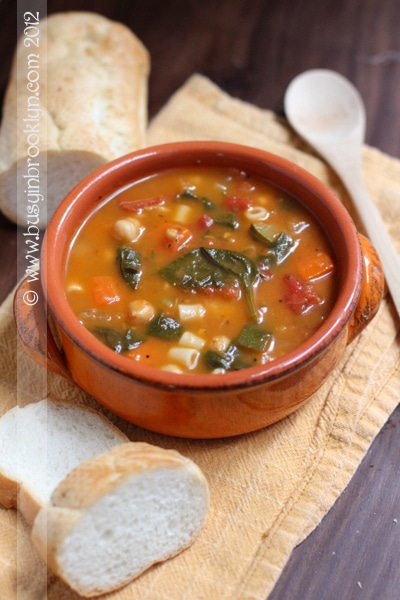 I don't just live in Brooklyn. I was born here too. In fact, I live around the corner from my childhood home. Why am I telling you this? Well it's got something to do with the weather. Most of the time, the cold doesn't bother me. Really. I grew up making snow angels in my front yard every winter, and having snowballs thrown at me from the big boys down the block. The cold is just in my blood.
I have to admit though, that every now and then comes one of those bone-chilling winter days where even I want nothing more than to snuggle up under a cozy blanket and wrap my hands around a warm cup of soup. Last week, we had one of those days. As bundled up as I was, the wind just crept it's way in, stinging my fingers and toes. My kids came home all red-nosed and shivering and I just knew I had to put up a big pot of soup.
And not just any soup. It had to be a stick-to-your-ribs kind of soup that's a meal in itself. I decided on minestrone because #1, it's awesome and hearty. #2, it's pretty quick, and #3 with all the veggies in there, there's at least something each of my finicky kids will eat. Plus, it's got pasta, and who doesn't love pasta?!
Minestrone soup is basically a thick soup of Italian origin, usually consisting of vegetables (especially tomatoes), beans and pasta. You can use whatever beans you like and play around with the veggies to suit your taste. With beans, veggies and pasta, it's a whole meal-in-one that comes together in no time. Serve with some crusty bread to really take it over the top! It's sure to keep you warm all winter long.
Minestrone Soup
1 onion, diced
2 tbsp olive oil
3 cloves garlic, minced
2 celery sticks, diced
2 carrots, diced
1 large zucchini, diced
3 heaping tbsp tomato paste
1  russet potato, diced
1 can garbanzo beans, drained and rinsed
1 28oz. can diced tomatoes
1 tsp basil
1 tsp oregano
6-8 cups chicken stock
salt and pepper, to taste
1 bag baby spinach
1/2 box ditalini pasta, cooked according to package directions
Method:
Saute onion in olive oil until translucent and add garlic. Saute for 1 minute. Add celery, carrots and zucchini and continue to saute. Add tomato paste and stir into the vegetables, continuing to saute until the vegetables are well coated. Add potato, beans, tomatoes, basil, oregano, chicken stock and salt and pepper. Stir to combine the ingredients and bring the soup to a boil. Lower the heat and simmer for 30 minutes-1 hour, until all the vegetables are tender. Taste and adjust seasonings, if necessary. Stir in in baby spinach and cook until wilted. You may also add the pasta or serve individually in each bowl.*
*I prefer to add the pasta to each bowl as I'm serving the soup because I like my pasta to have a "bite" to it. Leaving it in the soup with make it extremely soft, and it will lose it's texture.
Related Recipes:
white bean minestrone with zoodles
spinach matzo ball minestrone soup