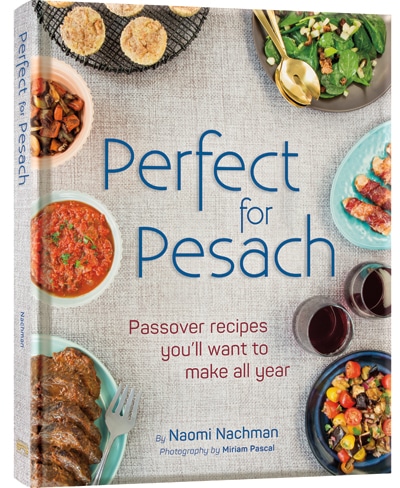 It's different when you see a new cookbook on the shelf that you've never heard of before, and when you've actually watch that baby grow from the very beginning. You see, Naomi Nachman is a good friend, and with her friendly and outgoing personality, anyone that meets her (or follows her on social media @naominachman!) feels the same. Naomi has been open about her cookbook journey from the very beginning, and I was lucky enough to spend a day getting a behind-the-scenes look at some of the recipe development and food photography for this book. I even tested some of the recipes in the book for Naomi so it's hard to be biased! Instead, I'm just going to share about the book, rather than reviewing it, because honestly, do you all really need my critique here?
Perfect for Pesach is exactly what it sounds like – perfect. for. Pesach. Except the recipes really work for all year round – especially for those of us who eat mostly gluten free, and those who honor strict Pesach customs that don't allow us to use any store bought processed ingredients. I love that the book has a range of healthy and indulgent recipes, from how to make zoodles and cauliflower fried rice, to pastrami meatballs (recipe below) and fudgy chocolate bundt cake. Looking at the beautiful photography (thanks to the talented Miriam Pascal of overtimecook) it's hard to believe that these recipes are truly kosher for Passover (hello lemon curd trifles)!
If you're going to want to buy a Pesach cookbook, it should probably be from someone who spent two decades catering Pesach meals for clients with individual needs and requirements. Naomi shares make-ahead tips and well as freezer suggestions that are super helpful as well as cooks tip and year-round notes on most of the recipes. The cookbook has a really nice range of flavors – from Syrian inspired cauliflower crust lachmagine (you know I'm making that!) to Hawaiian poke (recipe below) and tequila lime chicken to herb crusted lamb shops. Of course you'll also find traditional favorites like matbucha, salad nicoise, gravlax, Pesach cholent, chocolate mousse and so much more.
As for me, I've got the quinoa hummus, chimichurri coleslaw, maple glazed rack of ribs and frozen red wine strawberry mousse bookmarked.
Of course I'm giving away a copy of Perfect for Passover, so see the details below to enter!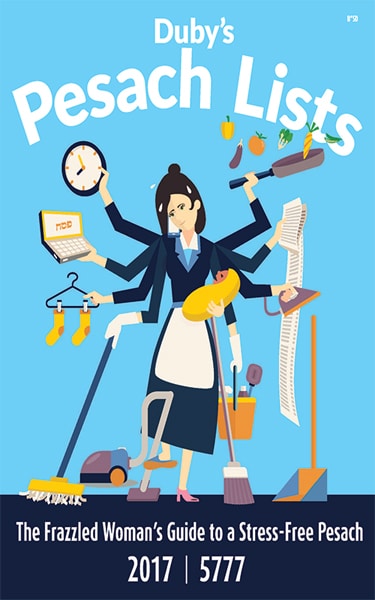 As part of this Pesach giveaway, I'm also giving away a copy of Duby's Pesach Lists which includes:
• Tips on making Pesach for the first time
• Cleaning checklists
• Shopping Lists
• Budgeting Tips
• Menu and calendar templates
• Last minute reminders
• Printable labels for your Passover cabinets
• Games / Activities / Discussion ideas to make your Seder more fun
You can read more about it on dubyspesachlists.com.

GIVEAWAY DETAILS:
To enter the giveaway to win a copy of Perfect for Pesach + a copy of Dobys Pesach Lists:
1. Leave a comment below letting me know your favorite Pesach dish.
2. For an extra entry, leave a comment on the giveaway post on Facebook or Instagram sharing what you love most about Pesach.
Giveaway is open to U.S. residents (for international entries, prize can only be shipped in the U.S.). Winner will be chosen at random at 10:00 AM EST on Monday, April 3rd, 2017.
SAMPLE RECIPES: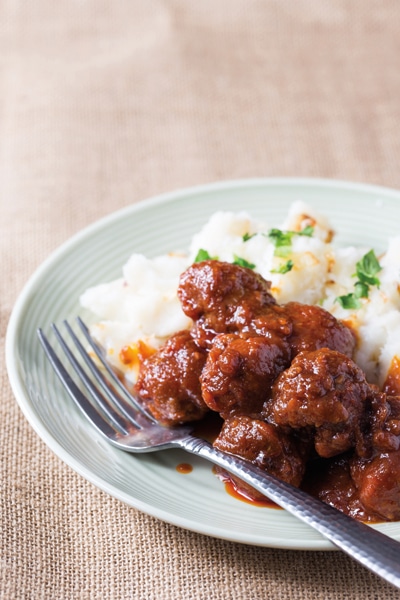 Pastrami Meatballs
2 pounds ground beef
6 ounces pastrami, very finely chopped
2 eggs
3 Tablespoons ketchup
1 teaspoon garlic powder
1 teaspoon onion powder
½ teaspoon dried oregano
Sauce
2 (32-ounce) jars marinara sauce
1 cup water
1 cup sugar
juice of 2 lemons (about ½ cup)
1 Tablespoon tomato paste
1 (14-ounces) can whole berry cranberry sauce
Prepare the meatballs: Mix together all meatball ingredients in a large bowl until combined. Set aside.
Prepare the sauce: In a large saucepan, stir together marinara sauce, water, sugar, lemon juice, tomato paste, and cranberry sauce. Bring to a boil over medium heat.
Roll the meat mixture into balls approximately the size of golf balls. Carefully drop balls into boiling sauce. Reduce heat to low; simmer for approximately 1 hour 30 minutes.
Cook Tips
• If there's any leftover sauce, freeze it and use it to make meatballs a second time!
• You can also use this meat mixture to form patties and grill them as burgers.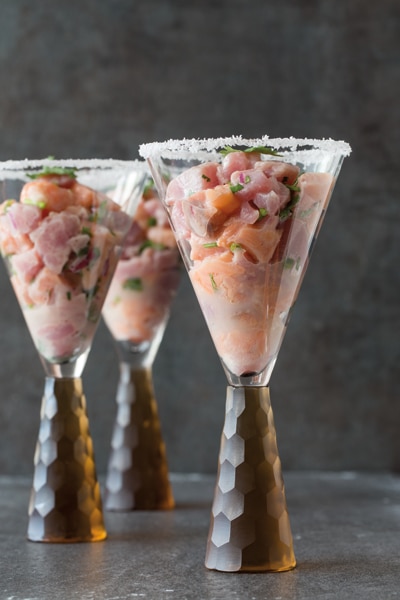 Hawaiian Poke
Reprinted with permission from ArtScroll/Mesorah Publications

1½ pounds sushi grade salmon fillet, cubed
½ pound sushi grade tuna fillet, cubed
½ cup lemon juice
½ cup lime juice
1 jalapeño pepper, seeded and finely chopped
2 Tablespoons olive oil
½ teaspoon kosher salt
½ teaspoon ground black pepper
½ medium red onion, thinly sliced
2 avocados, peeled, pitted, and diced
1 mango, diced (optional)
¼ cup fresh cilantro, chopped (optional)
Combine salmon, tuna, lemon juice, lime juice, jalapeño, olive oil, salt, pepper, and onion in a medium bowl. Marinate, covered, in refrigerator for 2 hours.
Just before serving, add avocado and mango, if using, to the fish mixture; sprinkle with cilantro. Serve immediately.
Cook's Tip
• Because the fish is served raw, be sure to use very fresh fish that was purchased that day.
• Prepare the marinade a day ahead of time. Marinate the fish the day you're serving it.