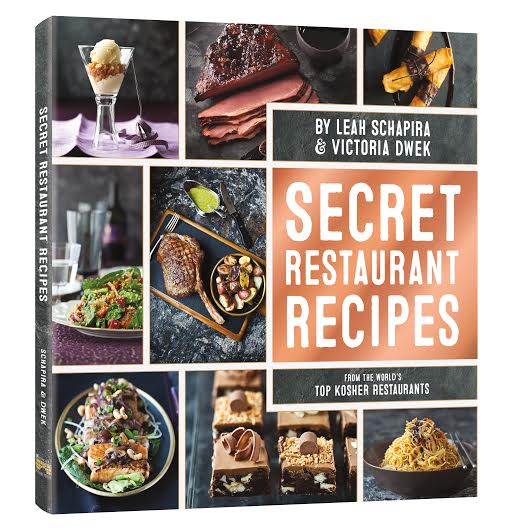 I don't think I've ever been so excited about a cookbook. Like ever. It probably has a lot to do with my affinity for eating out. And beautiful food photography. And superb design. And impeccable styling. In a word, this book is: PERFECTION.
And I'd expect nothing less from seasoned cookbook writers Leah Schapira and Victoria Dwek. Leah is the author of Fresh & Easy Kosher Cooking, while Victoria is the managing editor of Whisk magaizne. Together, they coauthored the Made Easy cookbook series including Starters & Sides Made Easy, Passover Made Easy, Dairy Made Easy and Kids Cooking Made Easy. When I heard they were working on a new cookbook, I wondered what they would be "making easy", but I never imagined it would be restaurant recipes!
As a true foodie, I've eaten at many a kosher restaurant, and I was surprised to see just how many amazing kosher restaurants are covered in this book (over 70!). From Tierra Sur in Oxnard, California (one of the best restaurant meals I've ever had), to Rare in Miami Beach, FL (love their crab cakes) and Pizza Pita in Montreal (I always wondered how they make their poutine!). There's also Carlos & Gabby's in New Jersey (who doesn't love their crispy chicken fingers?!) and New York favorites like Amsterdam Burger Co. (the breakfast burger is incredible!), Reserve Cut (I always orders the short rib tacos!) and my favorite local places like Basil Pizza & Wine Bar (they serve up their famous basil fries just up the street), Mason & Mug (I've been reinventing their deviled kale salad forever!), and Pardes (wish they would have included their smoked paprika popcorn recipe). Restaurants in England, Israel, Italy, Mexico and even Panama, are also included.
It's so exciting to get a sneak peek behind some of the establishments that we regularly frequent. And Secret Restaurant Recipes is about more than just the recipes. It also includes tips and techniques from today's top kosher chefs. I was surprised to see that some of the recipes are fairly easy, while others are more involved. When I first looked through the cookbook and had a craving for Reserve Cut's short rib tacos, I just got up and went to the restaurant! On the other hand, Pizza Pita's poutine was so ridiculously easy, I was able to make it quickly at home.
Thanks to the generosity of Artscroll/Mesorah Publications, I'm sharing 2 recipes from the book here. I recently did a demo at a chinese auction where Victoria Dwek also demonstrated the eggplant chicken from Segal's Oasis Grill in Phoenix, Arizona. It smelled so incredible, I just knew I had to include it! I'm also sharing a dessert recipe from Bagels & Greens because if their donuts are any indication, these brownies are going to be a real treat!
Purchase Secret Restaurant Recipes on Amazon.
Read a review of Everyday Secret Restaurant Recipes.
GIVEAWAY DETAILS:
Of course, I'm also giving away a FREE COPY of Secret Restaurant Recipes! To enter, simply leave a comment below about your favorite kosher restaurant dish. For an extra entry, follow Busy In Brooklyn via any of the channels below. Just be sure to leave a note in the comment letting me know where you follow.
Facebook
Twitter
Instagram
Pinterest 
Giveaway is open to U.S. residents (for international entries, prize can only be shipped in the U.S.). Winner will be chosen at random at 10:00 AM EST on Tuesday, January 6th, 2015.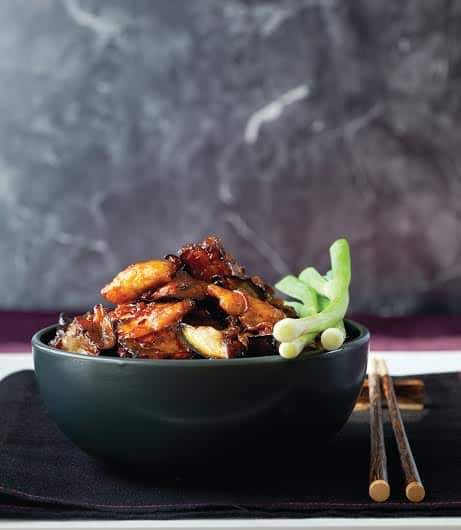 Eggplant Chicken in Garlic Sauce (Segal's Oasis Grill, Phoenix, Arizona)
from Secret Restaurant Recipes by Leah Schapira and Victoria Dwek
Reprinted with permission from the copyright holders: ArtScroll/Mesorah Publications http://www.artscroll.com/Books/srrh.html
1 lb. eggplant, cut into 1 1/2″ chunks
kosher salt, for sprinkling
1 lb. skinless boneless chicken breasts, cut into bite sized pieces
3 tbsp cornstarch, for dredging
3 tbsp chopped garlic
1/4 tsp chili pepper flakes
1/3 cup shredded carrots
canola or vegetable oil, for frying
Dark Sauce:
1/3 cup low sodium soy sauce
2 tbsp sugar
1 tsp toasted sesame oil
1 tsp ground black pepper
1 tsp cornstarch
1. Sprinkle eggplant chunks with salt; allow to rest for 20-30 minutes (this process will prevent eggplant from soaking up too much oil during frying). Rinse salt from eggplant and drain well.
2. Meanwhile, prepare the sauce: In a small bowl,whisk together soy sauce, sugar, sesame oil, black pepper and cornstarch. Set aside.
3. Prepare the chicken: Place cornstarch into a shallow dish; toss the chicken in cornstarch to coat very well.
4. Heat 3-inches of oil in a wok or 1-inch oil in a saute pan over medium heat. Add chicken to hot oil and pan-fry until golden, 2-3 minutes  per side. Remove from oil and set side.
5. Add the eggplant to the same pan and fry until light golden, 2-3 minutes. Remove from oil and set aside. Discard oil, leaving about 1 tablespoon in the wok or pan.
6. Add garlic and chili pepper flakes and stir-fry for about 30 seconds. Return chicken and eggplant to the pan. Add carrots and sauce and stir-fry for 2 minutes, coating all the ingredients well with the sauce.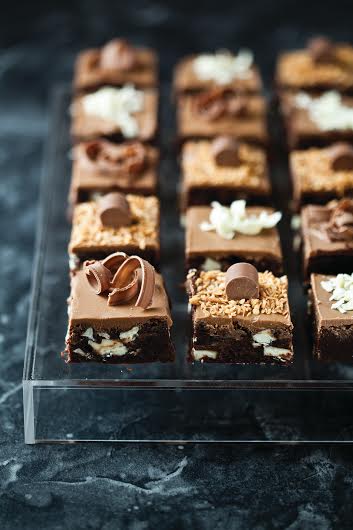 Praline Brownies (Bagels & Greens, Brooklyn, NY)
from Secret Restaurant Recipes by Leah Schapira and Victoria Dwek
Reprinted with permission from the copyright holders: ArtScroll/Mesorah Publications http://www.artscroll.com/Books/srrh.html
8 oz bittersweet chocolate
1 cup (2 sticks) butter
1 1⁄3 cups (11 oz) sugar
1 cup (5 oz) flour
1⁄2 cup (2 oz) cocoa
1⁄2 tsp kosher salt
1 tsp nut extract (optional)
2 tsp praline extract (optional)
7 oz white chocolate, coarsely chopped
chocolate frosting, (recipe follows)
chocolate and white chocolate curls, for garnish
Chocolate Frosting:
10 oz milk chocolate
4 Tbsp praline paste*
4 oz mixed crunchy nuts
1. Preheat oven to 350 degrees. Line a rimmed 9 x 13­inch baking sheet with parchment paper.
2. Melt chocolate with the butter.
3. In the bowl of an electric mixer, whip eggs and sugar at high speed for 5-­6 minutes.
4. Carefully pour in melted chocolate mixture. Sift in flour, cocoa, and salt. Mix until mixture is smooth and shiny, about 4 minutes. Add in extracts, if using. Fold in white chocolate.
5. Pour batter into prepared baking sheet. Bake for 25 minutes (the edges should be hard, top cracked,
6. Prepare the frosting: Melt chocolate over a double boiler. Add praline paste and mix until combined. Gently pour over the top of the cake. Tilt the pan sideways until entire cake is fully covered.
7. Sprinkle nuts or chocolate curls on top. Refrigerate for 15 minutes, until frosting is set. Let cool before slicing into bars.
*Praline paste is made from hazelnuts/filberts and sugar, ground into a paste.