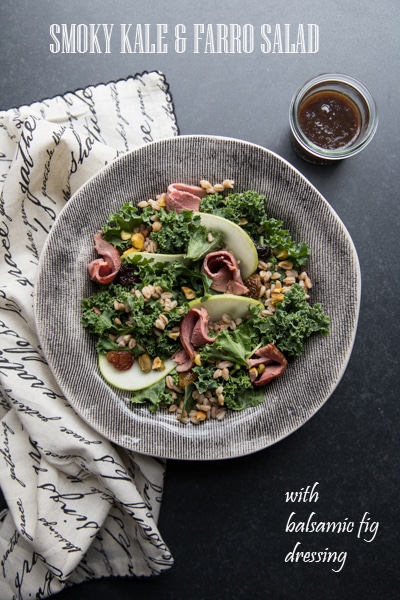 I've been trying to eat healthy lately – less snacking, more wholesome meals with lots of greens. It hasn't been easy!
Maybe it's because I get bored of salads. How many times can you eat lettuce with cucumbers and tomatoes, you know? I mean of course there are a million directions you can go in with salad, but who has the time? Most days I'm lucky if I get to scarf down anything while I'm running from here to there – so I come home famished and eat whatever I can find. I haven't been making the best choices.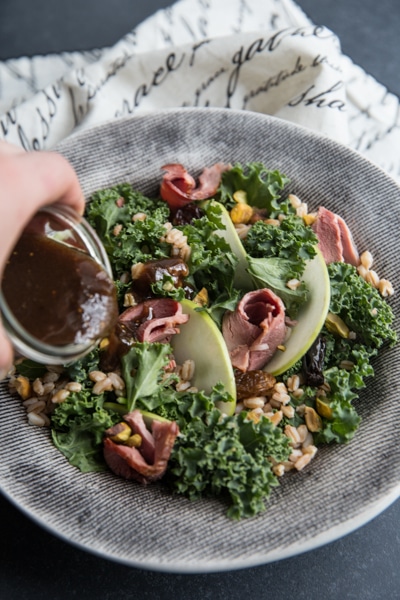 With my manuscript deadline just a few weeks away, I've been so stressed, barely sleeping and not taking care of myself. It all came to a head when I came down with the worst case of the flu the other week, that literally had me wanting to check into a hospital. I never knew the flu could be so bad, but I also knew that my body wasn't doing the best job at getting better because I hadn't been taking care of myself. It was a real wake up call for me to start taking my vitamins, getting more sleep, and eating better. I lost 10 lbs. over those two grueling weeks, but I gained a fresh start. It was like a clean slate for me, a chance to start over and live with intention.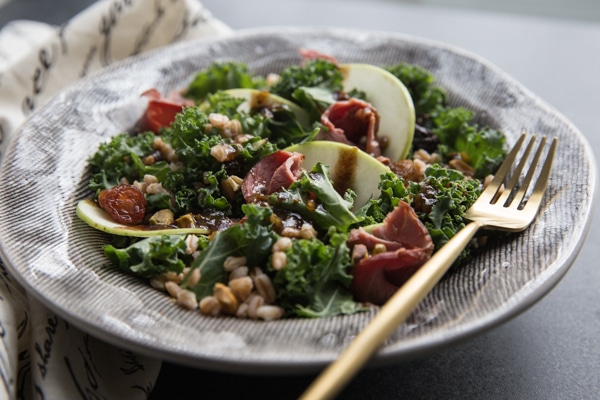 I may not have done a Whole30, but I definitely felt a mind shift and I've been going with the flow. Working more salad into my meals, moving more and drinking more water. I feel so much better and as crazy as it is – I'm so thankful that I had such a bad case of the flu, because it put me in a better place.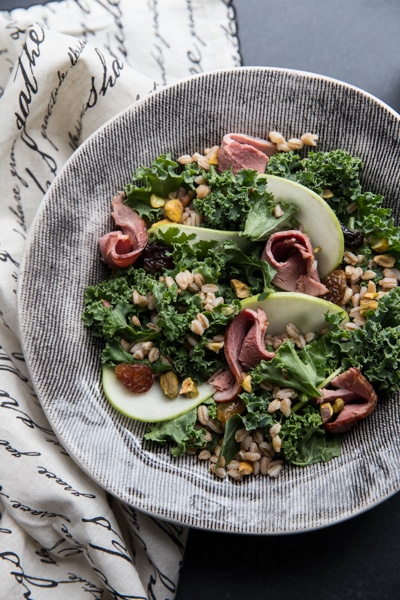 Now lets talk about this salad. Salads like these make me want to eat all the greens! I love the balance of smoky, salty, chewy, tart, and sweet! And the balsamic fig dressing is such a winner, you'll want to start stocking your fridge with it all the time.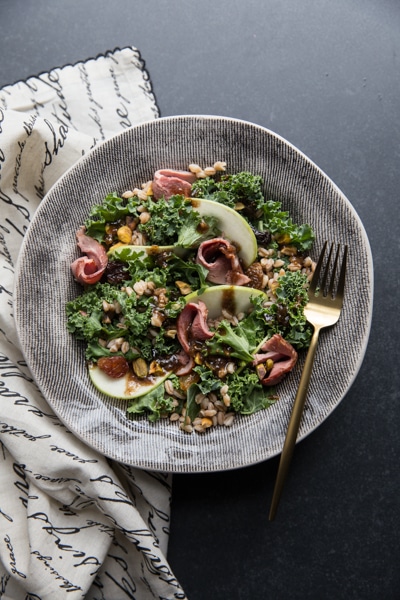 A salad that actually makes you want to eat salad – so much yes!!!
Smoky Kale & Farro Salad
5 cups roughly chopped kale
1 1/2 cups cooked farro
1 green apple, halved, thinly sliced on a mandolin
handful of raisins or chopped dates
handful of pistachios
a few slices of smoked duck or turkey
balsamic fig dressing (recipe follows)
Method:
Place the kale in a large bowl. Add half of the dressing and using gloves, massage the dressing into the leaves. Add the remaining ingredients and drizzle with additional dressing. 
Balsamic Fig Dressing
1/2 cup grapeseed or light olive oil
1/4 cup balsamic vinegar
1/4 cup fig jam
2 tsp spicy brown mustard
2 tsp grated shallot
salt and pepper, to taste
Method:
Add all ingredients to a bowl and whisk until thick and emulsified.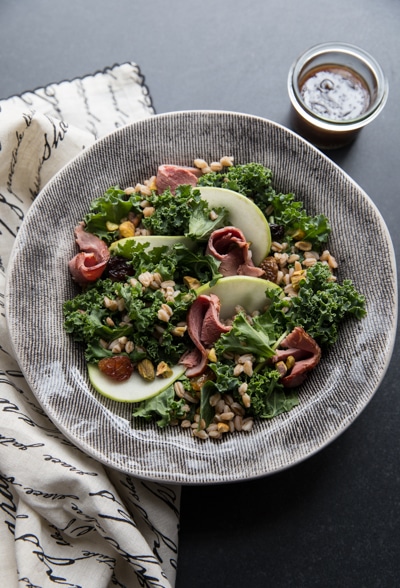 Related Recipes:
kale, pear and kabocha squash salad with maple dijon dressing
kale persimmon salad
farro grain bowl