I remember the first time I got my hands on some REAL parmesan cheese. Growing up, that triangle of salty, nutty goodness wasn't available on the kosher market. If you wanted parmesan, you had to buy a jar of mass produced parmesan sprinkles that lasts for a year in your fridge. The only kosher "cholov yisroel" options available were the standard American cheese, mozzarella, cheddar and some pepper jack, if you were lucky.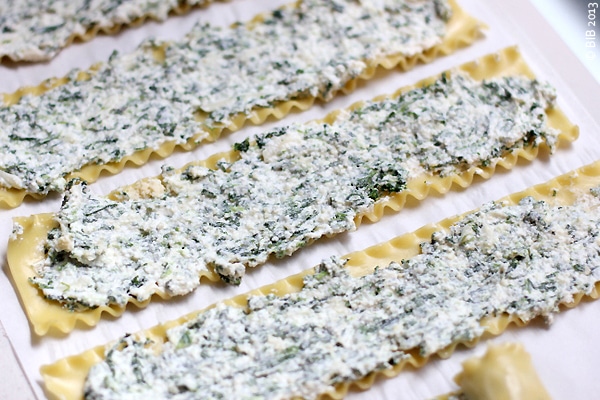 Enter Natural & Kosher cheese; kosher cheese revolutionaries. Natural & Kosher introduced the finest artisanal cheeses to the kosher market, including parmesan (wedges or grated), brie, fresh mozzarella, gouda and an array of goat cheese flavors (cranberry pecan, anyone?). Pair that with their classics like American cheese, mozzarella, cheddar, pepper jack, and meunster and you've got a company made in cheesy heaven!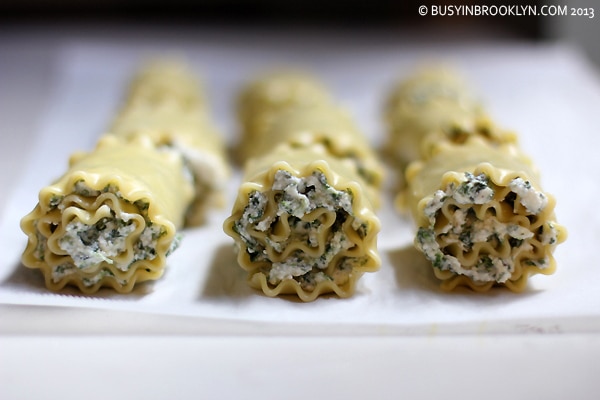 When I was presented the opportunity to work with Natural & Kosher cheese, I grabbed their cheese and ran with it! Nothing makes me happier than working with fine quality ingredients that bring amazing flavor to my dishes- and cheesy goodness to my meals!

While I'm a big fan of cheesy dishes like lasagna, I'm not very fond of the presentation factor. Let's face it – lasagna ain't pretty! Or at least it wasn't…until now. Individual lasagna roll-ups make the classic dish simple to serve and eat! Single servings also make it easier to keep track of how much you're actually eating. 'Cuz when you're eating lasagna, we all lose track of our calorie count.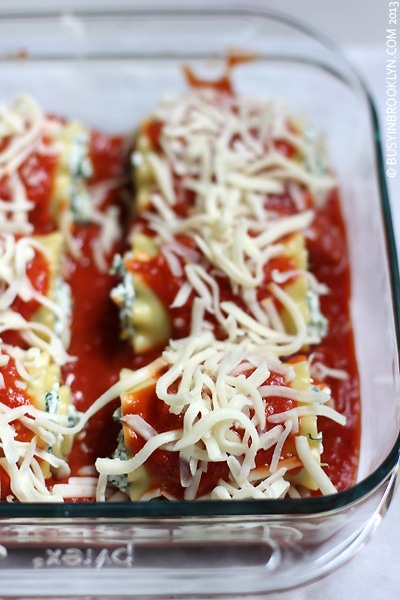 If lasagna noodles are a no-show for your carb-free lifestyle, I've got plenty of lighter alternatives! You can try my pasta-free spinach manicotti, go for some cheesy stuffed mini peppers or simply use zucchini or eggplant (cut lengthwise) in place of the lasagna sheets!
Spinach Lasagna Roll-Ups
lasagna noodles (about 10)
1 jar marinara sauce
8 oz. Natural & Kosher shredded mozzarella, divided
Filling:
1 15oz. container ricotta or reduced fat cottage cheese
1 large egg, lightly beaten
1/2 teaspoon dried oregano
1/2 tsp garlic powder
1/2 cup Natural & Kosher shredded mozzarella
1/2 cup Natural & Kosher shredded Parmesan
1/2 tsp lemon zest, optional
salt and pepper, to taste
1 10oz. pkg frozen chopped spinach, thawed and squeezed to remove water
fresh basil, for garnish
Method:
Cook lasagna noodles according to package directions. Drain and lay the noodles onto parchment paper or aluminum foil (so that they don't stick together). In a bowl, mix all the filling ingredients until incorporated. Spread the filling onto the lasagna noodles and roll them up. Pour some marinara sauce into the bottom of a 9×13 pan and top it with the roll ups. Pour additional marinara over the roll-ups and sprinkle with mozzarella cheese. Bake, covered, at 425 degrees until heated through (about 20 minutes). Uncover and bake until the cheese is bubbly and slightly browned around the edges. Garnish with basil.
YIELD: approximately 10 lasagna roll-ups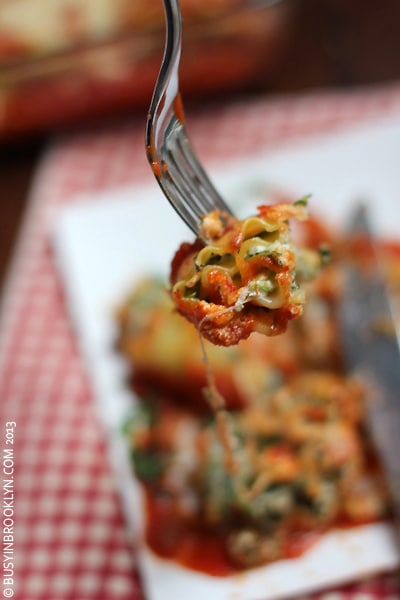 This post was sponsored by Natural & Kosher Cheese. Follow them on Facebook, Twitter, Pinterest, Instagram, YouTube, Google+, or via their Blog