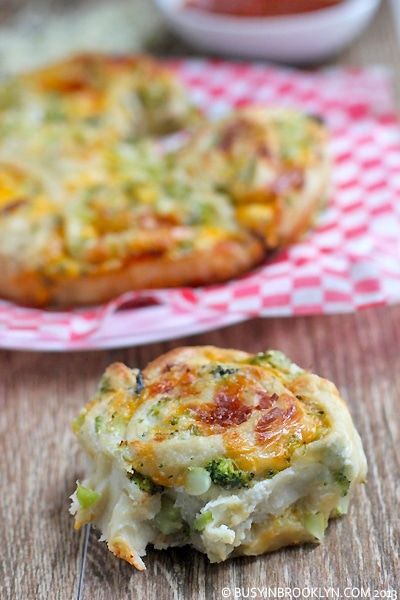 I'm on a serious broccoli-cheddar kick right now, and every time I go to the pizza store, I find myself ordering a broccoli calzone. Or, at the very least, a broccoli pizza. There's just something about broccoli and cheese that go together like cookies and cream, peanut butter and jelly or spaghetti and meatballs.
Now, I'm no baker, so the thought of making individual calzones is just too much for me. But after I made these amazing cinnamon buns (from scratch!) recently, I felt inspired to try a savory version. Using store-bought pizza dough made it all-the-more simple (thanks, Trader Joes!).
Making broccoli calzones into pull-apart buns, not only saves you on calories (if you can stick to eating just one!), it's also cheesier, gooier and especially, prettier. Serve this up at a lunch with friends for some serious wow-factor!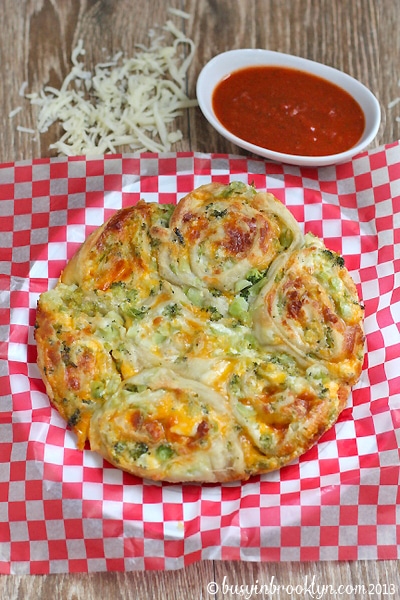 If you're not a broccoli person (what's wrong with you?) then serve these up with the vegetables of your choice. Think olives, roasted veggies, caramelized onions, or whatever pizza toppings you wish! You can go also go crazy with the cheese varieties, using feta (feta and olives sounds great!), brie (how about some brie and figs!), or goat cheese (with pesto and sundried tomatoes, mmm…) Oh, the possibilities!
3-Cheese Broccoli Calzone Buns
1 lb. store-bought pizza dough (I use Trader Joe's)
1 10oz. package frozen chopped broccoli, cooked and drained
1 cup ricotta cheese
1-2 cups shredded cheddar cheese
1-2 cups shredded mozzarella cheese
parmesan or garlic powder, for topping (optional)
marinara sauce, for dipping
Method:
On a lightly floured surface, roll out pizza dough into a large rectangle. Spread ricotta cheese over dough. Top with chopped broccolli, shredded cheddar and mozzarella cheeses. Starting from the shorter side, roll the dough up tightly. Cut the roll into 7 slices and place in a lightly greased 9″ round pan. Sprinkle the buns with parmesan cheese or garlic powder (optional) and bake at 350 degrees until dough is puffed and cheese is bubbly and starting to brown.
1 year ago: DIY teacher's gift
2 years ago: fast food, lightened up