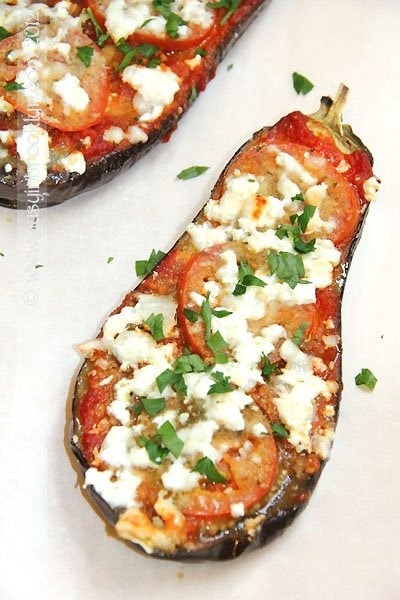 I always wondered about the name for the dish eggplant parmesan. Parmesan isn't exactly the prominent ingredient, it's not even called for in some recipes. Most eggplant parmesan recipes consist of breaded slices of eggplant that have been fried, smothered in tomato sauce and covered in melted cheese. Parmesan or not, it's definitely one of my favorite dairy dishes, but having just finished the Chanukah fry-fest, I decided to come up with a healthier version.
Last year, I posted this recipe for roasted eggplants stuffed with Israeli salad, roasted chickpeas and techina. It's one of my favorite ways to enjoy eggplants! I eat it pretty often though, so I decided to invent a new roasted eggplant dish. That's how this Middle Eastern twist on eggplant parmesan came about. I broil the eggplants for delicious smokey flavor and stuff them with marinara, tomatoes, a little breadcrumbs and finish it off with light feta cheese. Although it tastes nothing like the original, it's a delicious light and healthy lunch that's a perfect start for the New Year!
Looking for more healthy recipes? Check out the Shine Supper Club. They're sharing healthy recipes to get your New Year off to a fresh start!
Roasted Eggplant Parmesan with Feta
1 eggplant, sliced in half vertically
olive oil
salt
1/3 cup marinara sauce
1 plum tomato, sliced
flavored bread crumbs
parmesan cheese, optional
feta cheese
parsley, for garnish
Method:
Sprinkle the eggplants with salt and place flesh side down on a baking sheet. Drizzle with olive oil and broil on high for 20 minutes. Remove from oven and spread some marinara sauce over eggplants. Place tomato slices over sauce and sprinkle on some bread crumbs and parmesan cheese, if desired. Drizzle with olive oil and top with feta cheese crumbles. Bake at 400 degrees until bread crumbs are toasted and feta cheese has melted (it will still hold it's form and will only melt slightly). Garnish with chopped parsley.
VARIATION: For a more traditional roasted eggplant parmesan, top the eggplants with marinara and sprinkle with shredded mozzarella. Bake until cheese is melted and browned.
1 year ago: green guacamole
Post a Comment