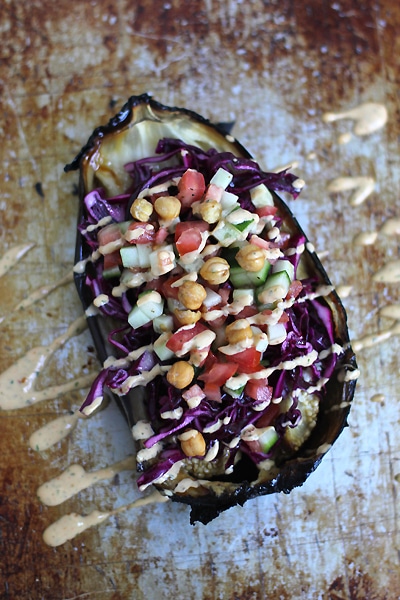 With the chagim behind us, I think we can all use some light and healthy recipes for a while. While I'm transitioning to a low carb diet, I don't want to feel hungry, and I definitely don't want to feel deprived. For me, the trick is to spice it up, so that I'm not left with bland and boring bowls of salad. Preparing healthy recipes that are packed with flavor helps to curb my cravings and keep me satisfied. Which brings me to this recipe…
Fire-roasted eggplants are traditionally used to make chatzilim or babaganoush, but using them as a base for the Israeli salad really turns this dish into a complete meal. I like to smear roasted garlic hummus on the eggplant when it's piping hot and then load it with Israeli salad, sprinkle some chickpeas all around, and finish it with a drizzle of tahini and olive oil. Feel free to load on your fixings of choice. Feta cheese works really well too!
It seems like every recipe book I open has a different recipe for Israeli salad. You'd think it impossible to come up with so many variations, it's a salad after all. But that's just the thing. Israeli salad is almost as diverse as the people who eat it. Some like its texture to be chunky, others tiny. Some load on the fresh herbs, others stare clear. Take my husband and I. He's squarely a tomato & cucumber kind of guy. No onions, no herbs. Just 2 simple veggies, in a ratio of 2:1. Me? I'm not too picky. Leave out the cilantro and I'm good to go. Feel free to follow my basic recipe below, or create your own.
What's your favorite way to prepare Israeli salad? Share it with me in the comments below!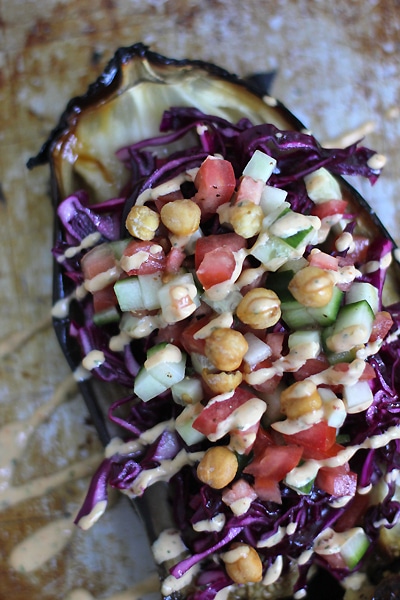 Roasted Eggplants with Israeli Salad
1 eggplant
1 tbsp olive oil
kosher salt
Israeli salad (recipe follows)
roasted chickpeas, optional
1/4 cup store-bought or homemade hummus
1/4 cup tahini
fresh parsley and lemon, for finishing
optional additions: falafel, shawarma, red cabbage salad, Israeli pickles, harissa
For the eggplants:
For optimum flavor, you can fire-roast the eggplants over an open flame on your stovetop. Because this is messy and time consuming, I prefer to broil them. To do this, cut the eggplant in half lengthwise and place flesh-side down on a cookie sheet. Drizzle with olive oil and and sprinkle with salt and broil on high on the top rack for 20-25 minutes, until skin is charred and the flesh is soft. Turn over and sprinkle flesh with salt (and pepper, if desired).
For Israeli salad:
2 plum tomatoes
1/2 english cucumber
1/2 red pepper
1/2 red onion
juice of 1/2 lemon
1 tbsp olive oil
salt and pepper, to taste
fresh parsley, to taste
Method:
Finely dice tomatoes, cucumber, pepper and onion. Drizzle with olive oil, lemon and season with salt and pepper. Garnish with fresh parsley or chop finely and add to salad.
To plate, place 1/2 eggplant on a dish. Season with salt and pepper. Smear with hummus. Spoon Israeli salad onto eggplant, garnish with parsley and sprinkle on some roasted chickpeas. Drizzle with tahini and finish with a final squeeze of lemon.