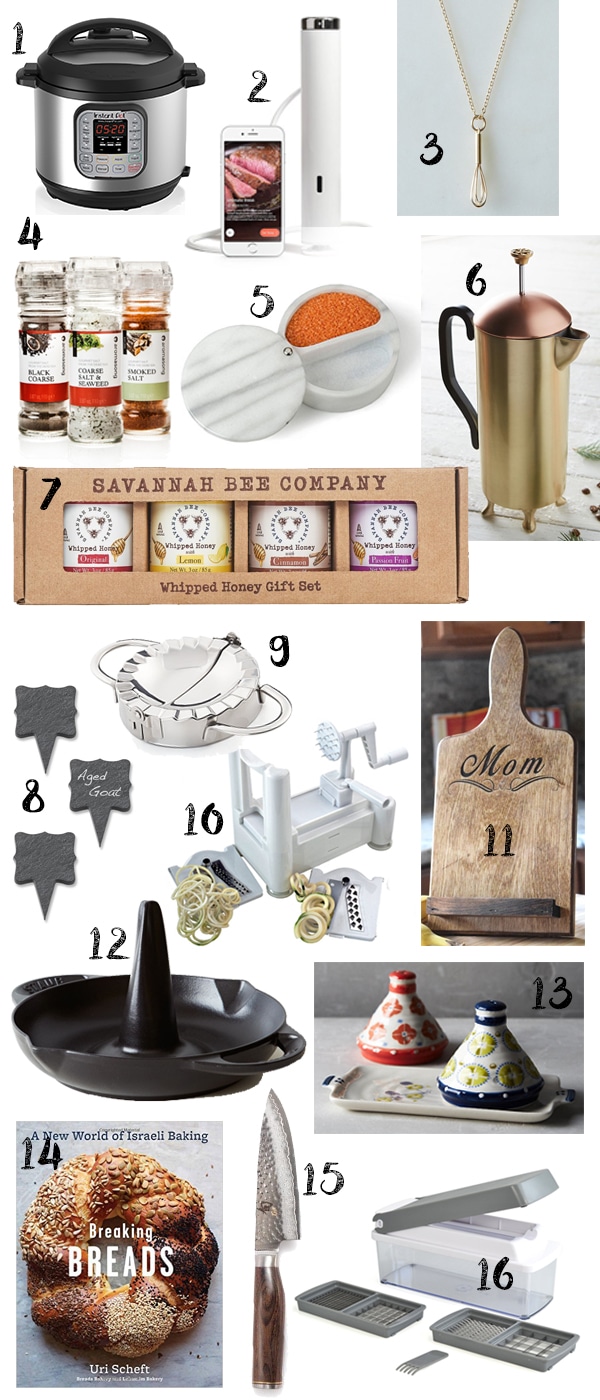 1. Instant Pot, 7-in-1 Pressure cooker
The instant pot is the latest trend that makes everyday meals super quick and easy! Use it as a pressure cooker, slow cooker, rice cooker, steamer and more!
2. Joule sous vide by Chefsteps
Chefsteps is taking sous vide cooking to the next level with their sleek new immersion circulator. You can use the Chefsteps app to connect to Joule via wifi for super simple operation. It even works with Amazon Alexa! The shoulder steak that I made this week was really easy to set up, and it came out incredible soft and tender.
3. Whisk necklace
With the whisk in my logo, I've got a thing for this handy kitchen tool. It's super cute in jewelry form too!
4. Aromasong gourmet dead sea salt gift set
I fell in love with these salts at Kosherfest this year. Grind their "dilly garlic" salt over a cucumber slice and you've got an instant pickle!
5. white marble swivel-top salt cellar
I found this stunner on The Chef's Wife Instastory and I had to have it! It's super heavy and large, the photo does not do it justice!
6.  bronzed french press
If I was into french pressing my coffee, I would so buy this beauty. But I'm still using good old fashioned instant espresso, sans machine. Shhhh!!
7. Savannah Bee Company honey gift set
I tasted Savannah Bee's collection of whipped honey at Kosherfest this year and I was hooked! The lemon is my fave!
8. slate cheese markers
Loving these slate markers to go with my slate cheese board!
9. dumpling maker
Dumplings are so hot these days, and this gadget makes dumpling-making super easy.
10. Paderno 3-blade Spiralizer
I've been a fan of spiralizing for years and I always recommend the Paderno. It's lightweight, easy to use and super fun! Don't waste your money on the 4-blade though.
11. personalized tablet or iphone holder
I bought this as a gift for my friend Melinda and had it personalized with the name of her blog, Kitchen-Tested. It was the perfect gift for her newly renovated kitchen and looks spectacular on her kitchen counter! I kinda wanted to buy it for myself after seeing it in person, but I think I'll have to upgrade my kitchen first!
12. Staub cast iron vertical roaster
If you're a fan of my bundt pan chicken, this cast iron roaster takes it to the next level. With sides that are even lower than a bundt pan, you get crispy skin all around.
13. Isidre salt and pepper shakers with tray
I couldn't help but pick up this adorable set on a recent Anthropologie shopping spree. I don't even use them, they're looking super cute on my fireplace mantel!
14. Breaking Bread by Uri Scheft
The recipes in this new release, from the owner of Breads bakery, will have you drooling! Uri shares the recipe of his famous babka, plus other staples like challah, shakshuka foccacia and rugelach.
15. Shun chef knife
Loving this beautiful knife! Now who wants to buy it for me?
16. multi vegetable chopper
Last year for my birthday, my husband bought me 35 small gifts, this chopper included. My kids are huge fans of Israeli salad, and this makes it super easy to make. I use it almost daily! I love that it has 2 sizes for chopping – extra small (just how we like our salsas and Israeli salad) and a bit larger, great for beets and mango!
What are some of your favorite foodie gifts? Share them with me in the comments below!
Please NOTE: This post contains affiliate links which means that a small percentage of every purchase made through the links above goes to help support the BIB blog!