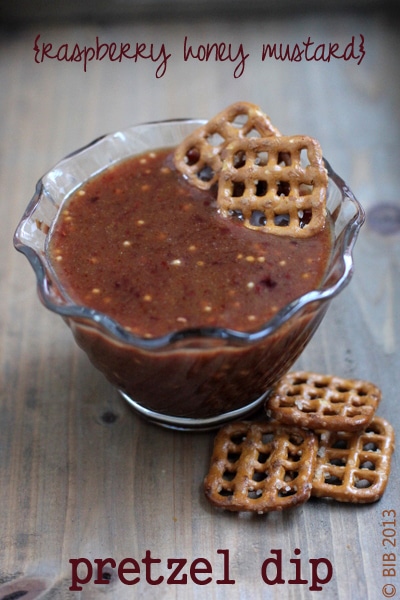 If you're still scrambling for shalach manos ideas, you've come to the right place! And not just because I'm gonna wow you with this unbelievably amazing pretzel dip that makes the perfect home-made gift. I've also got lots of other ideas for you, starting with this old post.
And then there's this new giveaway post with tons of amazing shalach manos ideas in the comments! (If you haven't already entered this giveaway, what are you waiting for? Have you seen the bowls I'm giving away?!)
And since I love you all so much, I've created a new category where you can find all of my Purim Posts in one place!
And that's not all.
If after all that you're STILL stuck in a rut, check out all the amazing home-made gift ideas for Purim in the Kosher Connection Link-Up below!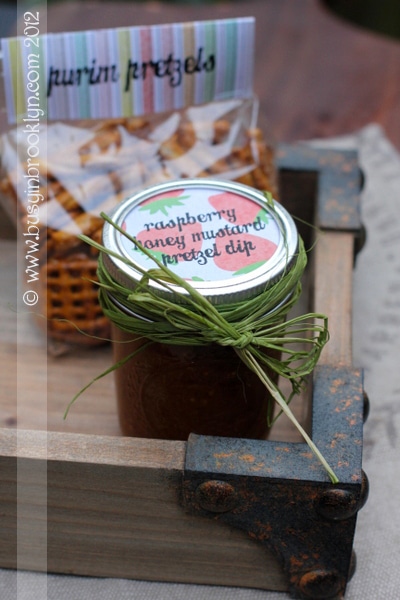 If my raspberry honey mustard pretzel dip had you at hello and you want to know how to package it up, well here's what I did:
Print out adorable tags onto cute cardstock and tape them to the top of small canning jars filled with pretzel dip. Wrap some raffia around the lid and secure with a bow. Then, fill a small cellophane bag with an assortment of pretzels and fold over the top. Print a label that says "Purim Pretzels" on one side and "from: family name" on the other. Fold it over the cellophane bag and staple on each side.
Voila. Purim Pretzel Perfection.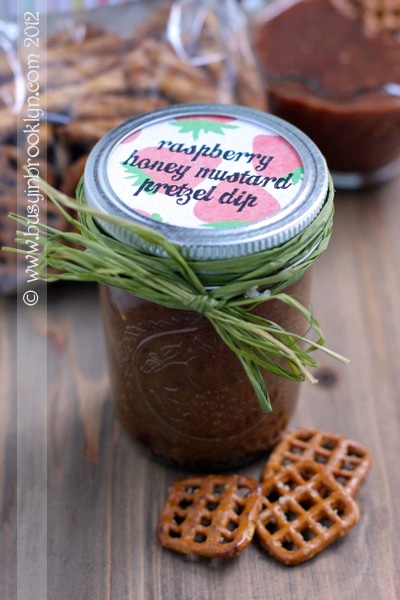 If you're not up to making this pretzel dip for your Purim package, you should still give it a try. The combination of the sweet raspberry jam and spicy brown mustard, topped off with some hot mustard seeds in each bite, make this the perfect condiment for turkey subs, chicken salad or wraps of any kind!
Raspberry Honey Mustard Pretzel Dip
1/2 cup spicy brown mustard
1/3 cup honey
1/3 cup raspberry jam
1 tbsp mustard seeds
1/2 tsp onion powder
Method:
Combine all the ingredients in a bowl and mix well. Refrigerate until the dip sets and thickens.
Serve alongside pretzels and crackers, spread over a turkey wrap or mix into chicken salad.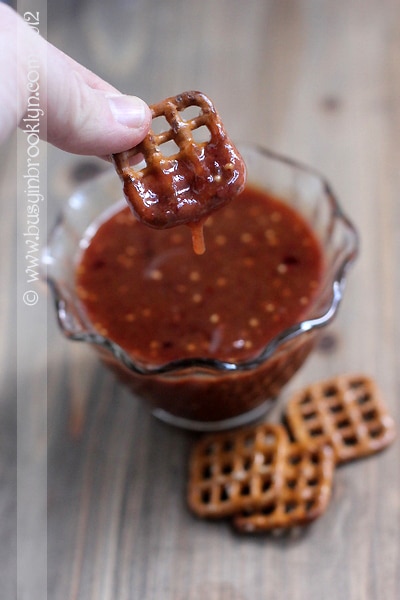 1 year ago: butter rum l'chaim cake
2 years ago: crunchy chocolate dipped pretzel rods