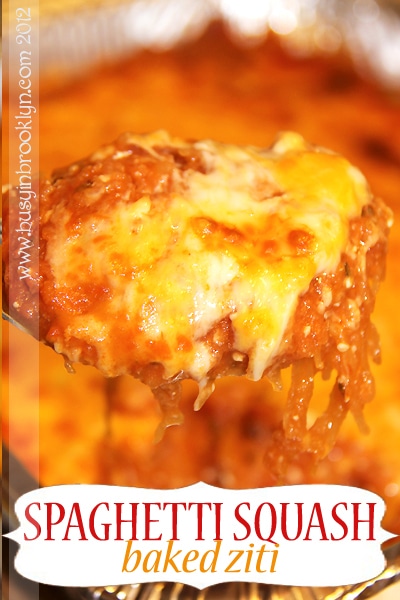 This may come as a surprise to you, but Pesach doesn't have to be all about chicken and potatoes. Or meat and potatoes. Or steak and potatoes. If you try and think outside the Passover matza box, you'll find that there are lots of other healthy options available to cut through the 8 day food-fest. Spaghetti squash is a great example. You can use it in place of pasta in lots of different preparations.
My simple baked ziti recipe is a staple in our house. My kids absolutely love it, so I usually make it every Thursday night for dinner. I often prepare this healthier version for my husband and I, substituting spaghetti squash for the pasta. It might not taste like the real thing, but it's still an easy, quick and low-carb meal that makes you feel like you're not entirely missing out. This dish would work wonderfully for Pesach chol hamoed dinner. Add in roasted veggies like zucchini, eggplant or mushrooms for added flavor and nutrients.
Other spaghetti squash recipes:
spaghetti squash bolognese
spaghetti squash with leeks, spinach and mushrooms
Spaghetti Squash Baked Ziti
1 spaghetti squash, roasted (see how to prepare spaghetti squash)
1/2-1 jar marinara sauce
1/2-1 12oz. container cottage cheese
1 8 oz. bag mozzerella cheese, divided
4 oz. cheddar cheese
Method:
Add spaghetti strands to a large bowl and mix in marinara sauce and cottage cheese. For a larger squash, use more sauce and cheese, and for a smaller squash use less. Mix in 1/2 bag of mozzarella cheese.  Pour mixture into a greased 9×13 pan. Sprinkle remaining mozzarella and cheddar cheese over the top. Bake at 400 degrees until the cheese melts and begins to brown around the edges.
1 year ago: pizza omelette
2 years ago: lemon & garlic whole roasted chickens