Dont forget to enter our Ella's Kitchen Giveway to win an assortment of gourmet baby food pouches! See this post for more info.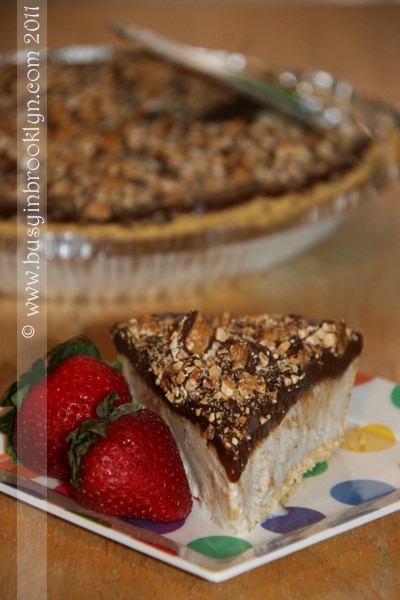 I almost dont want to give this recipe away, it's that easy! Whenever I serve it for dessert, my guests always seem to think I've patchked for hours making gourmet fudge. But the secret is out. This "fake-it-gourmet" ice cream pie is as easy as, well, pie :) If you like peanut butter, you're in for a real treat!
Since the fudge topping is super rich, I like to use Double Rainbow Vanilla Bean Ice Cream as the filling. I've also used their cookie dough ice cream, as well as others. I find that simple vanilla is the best way to go, but if you really want to indulge, you can also use chocolate. To really up the ante on this recipe, use dairy ice cream, but if you are serving it after a fleishig meal, I recommend So Delicious or Double Rainbow ice creams.
I use chopped viennese crunch for this recipe, but feel free to use any topping you'd like. Sprinkles, toasted coconut, chocolate or peanut butter chips and nut crunch or brittle are all good choices.
Chocolate Peanut Butter Ice Cream Pie
1 graham cracker crust
1 pint Double Rainbow Vanilla Bean Ice Cream, softened
1/3 cup chocolate syrup
1/3 cup corn syrup (light or dark)
1/3 cup peanut butter
5 viennese crunch chocolates, chopped
Method:
Spread softened ice cream into crust and freeze until firm. Mix chocolate syrup, corn syrup and peanut butter and pour over pie. Top with chopped viennese crunch. Serve with strawberries.