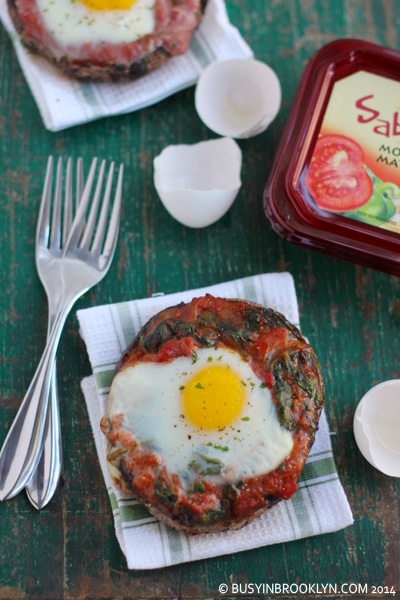 Salad or sandwich, you ask? (ok you didn't ask, but I did!) I'm a sandwich gal all the way. Offer me up a plate of beautiful greens and veggies, versus a sandwich on crusty bread – I'll choose the sandwich every time. There's just nothing like stuffing food between two slices of carby goodness! This, my friends, is what makes the 8 days of Passover so hard for me.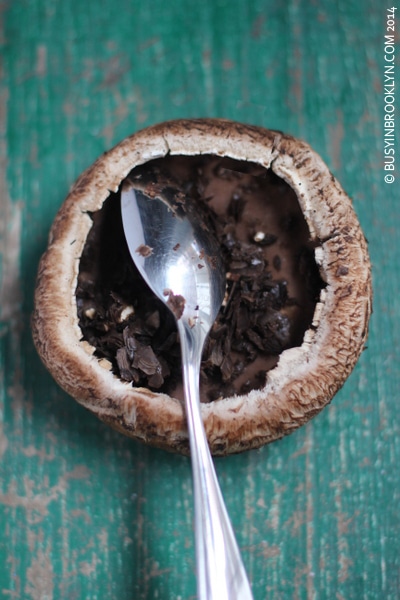 The hardest part about not eating bread or gebroks ( (dishes that allow for matza to absorb liquid) over Pesach, is not having a vessel to eat my food with. I don't smear dips over matza or eat matza pizza or matza sandwiches. Which means, I've got to look for things to stuff my food into. Kosher for Passover pizza omelettes, portobello pizza,  chessy stuffed peppers, roasted eggplant parmesan – these are some of the recipes that get me through the holiday.
When you really think about it – it's just 8 days, just shy of a week of going gluten free, whats the big deal, right? Somehow though, Pesach seems like an eternity. When I was growing up, we'd wait on line for hours after Pesach to get a pie of pizza. What is it about the holiday that makes us feel so deprived?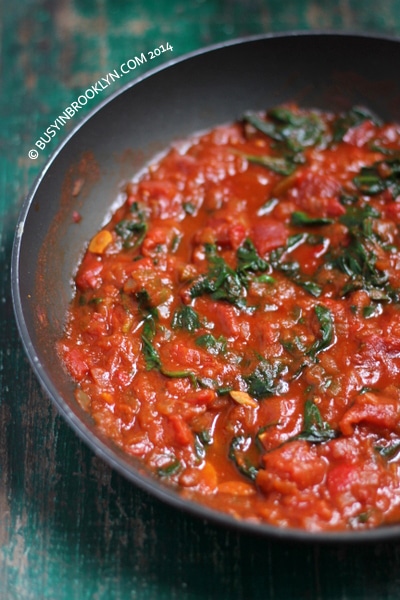 Maybe it's that us non-grebrosters are not thinking outside the box enough. Meat & potatoes, chicken & potatoes, and eggs & potatoes really does get kind of boring. With stringent Passover customs, the lack of variety induces many-a-craving. I think that's where the endless hours at the pizza store comes into play. Not only did we not enjoy matza pizza over Pesach, our family custom was to avoid dairy altogether – so no cream cheese on matza or even yogurt for breakfast. Breafast was always the hardest part of the Chag. We ate a lot of omelettes!
With dairy off the table, I try to come up with unique dishes, especially for breakfast/lunch when I prefer to avoid meat and potatoes!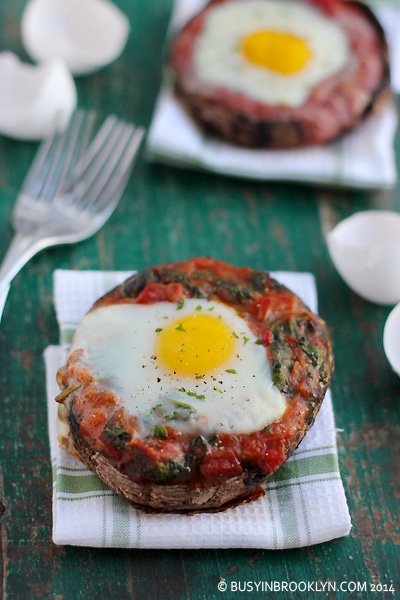 One of my favorite breafast/brunch dishes of all time is shakshuka! Shakshuka is a classic dish of eggs poached in a peppery tomato sauce. I like to take the shortcut and use matbucha (or even marinara) as the base – but I've taken it up a notch here by baking the shakshuka in some portobello "cups". This makes for the perfect base to catch all those yummy egg drippings. Sabra's Kosher for Passover matbucha (no kitniyot) makes preparing this dish a cinch – perfect for Chol Hamoed brunch!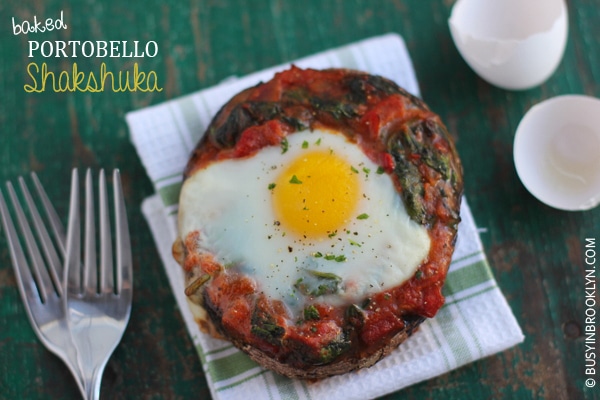 This show stopping dish is sure to please many-a-Passover-palate! Really, who needs some fresh hot pita when you have a roasted portobello mushroom to sop up all that rich egg yolk? Ok, ok I admit I'd go for the pita, I'm a sandwich gal after all. But for 8 days of the year, I think  the portobello makes for a perfect stand in. And they're cute too!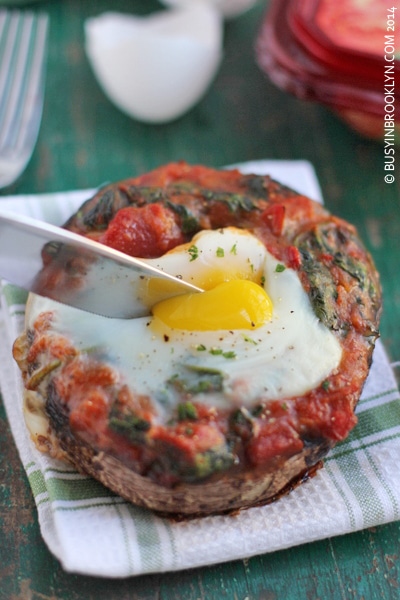 For the recipe, head on over to Joy of Kosher. And don't forget to enter into Sabra's sharesabra giveaway! All you have to do to win a $200 gift card is show and tell Sabra what you're eating and who you're eating it with. Take pictures of your food or family and friends at meal time and post on Facebook, Twitter or Instragram with the hashtag #ShareSabra for a chance to win.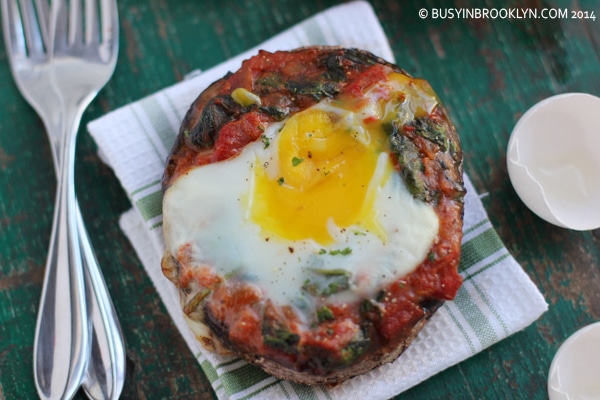 This post was sponsored by Sabra.
Other Sabra recipes: Israeli style tuna salad