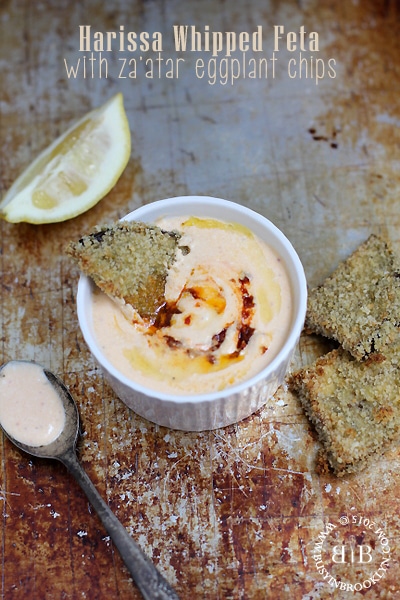 I recently did a spice roundup of some of my favorite spices and seasoning blends on Instagram. I love cooking with spices because I can pack on the flavor without piling on the extra sugar and additives that are found in sauces and marinades. Spices keep things clean and healthy, without sacrificing on flavor.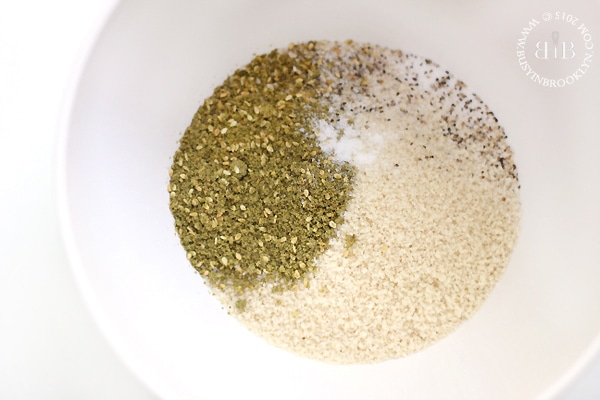 If I had to choose a favorite spice, it would probably have to be za'atar. Za'atar is a spice blend that is native to the Middle East. It includes sumac, oregano, thyme and sesame seeds – a bright combination that's great with just about everything. I love it on pita chips, chickpeas, chicken, fish, eggplant, cauliflower…like I said, everything!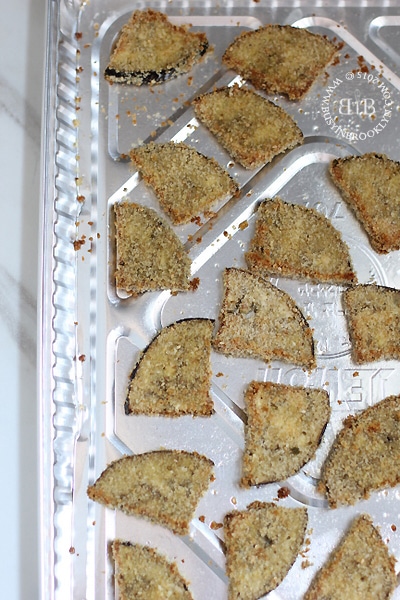 Another one of my favorite spice blends is harissa. Harissa is a North African chili paste that adds amazing depth of flavor to fish, meat, poultry, veggies and sauces. I love to mix it into my shakshuka, tahini, Moroccan fish, sour cream and even nacho cheese! There's a reason that Time Magazine called harissa the "new sriracha" of 2015. And as a MAJOR sriracha fan, let me assure you that it's quite the compliment!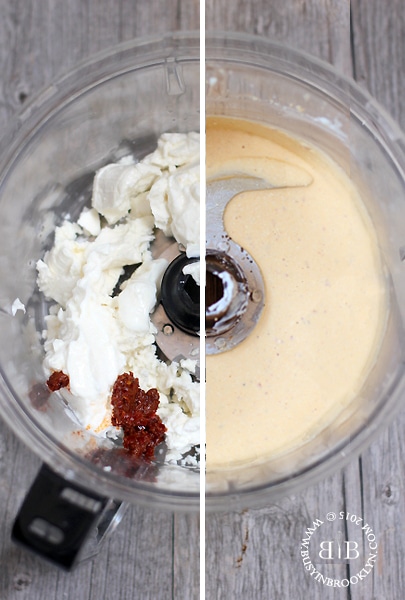 The crazy thing about za'atar and harissa is that, while they are both good on their own, they are amazing together! I never realized just how well these spices complemented each other until I developed this recipe. And I. am. obsessed!!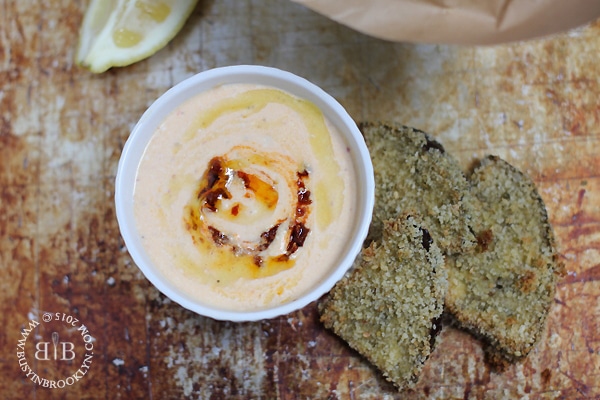 So first, the chips, because I am a chip fanatic. I love that these eggplant chips are baked and not fried – but they are still perfectly crispy. The za'atar adds such an amazing unexpected punch of flavor to the breading that you can literally go through an entire tray in one sitting.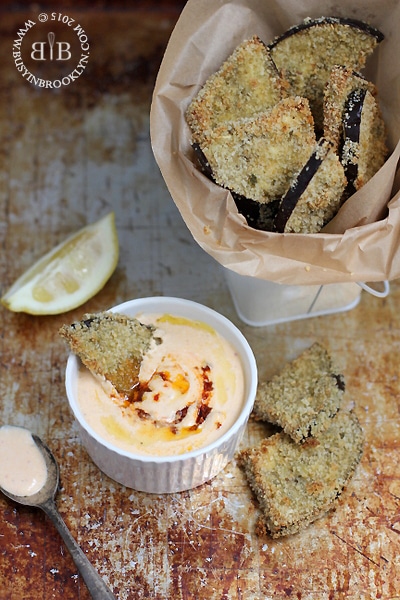 And the feta? Oh. Em. Gee. If you've never whipped feta before then GET ON IT! Most people don't think of feta as a creamy cheese, but when you whiz this stuff up with a little Greek yogurt – it's like a silky smooth dip that's perfectly salty. Dunk those za'atar chips in and it's a full on an explosion in your mouth.
What are some of your favorite spices and seasonings? Share them with me in the comments below!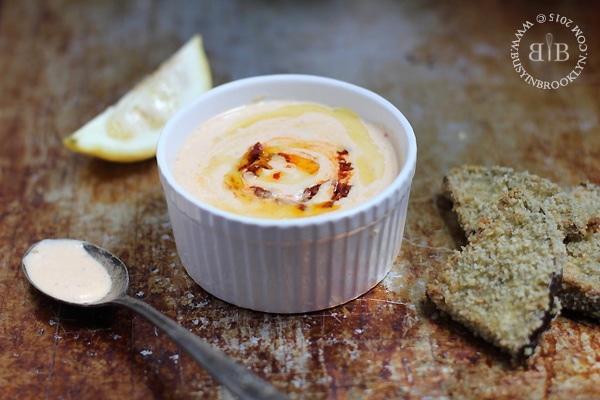 Harissa Whipped Feta
1 7 oz. block of feta (not crumbles)
3 oz. Greek yogurt
1 tsp harissa, or, to taste
juice of 1/2 lemon
olive oil and harissa, for garnish
Method:
Place the feta cheese, yogurt, harissa and lemon in a food processor or blender and blend until completely smooth and creamy, scraping down the sides of the bowl as needed. Place the creamed feta in a serving dish and garnish with olive oil and harissa. Serve with za'atar eggplant chips.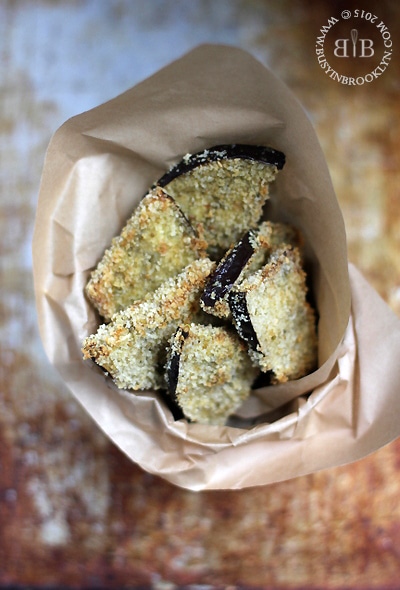 Crispy Baked Za'atar Eggplant Chips
1 large eggplant, sliced in half lengthwise, cut into 1/4″ thick slices
2 cups panko bread crumbs
3 tbsp zaatar
salt and pepper, to taste
2 eggs, beaten
Method:
Preheat oven to 425 degrees. Cut the eggplant slices in half to create triangular wedges and set aside. Beat the eggs and season with salt and pepper. In a small bowl, whisk the panko bread crumbs with za'atar, salt and pepper. Set up a dredging station with the eggplant wedges on one tray, the eggs in another and the za'atar panko crumbs in another.
Dip the eggplant wedges into into egg, shake off the excess, and dredge in the seasoned panko crumbs. Spread eggplant out on two well-greased cookie sheets (make sure not to overcrowd them) and spray with cooking spray. Bake for 25 minutes until browned and crispy.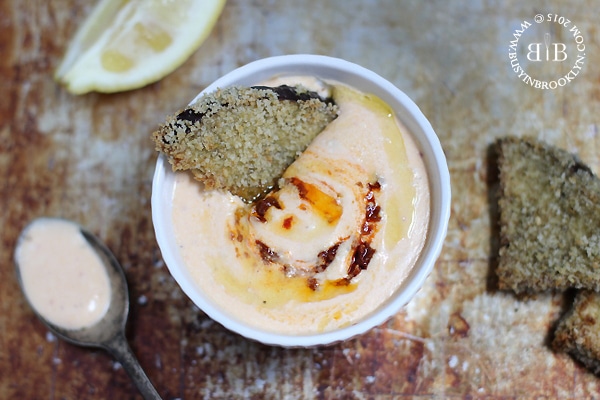 Related Recipes:
za'atar roasted chickpeas
malawach cheese pastries with za'atar
confetti latkes with harissa sour cream
cauliflower nachos with harissa cheddar sauce