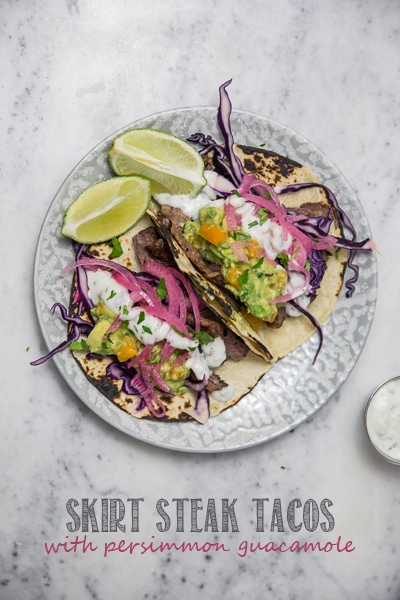 Cookbook. Cookbook. Cookbook. That's all I can think about these days. In the morning, afternoon and evening, even in my sleep. I was literally typing up recipes in my dream the other night…yes! It's really happening!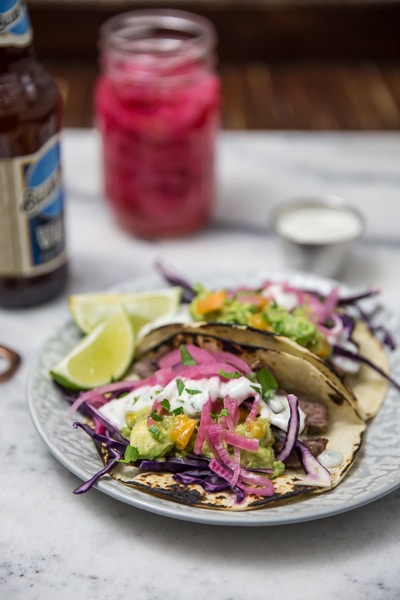 Here are the stats as of 11/9/17, 10:41 AM:}
132/145 recipes tested
13/145 recipes to retest
11/145 recipes photographed
59/145 recipes written
0/145 headnotes written
0/3 intro chapters written
Would you look at those numbers? When I think about all the work I have ahead of me, I get so overwhelmed and stressed. But then I look back at the 132 crazy, amazing, unique, delicious and doable recipes that I've created for this book and I have to be proud. Yes, there is so, so much to do. But it will happen. And it will be glorious when it does.
Meanwhile, we've mostly been eating the recipes I've been testing (my 11 year old wanted to know why the dinners have become so weird in the house, with several courses, sometimes mismatched foods that don't go together!), so I've been pretty quiet on social media these days. I did take the time to celebrate persimmon season with these awesome skirt steak tacos, and I'm so happy to share the recipe with you here!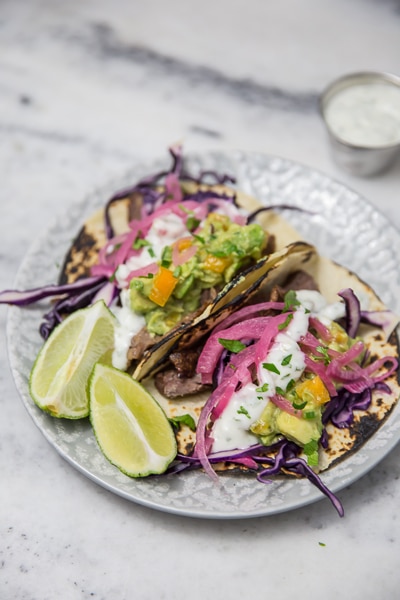 Skirt Steak Tacos
1 skirt steak, soaked in water for 30 minutes
freshly ground black pepper
2 tsp grapeseed or canola oil
soft corn tortillas
shredded red cabbage
fresh lime
cilantro, for garnish
Persimmon Guacamole
Cilantro Lime Crema (use vegan sour cream)
Pickled Onions
Method:
Heat a cast iron skillet until smoking. Using paper towels, dry the skirt steak thoroughly. Season with freshly ground black pepper. Grease the skillet with oil and add the skirt steak. Cook until a crust forms and the skirt steak releases from the pan, about 3 minutes. Turn over and repeat on the opposite side. Rest for five minutes and slice thinly against the grain.
Heat the corn tortillas over an open flame until lightly toasted on both sides. Fill the tortillas with skirt steak, red cabbage, persimmon guacamole, pickled onions, crema and cilantro. Serve with lime wedges.
Related Recipes:
refried bean tacos
Old Bay fish tacos
coconut crusted fish tacos with plantain tortillas
fish tacos with broccoli slaw