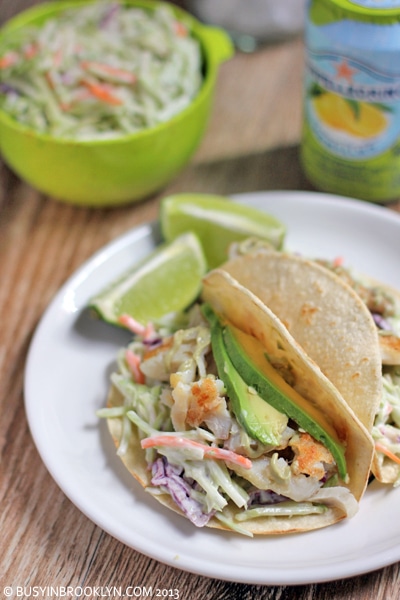 I'm not a huge fish person, so fish tacos are not something you'd normally find on my menu. Recently though, we've started cooking less meat in our house, and plain old chicken, even with endless preparations, gets kind of tired. My husband came home from work one day raving about the red snapper he'd had for lunch, so when I saw some fresh snapper at the fishmonger, I decided to surprise him with something fresh and different from our usual fare. I've been making it ever since, and not just with red snapper.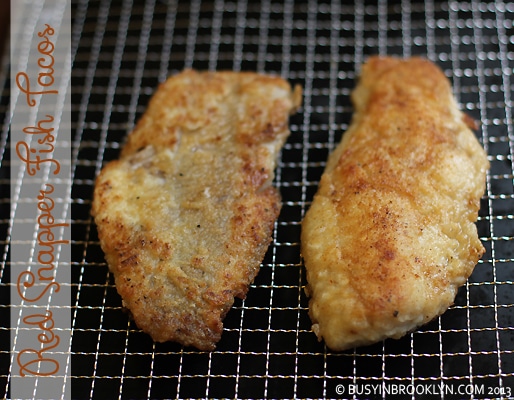 Fish tacos should be a light and filling dish, so I don't like to fry my fish with a heavy bread crumb topping. Instead, I dust it with a light coating of flour, giving it the perfect golden crust that you just can't get on it's own. I wouldn't even call this fried fish – it's only lightly pan-fried in a little oil.
Panfried Red Snapper
4 red snapper fillets (or any white fish fillet)
1/4 cup olive oil
2 cloves garlic, finely minced
juice of 1/2 lime
1/2 cup flour
1/2 tsp garlic powder
1/2 tsp onion powder
1/2 tsp ginger
pinch of cayenne pepper
s&p, to taste
canola oil, for frying
lime wedges, for serving
Method:
Add olive oil, garlic and lime to a shallow bowl or ziploc bag. Place the red snapper in the liquid and marinate for 15 minutes. Remove from bag and shake off garlic and liquid. In a separate shallow bowl, whisk the flour with the spices. Dredge the fish in the flour and shake off, so that only a light coating remains. Pan-fry the fish in hot oil until golden on both sides.
Flake gently with a fork, add to fish tacos and serve immediately.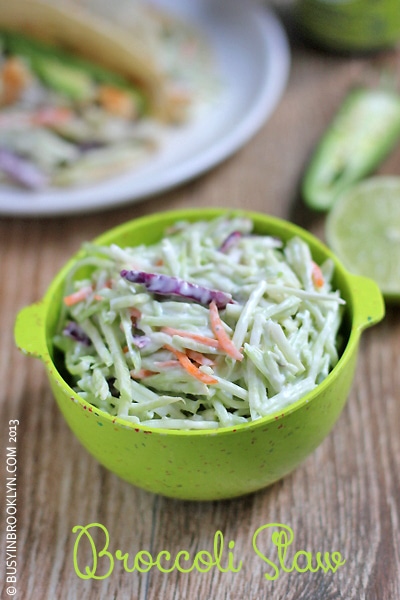 Ask any fish taco enthusiast and they will tell you that every fish taco needs 2 accompaniments – a sauce and a slaw. To make things easier, I combine the two. My creamy broccoli slaw is a great change from typical slaw recipes that use cabbage. It's dressed with a delicious combo of sour cream, jalapeno and lime – the perfect complements to flaky fish.
Creamy Broccoli Slaw
1 12oz. bag broccoli slaw*
1/3 cup mayo
1/3 cup sour cream
1/4 cup rice vinegar
juice of 1/2 lime
zest of 1/2 lime
1/2 jalapeno, seeds and veins removed, finely diced
2 tbsp sugar
salt and pepper, to taste
avocado slices, for garnish
Method:
In a bowl, whisk the dressing ingredients. Pour over broccoli slaw and mix well. Serve with fish tacos, garnished with avocado slices.
*If you cannot find broccoli slaw, you can make your own. Shred 1 bunch of broccoli stems with 1 carrot and 1/4 head of red cabbage.
NOTE: For dairy free broccoli slaw, you may use additional mayo in place of the sour cream.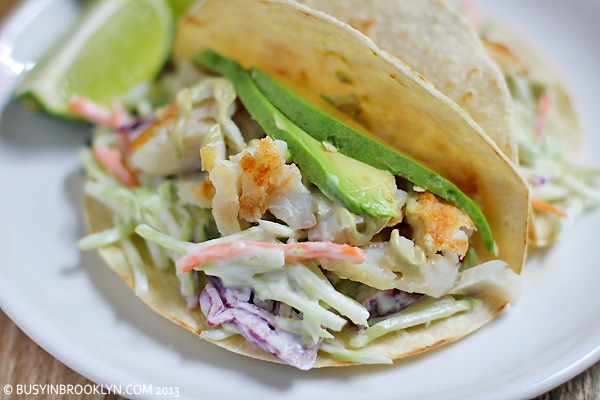 To assemble your fish tacos, heat up some soft corn tortillas in a dry pan, lightly browning on both sides. Holding the tortilla in the palm of your hand, fill with slaw and top with flaked fish and avocado slices.
1 year ago: linguini lasagna
2 years ago: blueberry corn pancakes