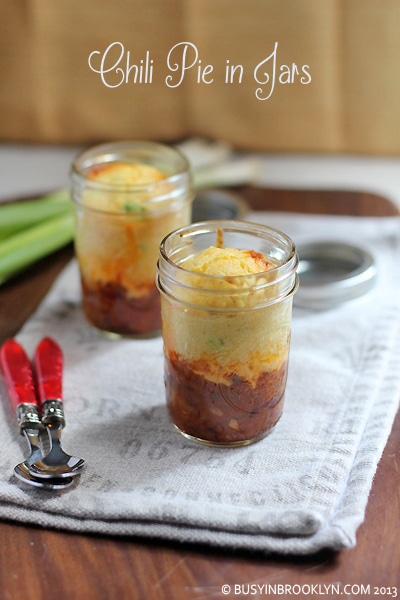 For one week of the summer, I welcome the opportunity to put on my dairy apron, which usually collects dust until Shavuous comes around. Lighter meals of grilled fish and salads are also appreciated on these hot summer days. But for some serious meat eaters, the nine days* can be a challenging time. I know, because my husband is one of them. If he comes home from a long day of work to a pot of mac and cheese, he takes a bite and then asks for the next course. To him, a meal without meat is not a meal at all. The good news is, meat-eaters can still enjoy some hearty dishes, albeit without the 6-hour wait tag.
Vegetarian chili is a great option for the nine days because it is so versatile. You can serve it up in a burrito, over baked potatoes, or as a base for shepherds pie. You can also go the classic route and eat it alongside cornbread, or go Mexican with a tray of enchilada's. Usually, chili needs to cook for several hours, but because I don't like to sit over a hot stove in the summer, I've come up with a great recipe that doesn't require endless hours on the stove.
For more great Nine Days ideas, including other meat-lovers recipes, visit the new Nine Days category.
You can also check out my new Nine Day Album on Facebook for great dairy and pareve recipes that are not on the blog.
*The Nine Days is a mourning period over the destruction of the Holy Temple. During this time, observant Jews abstain from eating meat and drinking wine as well as other joyous activities.
Vegetarian Chili
1 onion, diced
3 cloves garlic, minced
1 1/2 tbsp olive oil
1 jalapeno, finely chopped (seeds and veins removed)
2 tsp chili powder
1/2 tsp cumin
1 tsp garlic powder
3 heaping tbsp tomato paste
3 soft plum tomatoes, chopped
2 tbsp brown sugar
1 can kidney beans, drained and rinsed
1 can pinto or black beans, drained and rinsed
1 cup veggie stock or water
salt and pepper, to taste
Method:
Heat the olive oil in a pan and add onions and garlic. Saute until translucent. Add the jalapeno (keep some of the vein and/or seeds for more heat) and saute for another minute. Add the chili, cumin and garlic and continue to saute until fragrant. Add the tomato paste and saute for another 1-2 minutes. Add the remaining ingredients and bring to a simmer. Cook, covered, for 1 hour, stirring occasionally so that the chili doesn't stick to the bottom of the pan. Add additional veggie stock, if needed.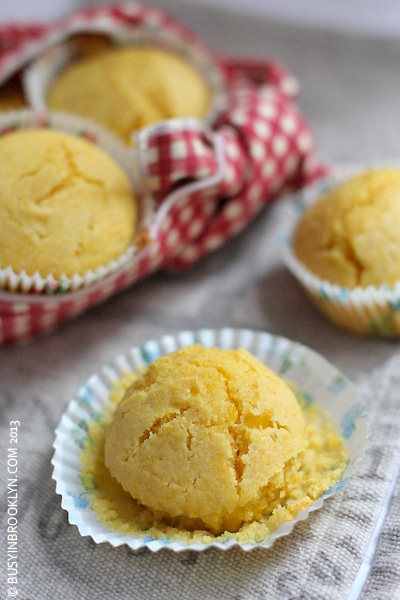 To me, chili without cornbread is like a hot dog without mustard. It's just a must-have! It took a long time for me to come up with the perfect cornbread recipe that is moist, not too sweet, and, well…corny (you know I mean that in the taste of corn sense). The combination of coconut milk and creamed corn keep the cornbread moist and pareve. That means you get to whip them up with some REAL meat chili when the Nine Days are up!
Moist Pareve Cornbread
1 1/2 cups flour
1 1/2 cups cornmeal
1/2 cup sugar
2 tsp baking powder
1/2 tsp baking soda
1/2 tsp salt
1 cup coconut milk (I use Coconut Dream Original)
1/2 cup canola oil
1 egg
1 14.75oz. can creamed corn
Method:
Preheat oven to 350 degrees. In a bowl, whisk together the flour, cornmeal, sugar, baking powder, baking soda, & salt. In a separate bowl, whisk the milk, oil and egg. Pour the wet ingredients into the dry ingredients and stir to incorporate. Add the creamed corn and mix to combine. Pour into  a 9″ square pan, cast iron skillet, or 12 muffin cups. Bake for 20-25 minutes (less for the muffins, more for the pan) until a toothpick inserted comes out clean.
Cornbread may be kept at room temperature for up to 2 days and will keep for an additional week if refrigerated.
VARIATION: to make these dairy, substitute the coconut milk for whole milk and half of the oil for melted butter.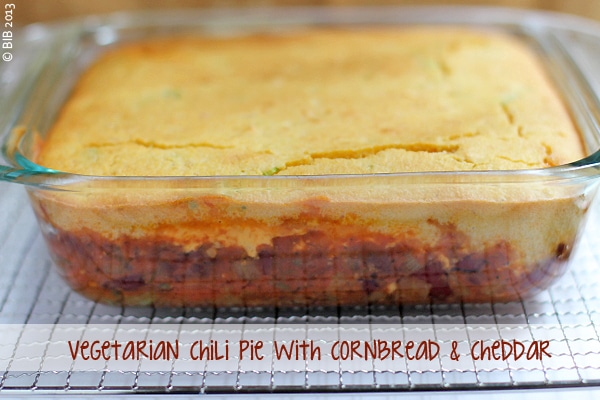 I mentioned lots of fun ways to use chili earlier in the post, but I especially love this one-dish-meal option. You can choose to layer the chili into a square baking dish, or serve them up in individual mason jars for a fun twist. Since the cornbread is cooked on top of the chili (and will rise during baking), I only use half of my cornbread recipe for it. You can use the remaining batter for cupcakes or double up the chili recipe, and make 2 pies.
Layered Chili Pie
1 recipe vegetarian chili
1 8oz. bag shredded cheddar cheese
1/2 recipe cornbread batter
1 scallion, chopped
Method:
Pour the chili into a 8″ square pyrex dish. Top with shredded cheddar. Mix the scallions into the cornbread batter and pour on top of the cheese. Bake, at 350 degrees, for 25 minutes. or until toothpick inserted comes out clean.
To prepare individual servings in mason jars, fill 1/3 of half pint jars with chili. Top with a tablespoon of cheddar cheese, and 1/3 cup cornbread batter mixed with scallions. Repeat with approximately 6-8 more jars. Bake at 350 (without the lid) for approximately 15-20 minutes, until toothpick inserted comes out clean.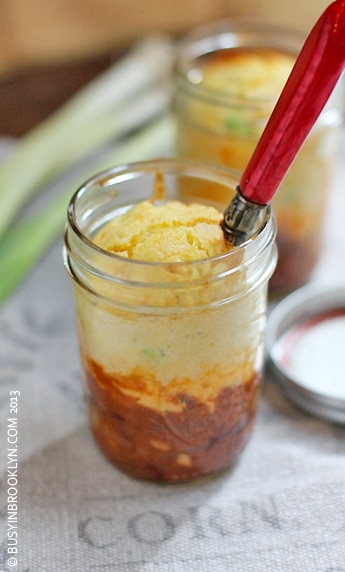 1 year ago: Corn Flake crunch ice cream
2 years ago: sushi salad II