Believe it or not, I'm not the biggest tomato person. I'll happily leave them out of my burger, and I never put them in my tuna sandwiches. My husband, on the other hand, is tomato-obsessed. Ask him what he would take to a desert island, and I know without a doubt, that it would be a boat-load of tomatoes. So when it comes to salad-making, you can imagine that we are not always in agreement.
Summer, though, is the exception. There's just something about summer tomatoes that is so deliciously sweet. Instead of arguing about adding tomatoes to the salad, we end up making tomato-only salads. Using an assortment of tomatoes like red and yellow tomatoes on the vine, or colorful heirloom tomatoes, makes for a beautiful presentation. With summer tomatoes being so juicy and delicious, you really don't need much to make them sing. A simple drizzle of good quality olive oil and balsamic vinegar is enough to dress them up. Feta adds protein, color, and saltiness, to balance out the tomatoes sweet flavor.
Needless to say, my husband is in LOVE with this salad. I hope you will be too.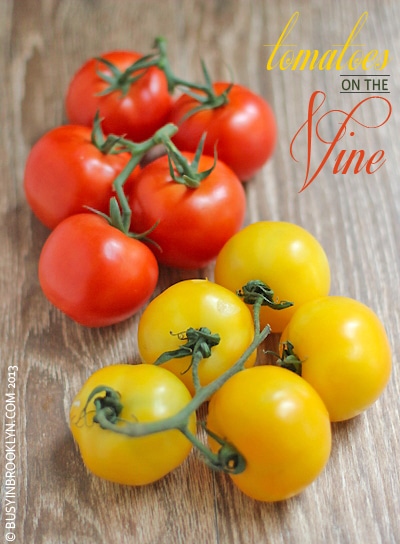 Summer Tomato Feta Salad
Red & yellow tomatoes on the vine (or heirloom tomatoes)
Feta cheese
Good quality olive oil
Balsamic vinegar
Kosher salt
Black pepper, optional
Chopped parsley, for garnish
Method: Slice the tomatoes, about 1/4″ thick. Lay the tomatoes on a platter, alternating between red and yellow. Sprinkle the feta cheese over the tomatoes. Drizzle with olive oil and balsamic vinegar and season with kosher salt. Garnish with parsley.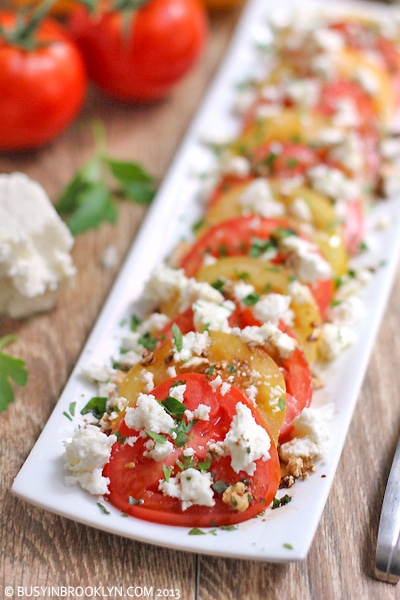 1 year ago: picture perfect teacher's gift
2 years ago: Asian bigger bowl soup