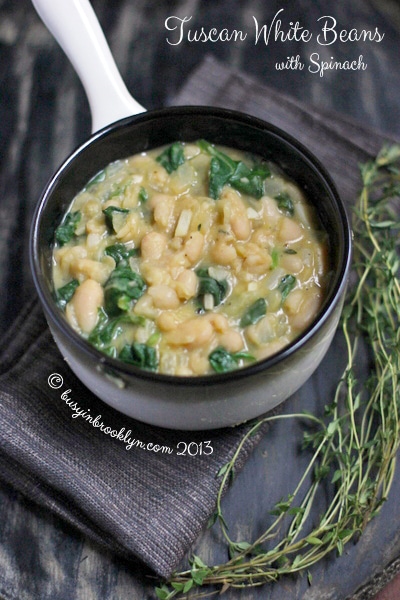 If you follow me on Instagram, you probably know that I love to eat out. Which is why I'll probably never leave Brooklyn. Aside from Israel, New York has got to be the mecca of the kosher culinary world. You'll find all sorts of restaurants scattered throughout the five boroughs, including Indian, Italian, French and Chinese eateries. Being a foodie-turned-chef, I take inspiration for my recipes from everything around me – especially quality restaurant dishes. When I eat a good dish at a restaurant, I'm bound to whip up my own version in my kitchen (like I did here). This is one such recipe.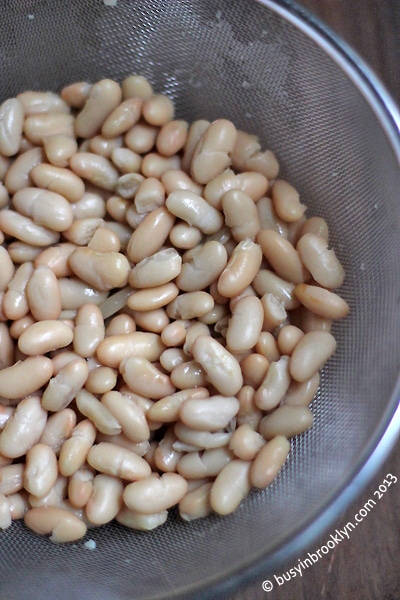 Tuscan White Beans with Spinach
1 medium onion, finely chopped
3 cloves garlic, minced
1 tbsp olive oil
1/4 c dry white wine
2 cans cannellini beans, rinsed and drained
4 sprigs thyme
1 bay leaf
1 1/2-2 c vegetable or chicken broth
salt and pepper, to taste
1 6oz. bag baby spinach
Method:
Saute the onions in olive oil until translucent. Add garlic and continue to saute until fragrant. Deglaze the pan with white wine and cook over high heat to reduce, 1-2 minutes. Add beans, thyme, bay leaf and 1 1/2 cups of broth. Bring the mixture to a boil and simmer for approximately 15 minutes. Season with salt and pepper. Mash half the beans and cook until creamy and thickened, adding additional broth if needed. Add baby spinach and cook until wilted. Serve immediately.
NOTE: I like to serve this as a side dish, but if you'd like to turn it into a soup, add some more vegetable broth until desired consistency is reached.
1 year ago: spicy garlic chicken
2 years ago: cornbread scones