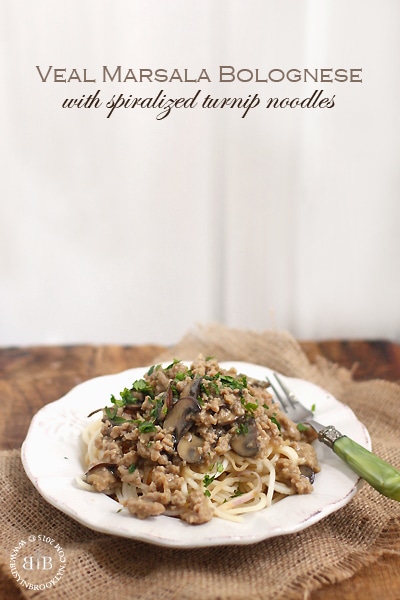 It's almost New Year's and stigmas aside, I really want to get back into healthy eating. The December donutfest threw me off the wagon, and I've been having a hard time getting back on! I'm back to the "I'll start tomorrow",  or just after the weekend, or my favorite, "Monday is a new day". Except Monday comes and goes and it's already time for the ball to drop.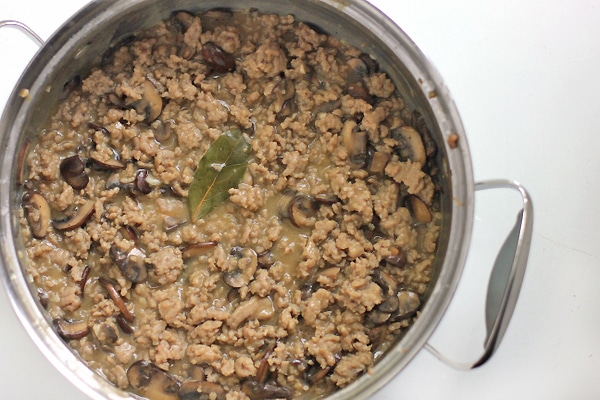 So here I am, heading into New Year's Eve and I'm renewing my commitment to pull out my spiralizer and eat more veggies and less carbs. Who's in for the ride?
We'll start with these turnip noodles and this amazingly rich bolognese made with veal (my favorite protein), mushrooms and marsala wine, a twist on the classic chicken marsala.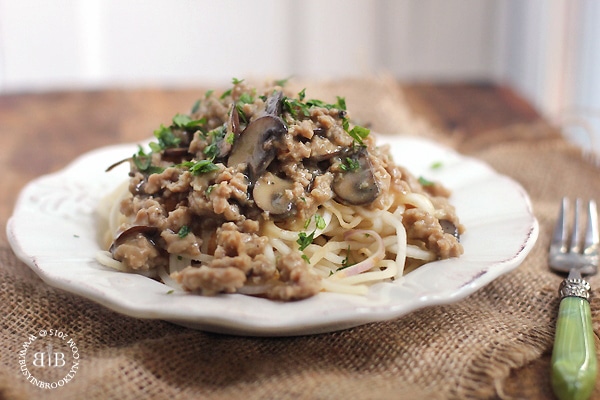 I'm a big fan of marsala (it's got wine and mushrooms, hello?!), but bolognese? Not so much. Classic bolognese is made with ground beef (not my fave) and dry red wine, and the good stuff is usually simmered for hours. Truth be told, I usually just make my split-second bolognese by browning my beef and adding store-bought marinara, which is probably why I don't like it very much. My kids, on the other hand, love it over spaghetti with a side of zoodles. It's by go-to whenever I need a quick and easy dinner, and eating it over zoodles makes it guilt-free too.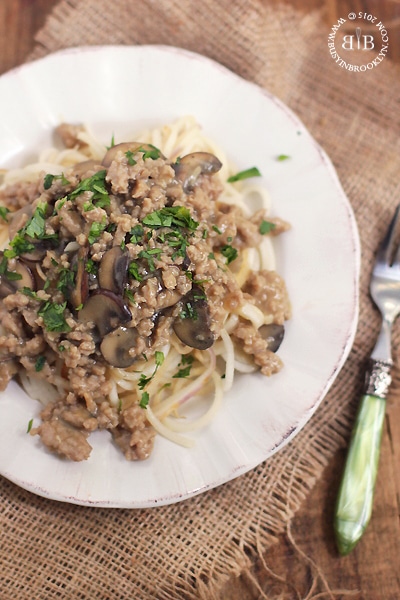 But I'm marinara'd out. I use it for my 2-ingredient lazy meatballs, my quick and easy shakshuka, my cheesy zoodle marinara and so much more. I wanted something different so I decided to create a bolognese that's marinara-free. Something not so heavy, but rich and tasty, and oh so delicious. I hit the nail on the head.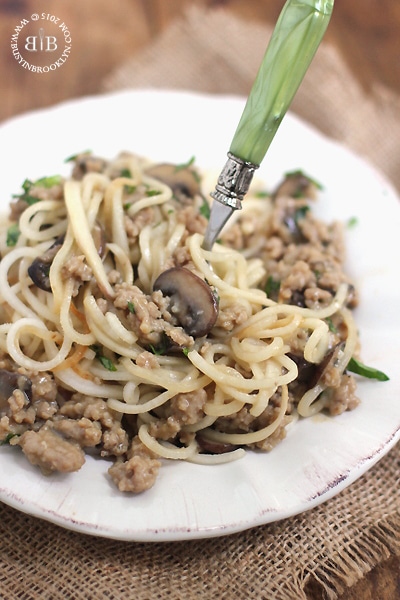 Not only is this veal bolognese amazingly rich and satisfying, it's virtually guilt-free when served with spiralized turnip noodles, a nice change from the overdone zoodles. Looks like January 2016 is going to be healthy and delicious indeed. Happy New Year!
Veal Marsala Bolognese
10oz. baby bella mushrooms, stems trimmed and sliced
1 tbsp olive oil
3 cloves garlic, minced
1 1/4 lb ground veal
3 tbsp flour
1/2 cup marsala wine
1 cup veal or chicken stock
1 bay leaf
salt and pepper, to taste
fresh parsley, for garnish
Method:
Saute the mushrooms in olive oil until all the liquid has evaporated and mushrooms start to brown. Add garlic and continue to saute until fragrant. Add veal  and cook until crumbly and no longer pink. Sprinkle the flour over the meat and cook until flour is incorporated. Add the wine, stock, bay leaf and seasoning and simmer, stirring, until the sauce has thickened, about 10 minutes. Continue to cook over low heat for an additional 10 minutes. Remove bay leaf and serve over turnip noodles. Garnish with parsley.
Turnip Noodles
1 turnip
1 tbsp olive oil
salt and pepper, to taste
Method:
Wash the turnip well (you do not need to peel) and spiralize into noodles (I use the 3mm blade on this spiralizer).  Saute the noodles in olive oil until tender and season with salt and pepper.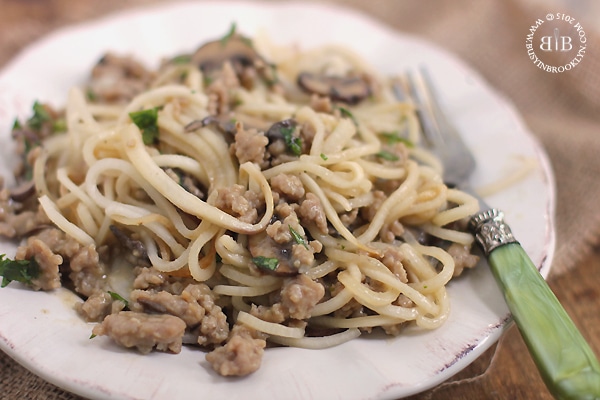 Related Recipes:
spaghetti squash bolognese
melt-in-your-mouth veal meatballs
veal shepherds pie with celery root mashed potatoes
caraway roasted turnips