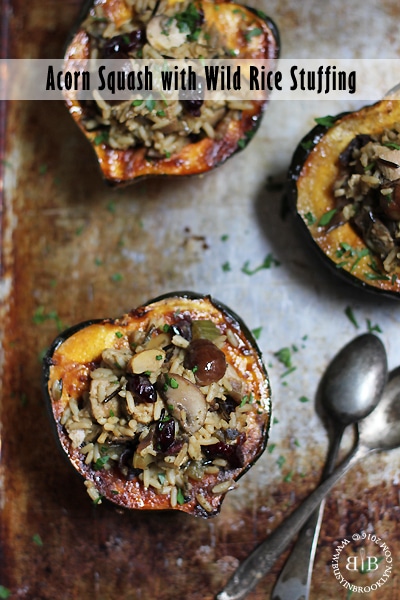 I've been loving playing around with Instagram stories these days. It lets me post a step by step cooking tutorial and it's just. so. fun! Last night I made Asian soup bowls with a richly flavored broth and a variety of vegetables for a make-you-own bowl dinner. I posted a play by play on my stories and the feedback was amazing!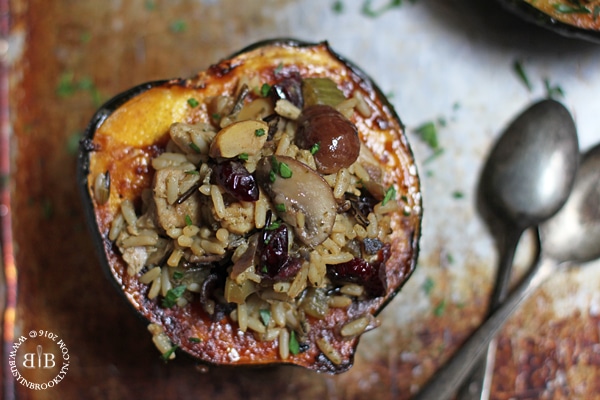 I made these stuffed acorn squashes last Friday, using some of my leftover bacon-wrapped turkey from Thanksgiving. I posted a story as I made them and I got lots of requests for a formal written recipe. I managed a quick photoshoot, even though it was a hectic Friday and do I even need an explanation? I mean just look at these?!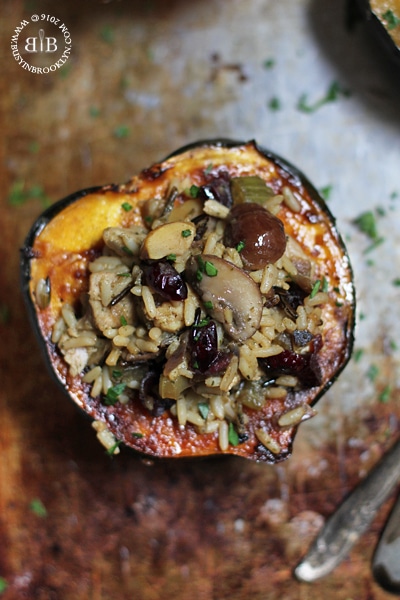 I really love the idea of making this after Thanksgiving with some leftover turkey, but if you don't have any, just leave it out and keep it vegan. With or without the turkey, this is a beautiful side dish that's perfect for the fall, winter, holidays or just a weeknight cozy dinner. I put a poached egg over some leftover rice and lemme tell you….sooooo good!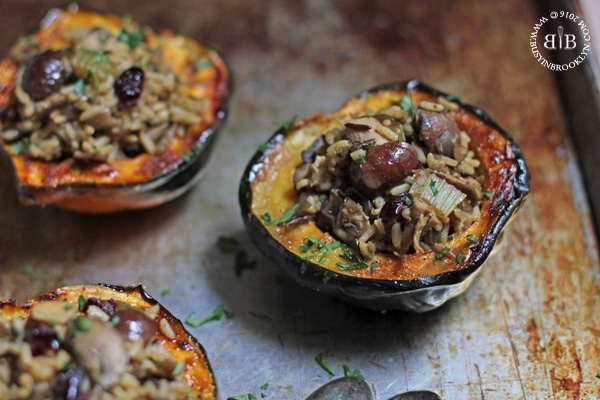 Acorn Squash with Wild Rice Stuffing
3 acorn squashes
2 tbsp brown sugar
3 tbsp olive oil, divided
kosher salt and freshly ground pepper, to taste
1 medium red onion, peeled and diced small
2 stalks celery, diced small
10oz. cremini mushrooms, stems trimmed and sliced
1 box Near East long grain and wild rice pilaf, cooked according to package directions
1 3.5oz bag roasted chestnuts, roughly chopped
1 cup leftover diced turkey (optional)
1/2 cup vegetable stock (increase to 1 cup if using turkey)
1/3 cup dried cranberries
Method:
Heat the oven to 425 degrees. Cut the acorn squash in half lengthwise and remove the seeds. Place cut-side up on a baking sheet and drizzle with 2 tbsp of olive oil.  Sprinkle brown sugar over the squash halves and season with salt and pepper. Roast until tender and caramelized around the edges, about 40 minutes.
Add the remaining olive oil to a saute pan and saute the onion and celery until deeply caramelized, about 10 minutes. Add the mushrooms, salt and pepper, and continue to saute until all the water evaporates and mushrooms caramelize. Add the rice, roasted chestnuts and diced turkey (if using) and stir to combine. Add the stock and cook the mixture until all the liquid is absorbed, stirring every few minutes. Add the dried cranberries.
Divide the rice stuffing among the roasted squash halves and serve.
VARIATION: I made this using some of my leftover kosher beef bacon-wrapped turkey, and I added some of the bacon to the dish as well. If you wish to do do so (it adds a nice smoky and crispy element), just crisp up your favorite variety and stir in the stuffing before serving (don't add it during cooking or it will get soggy).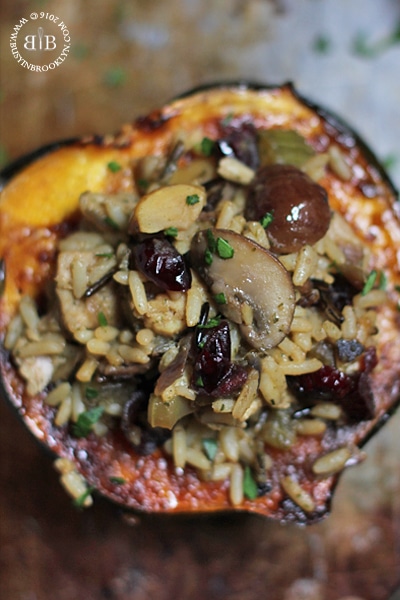 Related Recipes:
apple and sausage stuffed butternut squash
za'atar roasted kabocha squash with silan
turkey roulade with five minute stuffing
unstuffed mushrooms