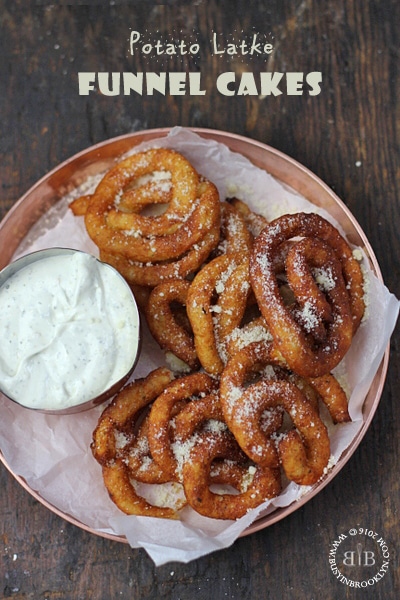 Yay!!!!! Chanukah, the festival of donuts, potato latkes and all things fried is upon us, and I couldn't be happier!! I was lucky enough to be born on the festival of fattening foods…uh…I mean….lights, so all the more reason to allow myself to really s.p.l.u.r.g.e.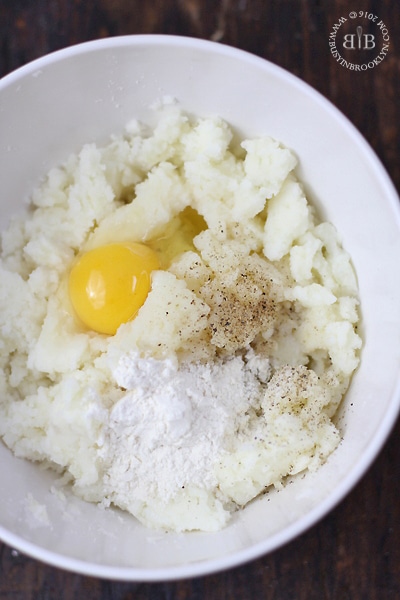 I even got married on my birthday so between my anniversary, my birthday, and the holiday, it's an eight day food fest with no restrictions. I'm not a big fryer during the year so when Chanukah comes around, I break out the gallon-sized canola oil and get to it.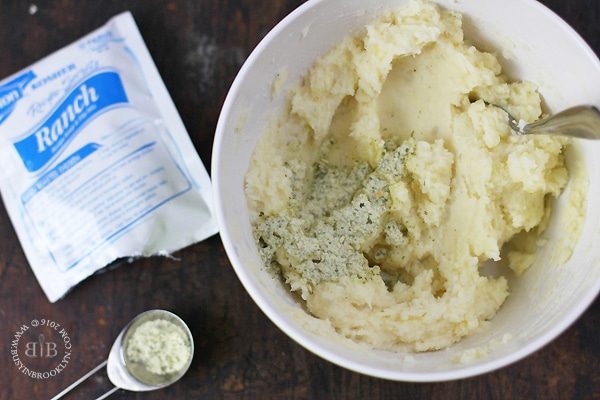 I love all the donut making and latke topping, but I especially love to make other fun fried food that I don't get around to enjoying otherwise. Like fried oreos, fried ice cream and funnel cakes! I also go savory with fried lasagna strips, zucchini chips and even beer battered salami! When I said I go all out, I meant it! (just ask my scale after the eight days are up!)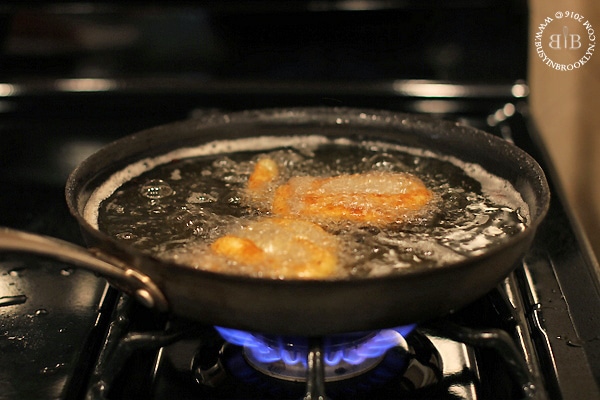 I've had some really fun latke ideas over the past few years, including my poutine latkes that landed me on the front page of The Wall Street Journal and my viral falafel latkes which turned into the ultimate sabich. I had to up the ante this year, and and what better way than fusing two of my favorite Chanukah indulgences – latkes and funnel cakes!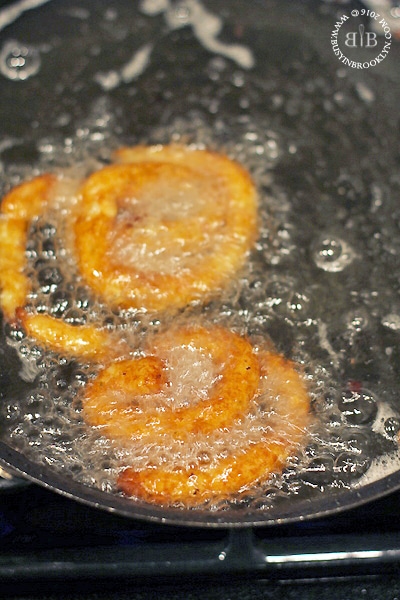 If you've never had a funnel cake, I'm sorry. It's basically a thick pancake dough that's piped into hot oil for a crispy sweet fried dough that gets covered in powdered sugar. It's. so. good. I decided to go savory with the same concept by incorporating mashed potatoes and ranch seasoning into the dough. It was a really good idea. Just try it and you'll see!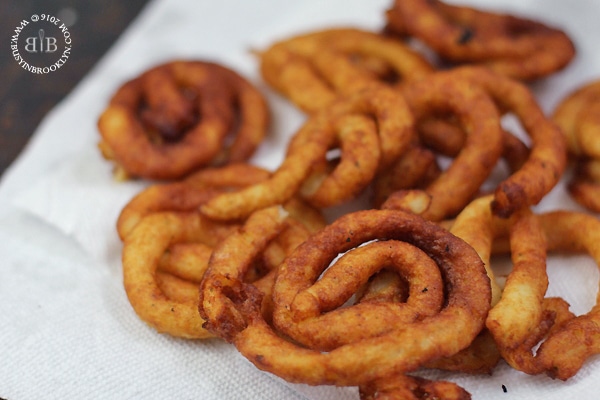 The potato dough takes a little getting used to, so I suggest practicing with a few mini cakes at first. But once you get the hang of it, you'll be banging out potato latke funnel cakes like no-ones business! Just try not to eat the whole batch before your company arrives. They're especially good straight out of the fryer!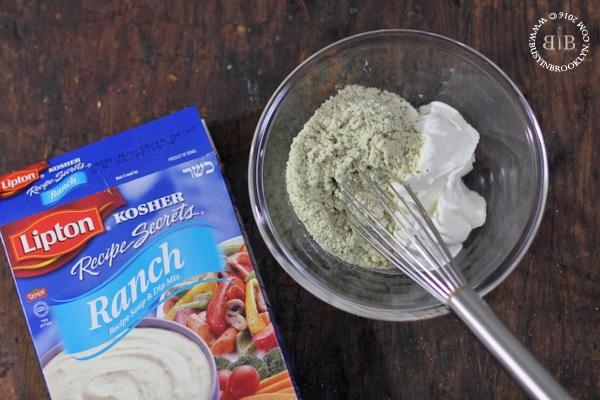 This recipe was actually my first time working with ranch seasoning and I am hooked! Where has this addictive stuff been my entire life? Potatoes and ranch make such a perfect pairing, I can't believe I've been eating chips without it until now.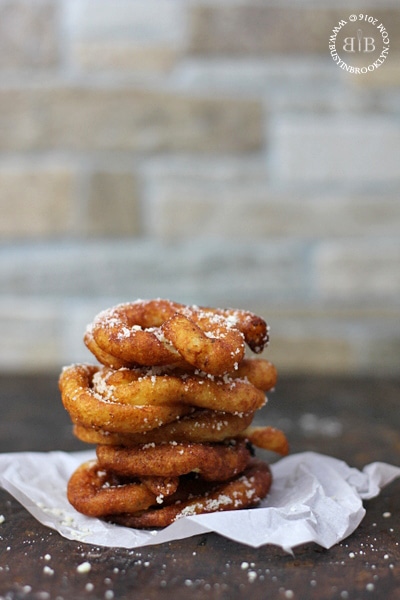 If you can't get your hands on one of these packets, just season up your potatoes to taste with the spices of your choice. My Greek yogurt ranch dip can give you some ideas!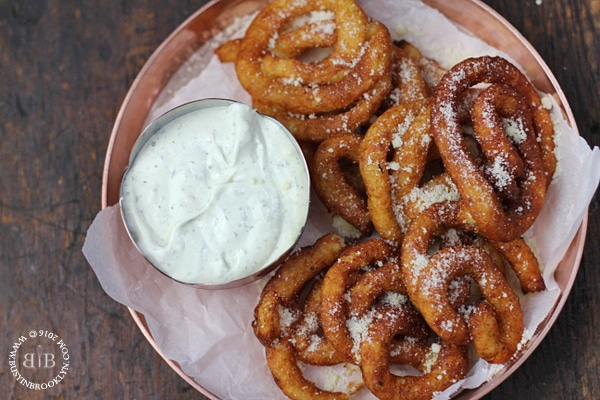 I'm working on some other fun Chanukah recipes including a donut that you can drink (you'll see!) and a super addictive twist on pb&j. Chanukah here we come!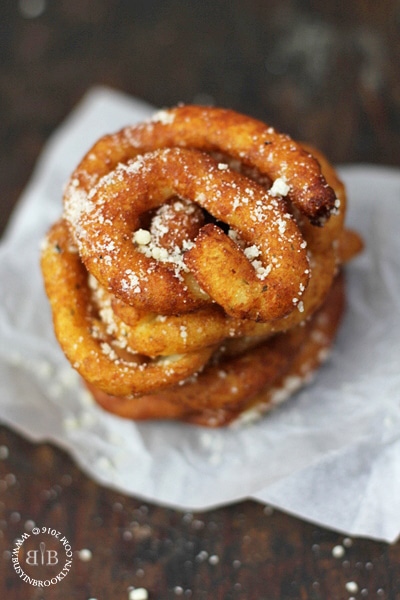 What are your favorite deep fried foods to make for the holiday? I'd love to hear! Share them with me in the comments below.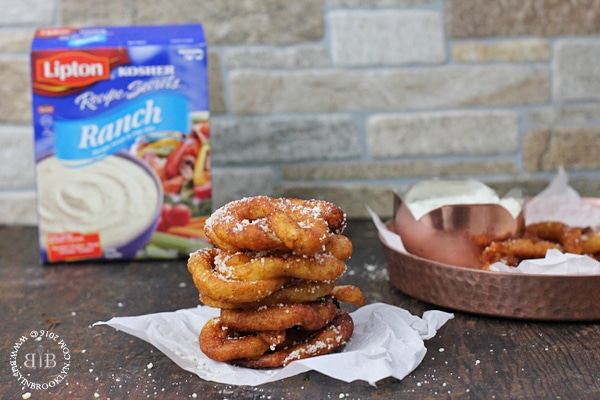 In the meantime, get your stretchy skirts ready and stack up on that canola oil. You're gonna need it!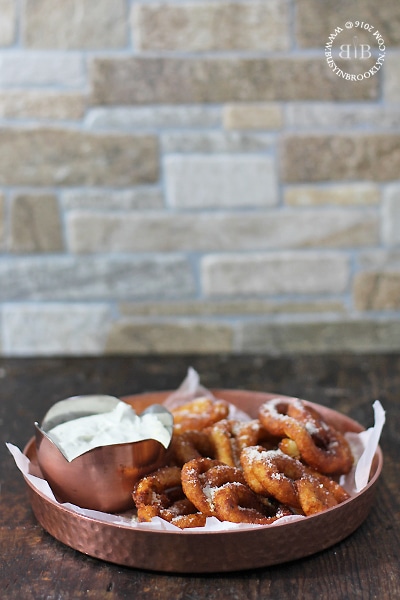 Oh, and do yourself a favor and set your scale back 5 lbs, will you?
Potato Latke Funnel Cakes
2 lbs. russet potatoes, peeled and roughly chopped (3 large potatoes)
1 egg
1/2 cup milk
3 tbsp flour
1 packet Lipton ranch seasoning, divided
salt and pepper, to taste
canola oil, for frying
1 1/2 cups sour cream or Greek yogurt
grated parmesan cheese, for garnish
Method:
Cook the potatoes in a pot of salted water until fork-tender. Drain well and add to a bowl. Mash the potatoes with a potato masher or puree with a food mill. Add egg, milk, flour and 1 tbsp of the ranch seasoning (reserve the remainder for the dip). Mix the batter until all the ingredients are incorporated and season, to taste, with salt and pepper. Heat oil in a skillet to 350 degrees. Fill a Ziploc or piping bag with mashed potatoes and pipe the batter into the hot oil in an overlapping spiral. Fry until golden brown, about 2 minutes per side. Make sure not the flip the funnel cakes until they have fully crisped up. Remove with a slotted spoon and drain on paper towels. Dust with parmesan cheese and serve hot.
For the dip, add the remainder of the seasoning packet to the sour cream and mix to incorporate. Serve with potato latke funnel cakes.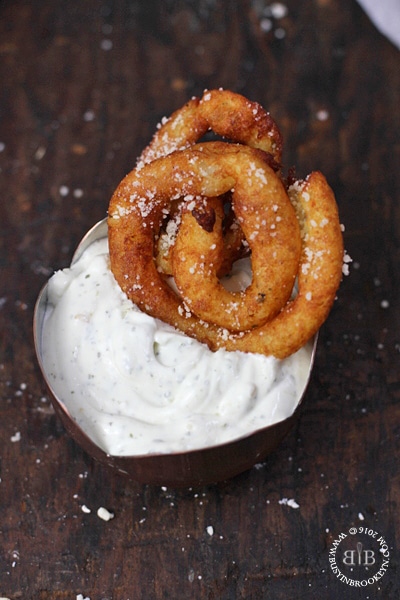 This post was sponsored by Lipton Kosher. All opinions are my own. 
Related Recipes:
sabich latkes
falafel latkes
poutine latkes
confetti latkes
butternut squash latkes