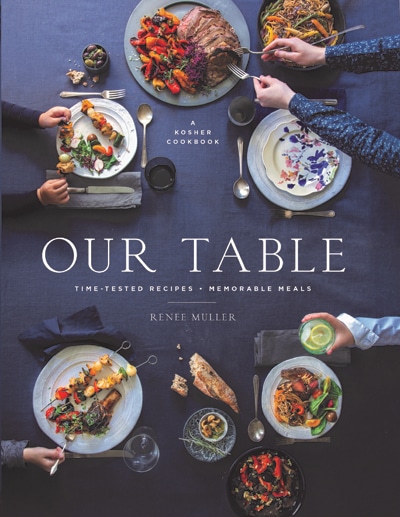 I've been following Renee Muller for years, and when word got out that she was coming out with a cookbook, I knew it would be something special. You see, Renee doesn't see food like the rest of us. To her, a table is a canvas, and each dish is another way to paint a beautiful picture. Renee is a food stylist par excellence and her magazines spreads are jaw dropping. I knew the photography would be out of this world, but I was in for even more. In Our Table, Renee invites us to experience the joy of eating memorable meals together, something she cherishes from her upbringing in Lugano, Switzerland. Her recipes are homey, family friendly and diverse. She's got a little something for everyone – part healthy, part indulgent, some easy and some more complicated. The Chapters span the basics from appetizers and soups/salads to fish/dairy, meat/chicken, snack/sides, breads/cakes/cookies and desserts.
Beautiful photography and a range of mouthwatering recipes wasn't enough for Renee. So she created a guide with never-before-seen video tutorials of some of her most popular recipes. From "how to stuff cabbage" to "how to cut caramels", "how to make gnocchi" to "how to braid challah", these videos are not just visually stunning, they are informative too. (You can watch them here!) You'll also find a Pesach guide in the book to help you easily adjust many of the recipes and make them holiday approved.
I've already tried Renee's seared tuna cubes over the holidays to rave reviews, but I'm looking forward to trying the broccoli winter salad below, the gnocchi di casa, sugo della nonna (her grandmother's Italian marinara sauce), Belgian birthday waffles, lattice minute roast, meat manicotti, honey walnut brittle, irresistible toffee, buttery chocolate scones, deconstructed lemon meringue pie (what an awesome idea!) and more!
Of course I can't do a cookbook review without giving one lucky winner a chance to own this beauty, so…
To enter to a win a copy of Our Table by Renee Muller,
Comment on this post and share your most memorable meal or dish.
Giveaway is open to U.S. residents (for international entries, prize can only be shipped in the U.S.). Winner will be chosen at random at 10:00 AM EST on Monday, November 14th, 2016.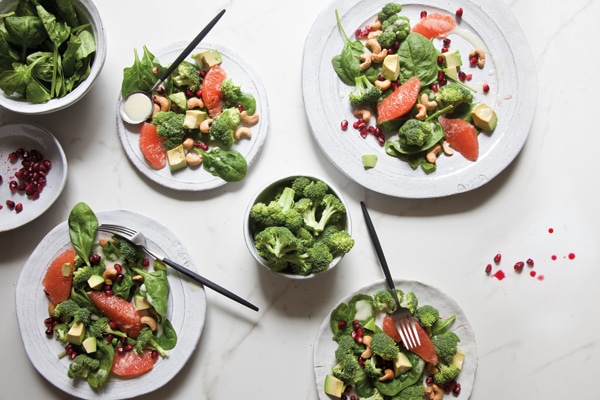 Broccoli Winter Salad with Creamy Onion Dressing
from Our Table by Renee Muller
Reproduced with permission from the copyright holders, ArtScroll/Mesorah Publications

1 (14-ounce) bag fresh broccoli, larger florets cut into bite-size pieces
1 (4-ounce) bag baby spinach leaves OR any other lettuce
1 large grapefruit, supremed (see Note)
1 cup pomegranate seeds
1 avocado, cubed
¼ cup roasted, salted cashews
For the dressing
½ cup oil
½ small onion, chopped
3 Tablespoons honey
¼ cup vinegar
1 teaspoon mustard
½ teaspoon salt
In a large bowl, combine broccoli, spinach, grapefruit, pomegranate seeds, avocado, and cashews.
Prepare the dressing: Place all dressing ingredients into a jar. Blend with an immersion blender until creamy. Drizzle over salad right before serving.
NOTE: A supremed citrus fruit is one that supplies the flesh of the fruit only, no membranes, no pith, only perfect segments that will add a touch of elegance to your salad. It requires a little practice, but once you get the hang of it you will find yourself doing it quite often. Start by trimming off the stem end of the fruit, including about 1/4-inch of flesh, using a small sharp knife. Repeat with other end. Arrange fruit to sit flat on a work surface. Following the contour of the fruit, slice away the peel and white pith from top to bottom. You want to make sure the flesh is visible and you are left with no white pith. Working over a bowl or sink, hold the fruit in one hand. With your other hand, cut alongside one membrane and then alongside the adjacent membrane, releasing the supreme. Carefully transfer segments to a bowl. Repeat until all supremes are removed. Now you will be able to taste the fruit only, with no bitterness whatsoever. I find that even my pickiest eater will enjoy an otherwise daunting grapefruit, if served this way. Try it.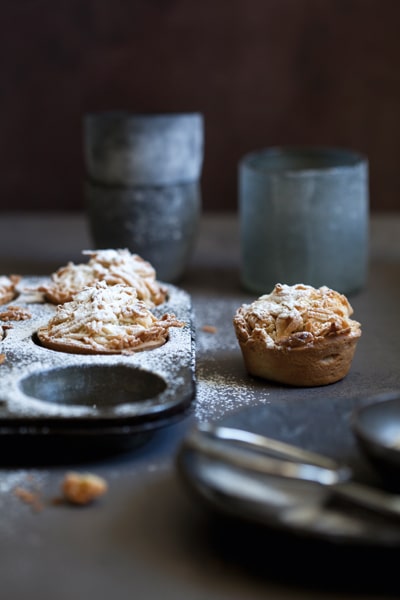 Kaas Potjes (cheese pockets)
from Our Table by Renee Muller
Reproduced with permission from the copyright holders, ArtScroll/Mesorah Publications
For the Dough
14 ounces (3½ sticks) butter OR margarine, softened
4 eggs, at room temperature
2 egg yolks, at room temperature
1 cup sugar
6 cups flour
1 teaspoon baking powder
For the filling
2 (8-ounce) packages cream cheese (not whipped), softened
5 Tablespoons (⅔ stick) butter, softened
⅔ cup sugar
2 teaspoons vanilla sugar
1 egg
1 egg yolk
2 teaspoons cornstarch
confectioners' sugar, for dusting
In the bowl of a stand mixer fitted with the dough hook, on medium speed, combine softened butter, eggs, and yolks; beat until butter is broken down a bit, about 2 minutes. Add sugar; continue to mix. Slowly add flour and baking powder. Mix until a nice, soft dough forms. (Dough might seem sticky, but that's OK, once it's chilled it will be more manageable.) Divide the dough into 3 parts. Place each part into a separate resealable plastic bag; refrigerate, preferably for a few hours or overnight.
Prepare the filling: In the bowl of a stand mixer fitted with the whisk attachment, combine all filling ingredients until creamy. Refrigerate until ready to use.
Preheat oven to 350°F. Prepare standard or mini muffin pans.
Using a box grater, grate one piece of well-chilled dough onto a plate. If the dough hasn't chilled enough, place it into the freezer for a bit. Refrigerate grated dough until ready to use.
Remove remaining dough from the fridge. Working with one piece at a time, roll out dough to ¼-inch thick. Cut rounds with a 3½-inch round cookie cutter or glass. Place rounds into a muffin tin, pushing down and pressing sides to cover all sides. Fill each with a heaping tablespoon of filling.
Place 1-2 tablespoons grated dough over each cheese pocket (be generous; this is what makes the pockets pretty), pressing down gently to attach them to the cheese filling.
Bake cheese pockets, 25-30 minutes, until golden. Let cool; dust with confectioners' sugar.