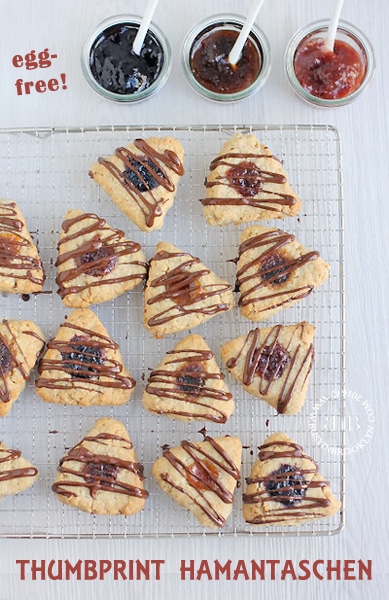 I thought I was done with hamantaschen baking this year. My corndog hamantaschen were a huge hit and that was good enough for me! Except every time I bought classic hamantaschen for the kids, my allergic toddler would watch his older siblings enviously and each time I promised myself to make an egg-free version.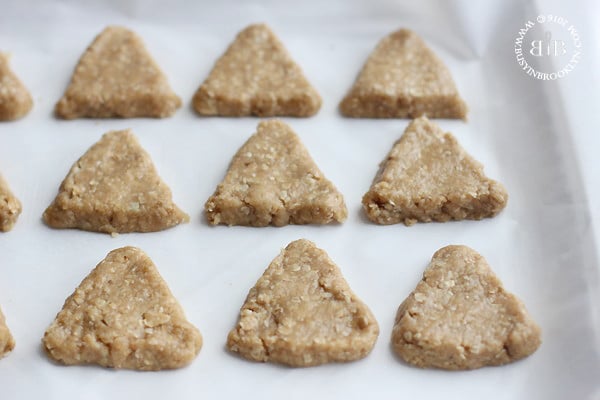 I thought about making classic hamantaschen using aquafaba, that slimy juice at the bottom of a can of chickpeas. It's said to be a great alternative for eggs in vegan baking, and I've used it before in muffins. Of course I got busy and my aquafaba-infused hamantaschen experiments went to the wayside.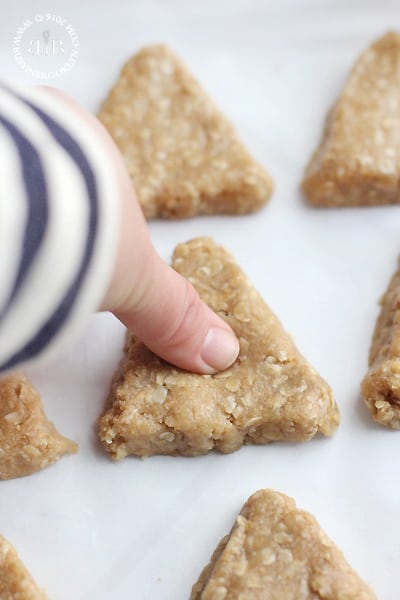 But then this week, I had a business meeting in my 'hood, and Chaya brought me a much needed cup of coffee with a side of crunchy thumbprint cookies. The cookies were delicious, so, like any good food blogger, I asked for the recipe. When I heard that the cookies were egg free with few ingredients, I knew I had to whip them up for my son.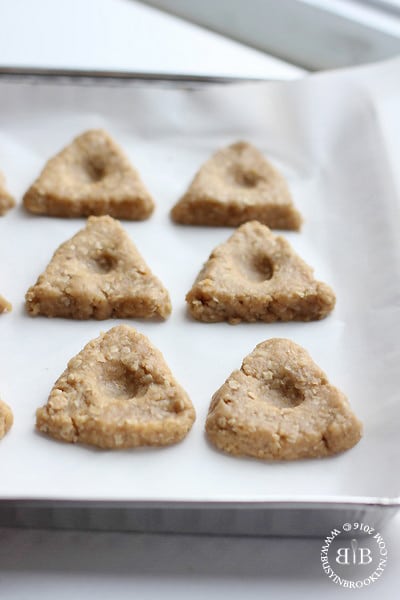 I drove home dreaming about the cookies and it hit me – I wanted to make egg-free hamantaschen, so why not make egg-free thumbprint hamantaschen cookies! They had jam anyway, right?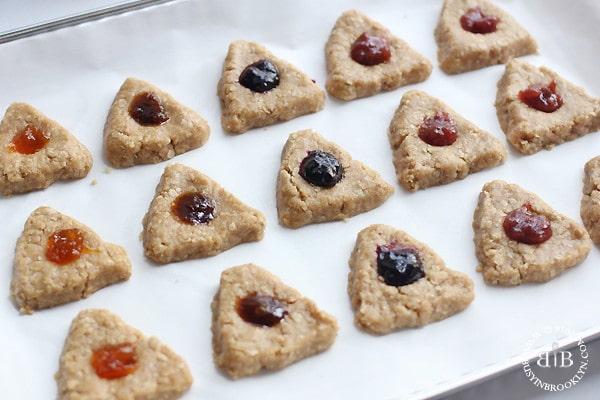 So I got right to work on the 5-ingredient dough, which took less than 5 minutes to make, and I ransacked my fridge for all the jam I could find. I'm kind of a jam hoarder, so I wasn't surprised to find an assortment of flavors in the back of the fridge, including, blueberry, strawberry rhubarb, apricot, fig and plum (told you I was a jam hoarder! my favorite place to buy them is Homegoods!).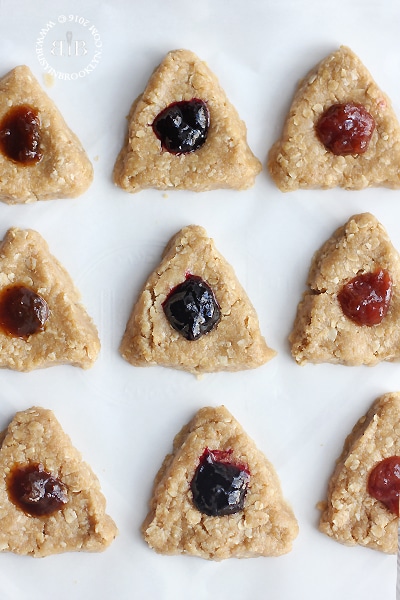 Would  you check out that beautiful jam filling?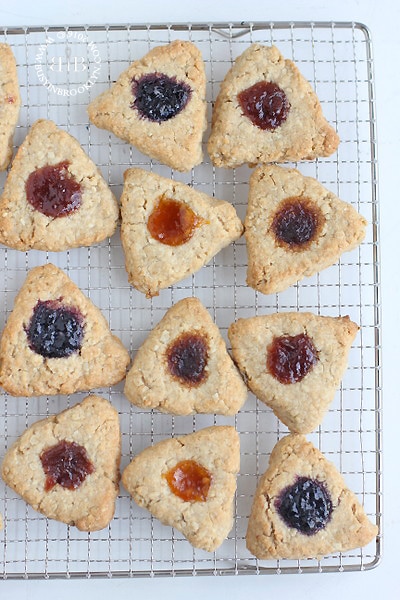 The cookies taste like a crisp granola cookie, only mildly sweet, so I couldn't help but finish them off with some melted chocolate. Chocolate makes everything better.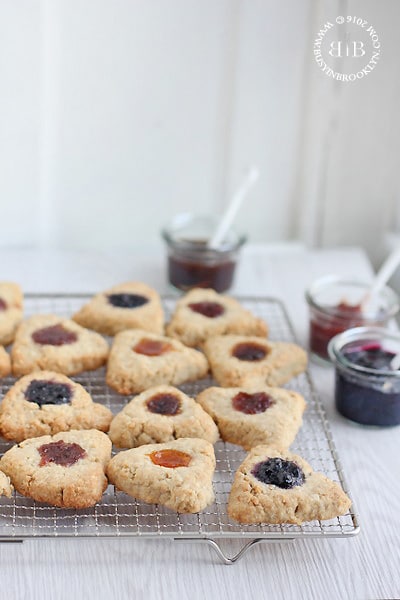 The true test was giving these to my son, who is prone to scraping the chocolate off anything and everything, instead of biting into it. I'm always reminding him, "Bite, don't lick!", but he always goes back to his chocolate (or cheese!) licking when I'm not looking.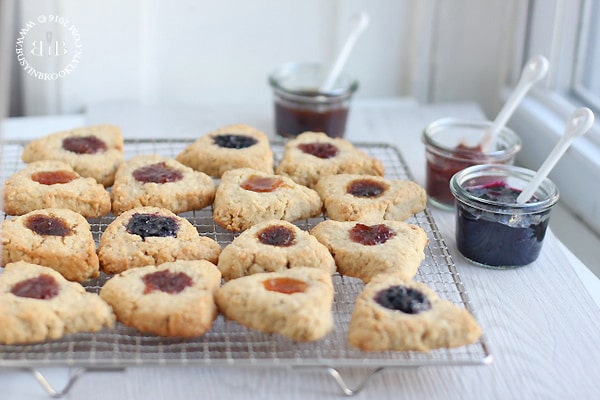 I handed him a hamantasch and he held it in his hand and studied it for a minute or two. I thought he was going to start scraping off the chocolate, but to my surprise, he actually took a bite! He continued to eat his way through, enjoying every morsel. Success!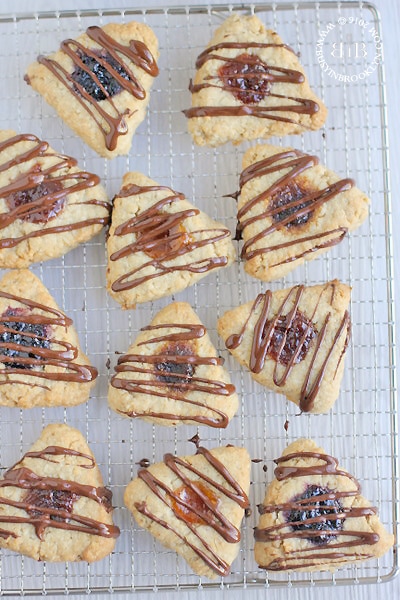 Purim is just two days away, so we'll call these "last licks!" (pun intended!). If you've been looking for that healthy hamantaschen recipe, you've got it. And just in time.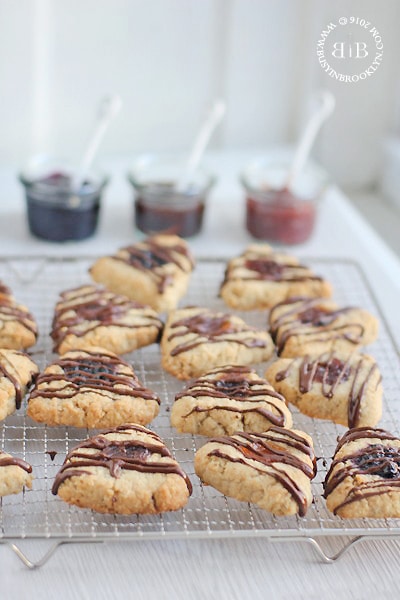 Healthy Thumbprint Hamantaschen
1 cup quick cooking oats
1 cup almond flour
1 cup white whole wheat flour
1/2 cup pure maple syrup (see note)
1/2 cup canola oil
pinch of salt
good quality jam
1/2 cup chocolate, melted
Method:
In a bowl, whisk the oats, almond flour, white whole wheat flour and salt. Add the maple syrup and oil and mix to form a dough. Place two tablespoon scoops of dough onto a parchment lined baking sheet and form into triangles. Using your thumb, make an indent in the center of each cookie. Fill the indentations with jam and bake at 375 degrees for 15-18 minutes, until browned and crisp. Cool for 10 minutes to allow the cookies to set and transfer to a rack. Drizzle with melted chocolate.
NOTE: These cookies are very mildly sweet. Feel free to adjust sweetness to taste.
VARIATION: I prefer these cookies crunchy, but for slightly softer cookies, bake at 350 for 15 minutes.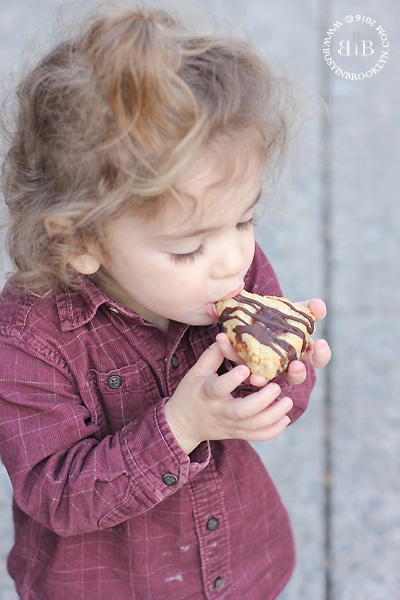 Related Recipes:
cowboy cookie dough bites
healthy date & almond hamantaschen
Grape Nut coconut crunch cookies
oatmeal cookies