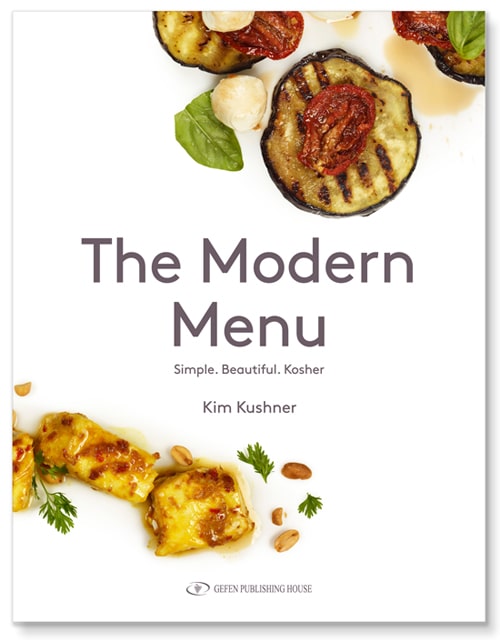 While this cookbook may have been published back in March, it's never too late to bring a fabulous collection of kosher, innovative recipes to your attention.
At first look, The Modern Menu is exactly what it appears to be – modern. The food is laid out perfectly sleek and contemporary, without any over the top garnishes or plating. It simply speaks for itself, and I love that.
Unlike traditional cookbooks, Kim Kushner brings her own style and pizzazz, arranging the cookbook by how the dishes make you feel – from vibrant and indulgent to gutsy and clever. "To my mind," says Kim, "Less is more, simple is always best, and food should look as good as it tastes and taste as good as it looks." A healthy philosophy and outlook that should be the motto of every cook in the kitchen.
Browsing through the cookbook, I can't help but be inspired by Kim's clean and simple dishes that are so fresh and appealing. I find myself wanting to bookmark every single page. While Kim emphasizes healthy from-scratch ingredients, her Middle Eastern inspired recipes are possible for the novice chef with a well-stocked pantry.  Her dishes remain light, but the flavors seem anything but. Kushner does not shy away from herbs and spices, adding surprising notes to every dish.
I look forward to trying many of The Modern Menu Cookbook recipes including the kohlrabi cabbage salad with maple lemon dressing, crunchy curry cauliflower with tahini and pomegranate, crispy miso marinated chicken, jalapeno and tomato chutney, chicken with pumpkin, figs and honey, tequila london broil with mango chutney, black sesame crusted char, sticky beef ribs, fig and pecan biscotti, plum crumb cake with star anise and individual halvah, gelato and sorbet towers.
If I could critique anything about this wonderful cookbook, it would be to say that some of the recipes require ingredients that may be hard to find. In addition, while I love Kim's concept for arranging the book's chapters, it's slightly difficult to follow the sections when they are categorized this way.
Busy In Brooklyn is giving away a free copy of The Modern Menu.
To enter the giveaway:
1. Leave a comment with your favorite light & healthy summer food/recipe.
2. Like Busy In Brooklyn on Facebook.
Winner will be chosen at random on August 2nd, 2013.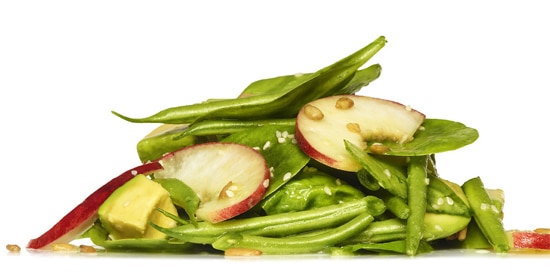 Spinach, Haricots Vert & Avocado Salad with Honey Dressing
Reprinted with permission from The Modern Menu by Kim Kushner
Gefen Publishing
Crunchy, salty, sweet, and sharp—this salad has it all! The dressing contributes texture with sunflower and sesame seeds as well as sweetness and tang with honey and cider vinegar. All in all, a unique and delicious concoction.
8 cups baby spinach
Handful haricots verts, trimmed and cut into 1-inch pieces
1 avocado, pitted, peeled, and cut into small cubes
1 white peach, skin on, pitted and cut into very thin slices
¼ cup sugar
¼ cup honey
¼ cup vegetable oil
¼ cup cider vinegar
1 teaspoon Dijon mustard
1 garlic clove, minced
¼ cup salted shelled sunflower seeds
2 tablespoons sesame seeds
Place the spinach, haricots verts, avocado, and peach in a large bowl or on a large platter.
Combine the sugar, honey, vegetable oil, vinegar, mustard, garlic, sunflower seeds, and sesame seeds in a jar with a tight-fitting lid. Shake to thoroughly combine. Drizzle the dressing over the salad and toss to coat all over.
Serves 6 to 8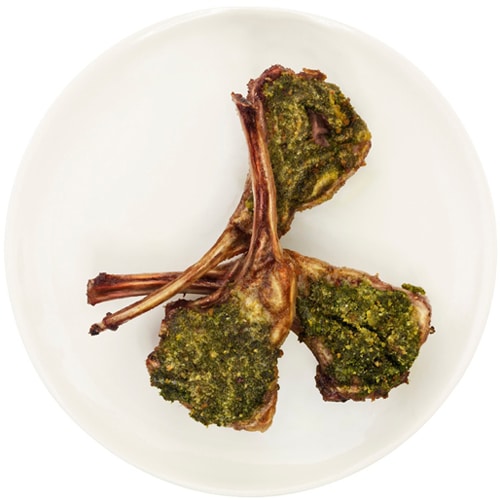 Baby Lamb Chops with Pesto Croute
Reprinted with permission from The Modern Menu by Kim Kushner
Gefen Publishing
This recipe calls for frenched lamb chops, which are chops with the meat cut away from the end of the rib so that part of the bone is exposed. Frenching the chop makes it cleaner and let's call it fancier, almost like a lamb lollipop, if you will! Your butcher can do this with the quick swipe of a knife; asking him or her to do this makes fast work of this simple-to-prepare dish. Croute simply means "crust" in French. Fancy.
1 handful fresh basil, washed and dried well
½ handful cilantro, washed and dried well
3 garlic cloves, peeled
¼ cup extra virgin olive oil, plus more for drizzling
½ cup pine nuts, toasted
¼ cup unseasoned dried bread crumbs, plus more for sprinkling
Kosher salt and freshly ground black pepper
12 baby lamb chops, frenched
Preheat the oven to 400°F.
In a food processor, combine the basil, cilantro, and garlic. Pulse until coarsely chopped. Add the olive oil and pine nuts and process until the mixture forms a paste, about 30 seconds. Transfer the mixture to a bowl, stir in the bread crumbs, and season with salt and pepper.
Season both sides of the lamb chops with salt and pepper. Prepare a grill or set a grill pan over high heat. Sear the lamb chops on both sides, about 1 minute per side. Transfer to a baking sheet.
Place a spoonful of pesto in the center of each chop, then spread it evenly over the surface. Sprinkle with additional bread crumbs and drizzle with olive oil. Bake until the crust is golden and crisp and the lamb is pink inside, about 10 minutes. Serve warm.
Serves 6
Related posts: cookbook reviews