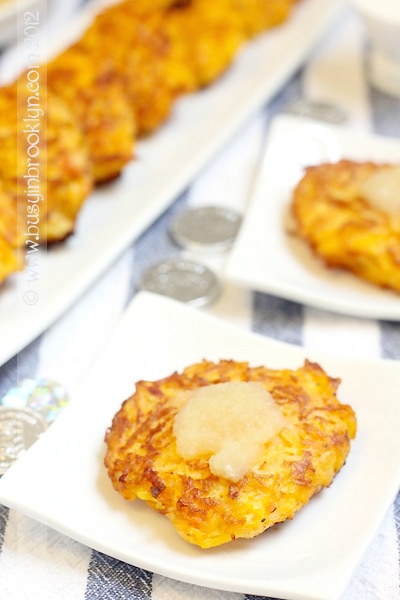 Latkes. We can't seem to get enough of their crispy, fried goodness! I don't know about you, but I can eat latkes all Chanukah long. As long as I switch up the flavors, I'm good. Butternut squash latkes has become a family favorite in our home. They're light, mildly sweet, and lend themselves well to all sorts of seasonings. We like them best straight up – good old butternut squash, onion, egg and some simple salt seasoning, but feel free to spruce them up with curry, paprika, cumin, or your favorites.
Because I prefer to prepare these gluten free latkes with simple flavors, I spice up the garnishes instead. Ginger applesauce and curried sour cream are the perfect complements to the butternut squash. Top them off with some scallions for latke perfection on a plate.
What are some of your favorite latke varieties? I'd love to hear! Share them in the comments below!
Butternut Squash Latkes
1 2 lb. butternut squash, peeled and grated (about 6 cups)
1 medium onion, grated (about 1 cup)
3 eggs
salt and pepper, to taste
oil, for frying
ginger applesauce, for garnish (recipe below)
curried sour cream, for garnish (recipe below)
scallions, for garnish
Method:
Add grated squash, onion, eggs, salt and pepper to a bowl and mix well. Heat up oil in a frying pan and place spoonfuls of mixture into hot oil. Fry until golden and crispy on each side. Serve with applesauce and sour cream.
NOTE: If the mixture starts to get wet and soggy, use gloves to form patties and squeeze out moisture before frying.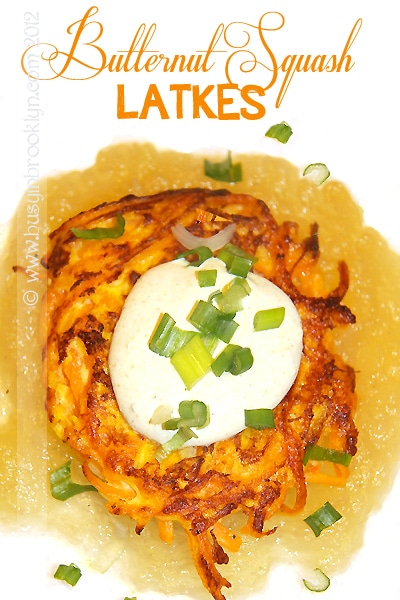 Ginger Applesauce
8 honeycrisp apples, peeled, cored and cut into chunks
1 cup apple juice or water
juice of 1 lemon
1 2″ piece fresh ginger, peeled
2 cinnamon sticks
3-4 tbsp honey or maple syrup
Method:
Add all ingredients to a pot and bring to a boil. Cover the pot and simmer for 20 minutes. Remove ginger and serve.
NOTE: If you find the applesauce too chunky, mash it with a fork.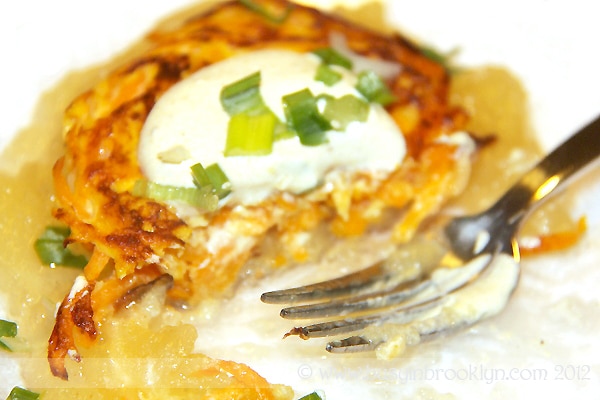 Curried Sour Cream
1 cup sour cream
2 tbsp honey
1 tsp lemon juice
1/2 tsp curry powder
Method:
Add all ingredients to a bowl and mix to incorporate. Serve over latkes with applesauce.
1 year ago: cheese latkes with raspberry sauce
Post a Comment