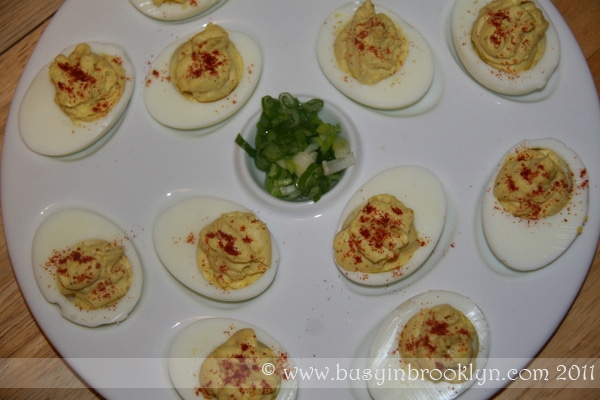 Deviled eggs are a great way to turn a basic food into a gourmet dish. They make for a fun and tasty hors d'oeuvre as well as a low-carb and filling treat. I often serve deviled eggs on Shabbos day instead of egg salad for a more substantial side dish. There are hundreds of recipes and even a few books dedicated to the art of making deviled eggs. But all you really need is a little creativity and perfectly hard-boiled eggs to create this delicious dish. Click here for my tutorial on how to make eggscellent hard-boiled eggs!
I have experimented with many different fillings including sundried tomatoes, horseradish and pickle relish, but my classic recipe below is our all time favorite.

Deviled eggs
7  hard-boiled eggs
1/3 cup mayo
1 heaping tbsp spicy mustard
1/2 tsp onion powder
1/8 tsp salt
pepper, to taste
paprika, for garnish
chives, for garnish
Method:
Follow my instruction in this tutorial to hard-boil your eggs. For easier peeling, use 1-2 week old eggs (fresh eggs do not peel well). Peeling them underwater also helps. Cut eggs in half and gently remove yolks. With a fork, mash yolks well and add all ingredients besides for paprika and chives. You can spoon the filling into the eggs, or for a prettier presentation, pipe them using a ziploc bag. To do this, insert a ziploc bag into a measuring cup (this makes them easier to fill), folding the top of the bag over the rim of the cup. Spoon all the filling into the bag and twist closed, pushing all the filling down towards the corner. Snip the tip of the bag with scissors and pipe into egg whites. Garnish with paprika (try smoked paprika for added flavor!) and chives.
Post a Comment