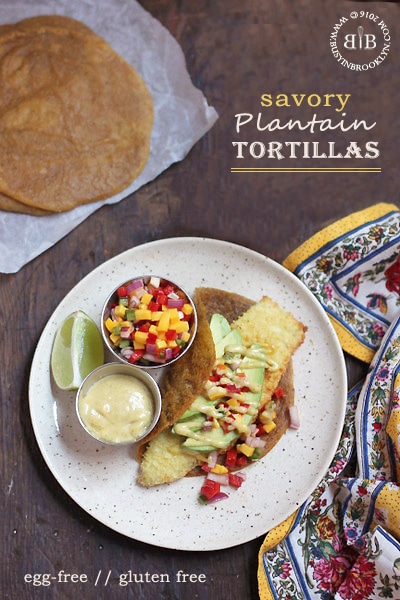 Last year was my first time venturing into the world of plantains. It's definitely a lesser known fruit, so I'm here to tell you more about it!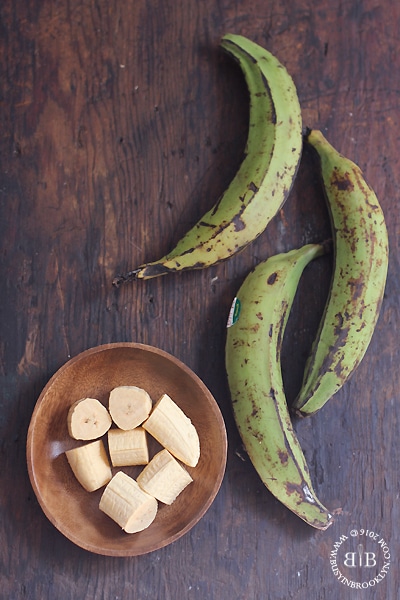 Plantains are a tropical fruit, and are best known for their use in tostones – a twice fried chip. You'll find them on the menu in many Latin restaurants, like 26 Sushi & Tapas, in Miami, Florida. I love them topped with ceviche and avocado!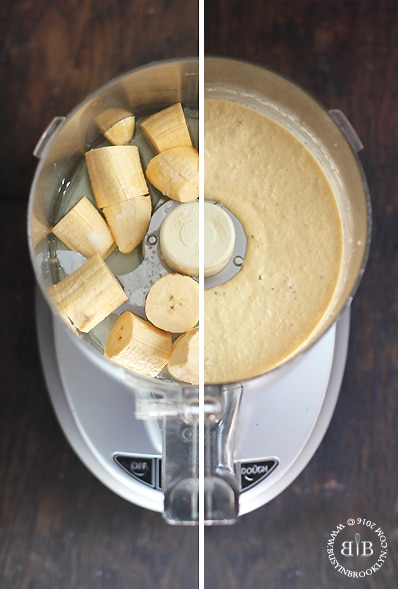 A plantain looks like a banana, but it's slightly larger with angular sides. It's taste and texture are determined by it's stage of ripeness – firm and starchy when it's green, and softer and sweeter when it's yellow to black. Plantains cannot be eaten raw, but they make great (baked or fried!) chips when firm, delicious mash when ripe and great egg-free tortillas at any stage. Plantains are a resistant starch, which means that they pass through the digestive system sort of like soluble fiber and don't spike blood sugar, making them popular among Paleo enthusiasts.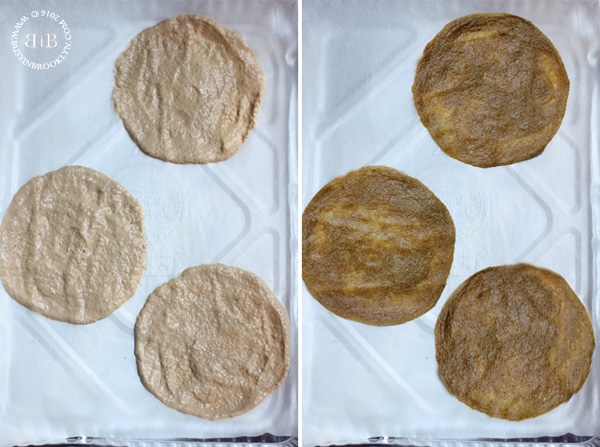 My interest in plantain tortillas was purely a Passover thing, since most kosher for Passover crepes are made using potato starch and eggs. I'm not a big fan of potato starch, and since my son is allergic to eggs, I was looking for an egg-free alternative.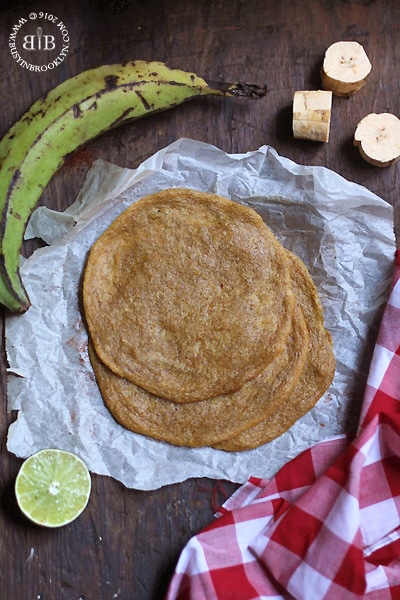 I created two versions of the tortilla – a savory one, made with avocado oil, lime juice and a bit of chili powder, and a sweet one, made with coconut oil, maple syrup and vanilla (recipe coming tomorrow!). Plantains don't have much flavor on their own, so adding these ingredients was essential. I was pleasantly surprised that the tortillas were soft and pliable and really make a great substitute for Passover crepes and wraps. It's great to have a recipe that doesn't call for potato starch and eggs for a change, am I right?!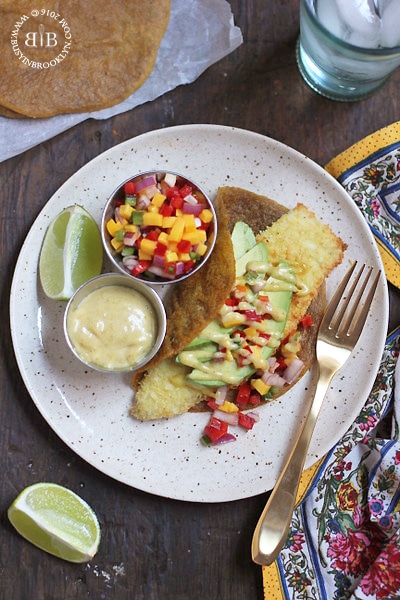 Now for the fillings! I'm a big fan of fish tacos so I definitely went that route with coconut crusted fish fillets which you can bake or fry (if you're not a fan of coconut, I would recommend frying). Mango salsa is the perfect accompaniment to this tropical dish and curried mayo, one of my favorite condiments, rounds it out. This makes a great lunch or light dinner after all the heavy meat and potato dishes that we're used to!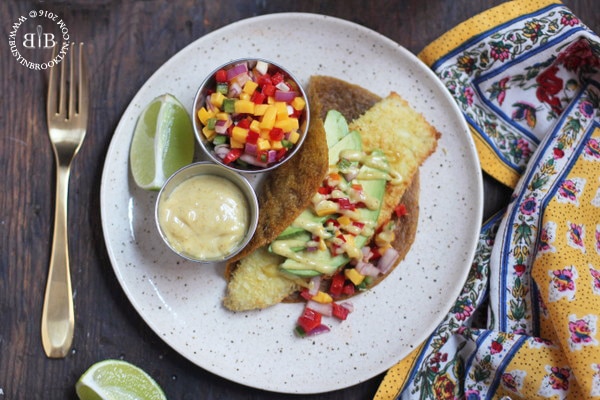 Looking for other potato alternatives for Pesach? Check out this article that I put together for OU kosher. It's got lots of amazing recipes, suggestions and ideas for replacing the spud. You can thank me later!
Fish Tacos with Savory Plantain Tortillas
Savory Plantain Tortillas
2 green plantains, peeled and cut into chunks (about 10oz.)
1/3 cup avocado oil (any lightly flavored oil may be substituted)
1/3 cup water
1 tsp lime juice
1 tsp salt
1/4 tsp chili powder
1/4 tsp garlic powder
Place the plantains, oil, water, lime juice, salt, chili powder and garlic powder in a food processor or blender and puree until it forms a smooth batter. If the batter is very thick, add a bit more water. Spread 1/4 cup of batter at a time on a parchment-lined baking sheet and smooth with a spoon into a round tortilla shape (you should be able to fit 3 on a sheet). Continue with remaining batter on additional baking sheets. Bake at 350 degrees for 15-20 minutes, until soft and pliable. Makes about 5 tortillas.
NOTE: tortillas are best when used fresh but they can be refrigerated and rewarmed in a microwave or oven until soft and pliable.
Coconut Crusted Fish
2 white fish fillets, cut in half
¼ cup coconut flour (may use almond flour or potato starch)
1 egg, beaten
1 cup unsweetened coconut flakes
½ tsp curry powder
½ tsp garlic powder
½ tsp ginger powder
salt and pepper, to taste
coconut oil
In a bowl, combine the coconut flakes with curry powder, garlic powder, ginger, salt and pepper. In separate bowls, season the egg and coconut flour with salt and pepper. Dip the fish in coconut flour and shake off the excess. Dip in egg and shake off excess. Finish by  dipping in coconut flakes, pressing down so they adhere to the fish. Fry fish in coconut oil or place on a greased baking dish, spray with oil spray and bake at 400 degrees for about 12 minutes, until fish is opaque and flakes easily with a work.
Mango Salsa
1 ripe mango, peeled and diced
1/2 red pepper, diced small
1/2 jalapeno, seeds and veins removed, finely diced
1/4 small red onion, finely diced
juice of 1/2 lime
1 tbsp light olive oil
1 tbsp honey
kosher salt, to taste
Add all ingredients to a bowl and stir to combine.
Curried Mayo
1/4 cup mayo
1 tbsp honey
1/2 tsp curry powder
kosher salt, to taste
Add all ingredients to a bowl and whisk until creamy.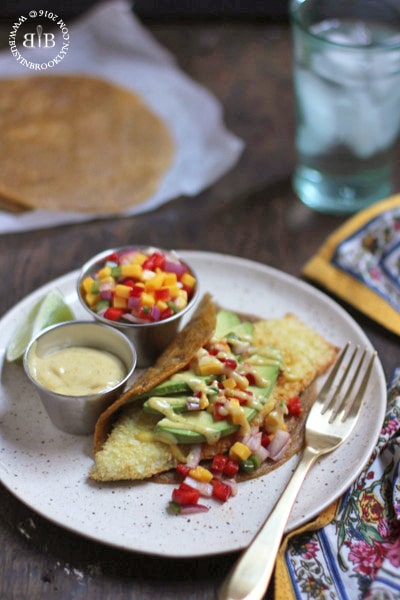 Related Recipes:
plantain nachos
fish tacos with broccoli slaw
tropical guacamole
nutella crepes with sweet plantain tortillas