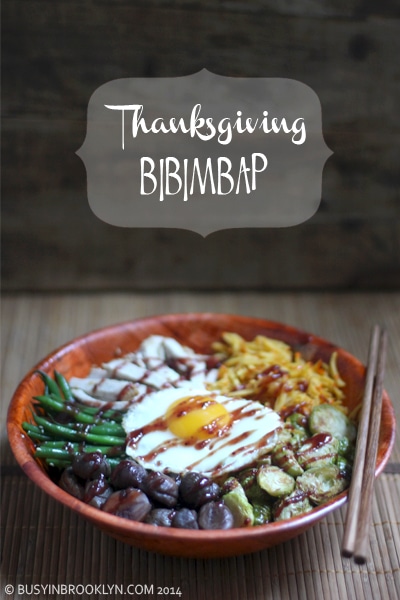 I've wanted to make a bibimbap for the longest time, just so I can say the word bibimbap. It sounds like a hip hop dance, but it's actually a Korean dish of warm rice topped with sauteed veggies, thinly sliced meat or tofu, a fried (or raw) egg and a spicy chili sauce. I decided to get creative with the bibimbap concept, and turn it into a a fun opportunity to use up Thanksgiving leftovers.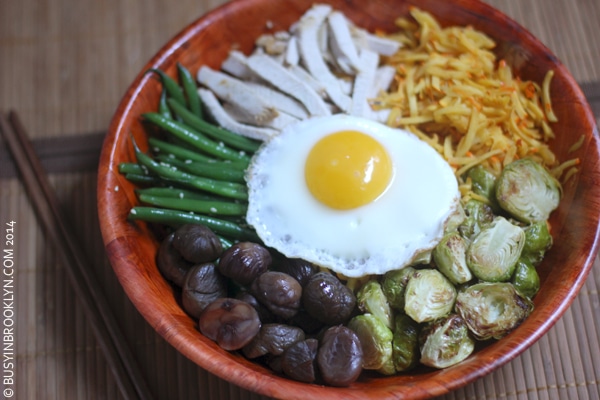 My Thanksgiving bibimbap includes some leftover sliced turkey, green beans, sauteed shredded pumpkin, roasted brussel sprouts, chestnuts and a fried egg. It's finished off with a drizzle of sriracha cranberry sauce, the same one I used in this recipe. You're welcome to adapt this dish based on your Thanksgiving leftovers, just be sure to keep things simple and not mix too many flavors.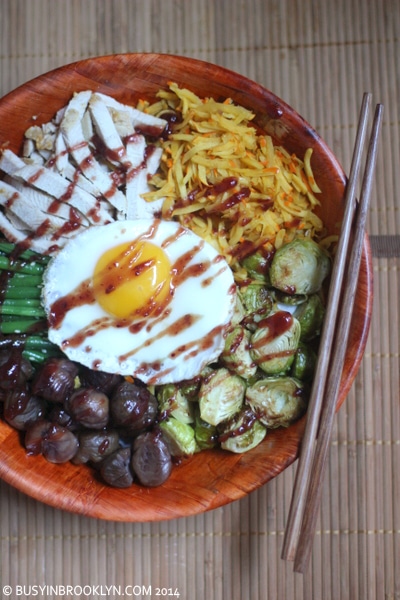 What are some of the fun ways that you repurpose your Thanksgiving leftovers? I'd love to hear! Share them with me in the comments below!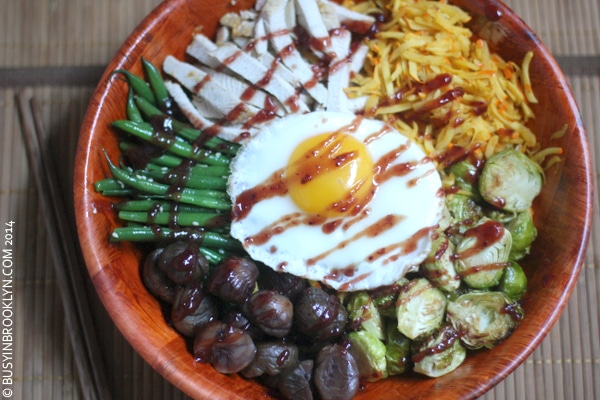 Happy Bi Bim Bopping!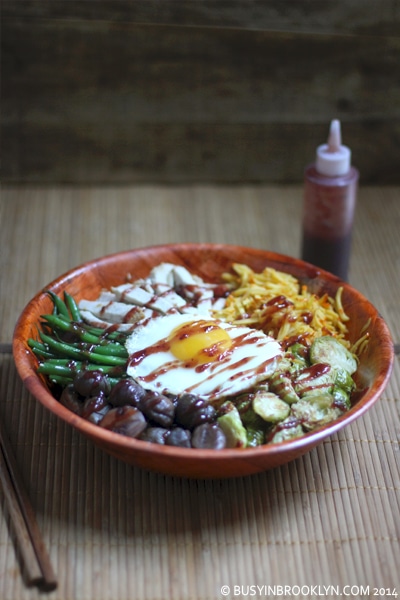 Thanksgiving Bibimbap
1-2 cups shredded pumpkin or squash
1-2 cups leftover turkey, thinly sliced
1/2 lb. green beans, blanched or leftover beans
1 tsp sesame seeds, optional
1-2 cups roasted brussel sprouts (recipe here)
4 oz. roasted chestnuts
1/2 cup whole berry cranberry sauce (not jellied)
1 tbsp soy sauce
1 tsp sriracha
1 egg, fried sunny side up
oil, for sauteeing
salt and pepper, to taste
Method:
In a food processor or blender, blend the cranberry sauce, soy sauce and sriracha until completely smooth. Set aside.
Heat a wok and drizzle with oil. Saute the shredded pumpkin or squash until tender. Season with salt and pepper. Set aside. Do the same with the green beans (you may add a splash of soy sauce) and coat with sesame seeds, set aside. Add the pumpkin, turkey, green beans, brussel sprouts and chestnuts to a large shallow bowl, separating them by sections. Top with a fried egg. and drizzle with cranberry sauce.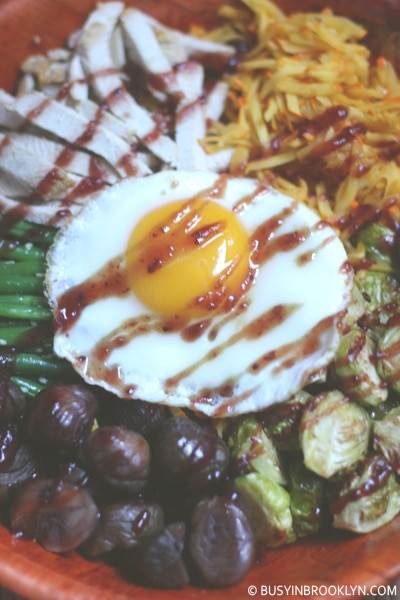 Other Thanksgiving Leftover Ideas:
leftover turkey pot pie
pot pie croquettes (use turkey instead of chicken, flour instead of potato starch, and panko instead of ground nuts)