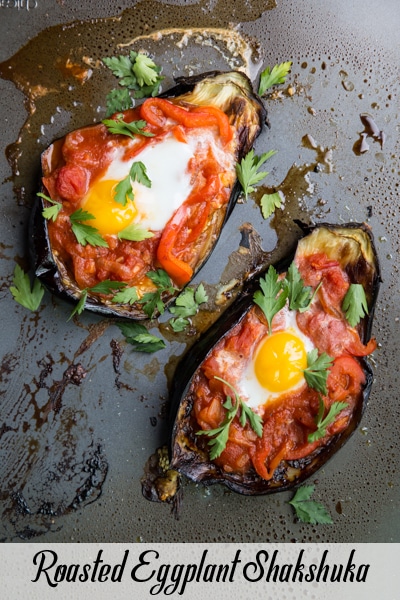 If you've been following me for a while, you know I've got a thing for stuffing roasted eggplant halves. I've made it a bunch of different ways – in fact – I had so many variations that I wanted to put into my cookbook, Millennial Kosher, that I almost wanted to do a stuffed eggplant chapter! Alas, we had to nix this shakshuka recipe because I already had 2 other stuffed recipes in the book (fully loaded stuffed eggplants and lamb moussaka eggplant boats).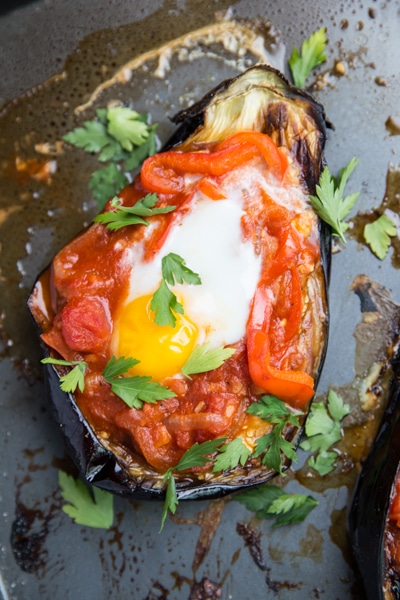 It was a hard decision because this recipe is just THAT good. But the great part about being a food blogger is that I knew I could eventually just post it on the blog, and this seems like the perfect week! With the Nine Days upon us (a period of mourning in which observant Jews abstain from eating meat), we're all looking for light and healthy vegetarian fare, and this fits the bill.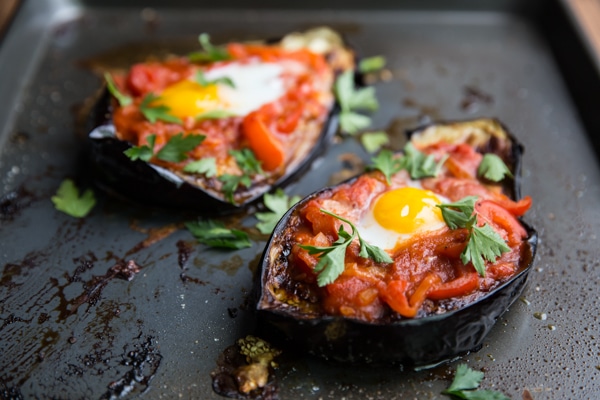 If you're a fan of shakshuka, I've got lots of other variations available on the blog too, like this Mexican Quinoa Shakshuka, the beet, kale and goat cheese version that WhatJewWannaEat guest posted for me when I was on maternity leave,  this fun zoodle version, one with garbanzo beans and labneh, another one with spaghetti squash and spinach, and even a stuffed portobello one. Can you tell I have a thing for runny eggs in spicy tomato sauce??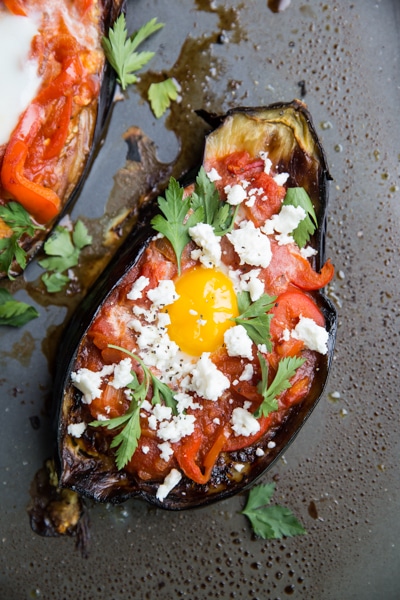 All the above versions are kinda great – but I'm partial to the ramen shakshuka in my cookbook, and this incredible variation. The silky fire roasted eggplant with the runny egg and the spicy tomato sauce marry so well together, it's a wonder no one came up with this before!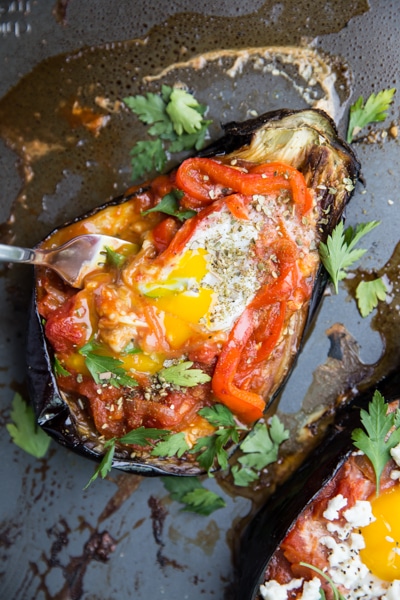 If you're a fan of stuffed roasted eggplants, you can also try these other ideas: roasted eggplant parmesan, roasted eggplant parmesan with feta,  stuffed roasted eggplant, and sous vide stuffed eggplant with dukkah and pomegranate.  I wasn't kidding. I heart stuffed eggplant. Almost as much as shakshuka. Ok as much as shakshuka.
Roasted Eggplant Shakshuka
2 eggplants
salt, to taste
pepper, to taste
2 Tbsp extra virgin olive oil
1 onion, thinly sliced into half moons
2 cloves garlic, minced
1 red pepper, thinly sliced into half moons
2 tsp cumin
1 tsp smoked paprika
1 (15-oz.) can diced tomatoes
1 (8-oz.) can tomato sauce
1 tsp harissa
1 tsp fresh squeezed lemon juice
pinch sugar, or to taste
4 eggs
fresh parsley, for garnish
Method:
Cut the eggplants in half lengthwise and place flesh-side down on a greased baking sheet. Drizzle with olive oil, sprinkle with salt and broil on high on the top rack of the oven for 20-25 minutes, until skin is charred and the flesh is soft. Lightly break up the eggplant flesh and season with salt and lemon juice (if desired), to taste.
Prepare the shakshuka sauce: Heat olive oil in a large skillet; add onion. Sauté until translucent. Add garlic and red pepper; sauté until tender, about 5 minutes. Add cumin and smoked paprika; sauté until fragrant. Stir in tomatoes with their liquid, tomato sauce, harissa, sugar, salt and pepper; cook over medium heat for 10 minutes.
Preheat oven to 400°F. Place prepared eggplants boats on a baking sheet. Lightly break up the eggplant flesh to make room for the shakshuka filling. Divide the shakshuka sauce between the eggplant boats; make a well in the center of the sauce on each. Crack an egg into a small bowl; gently slide it into the sauce on an eggplant boat. Repeat with remaining eggs and boats. Bake until eggs are set, about 10 minutes. Garnish with fresh parsley.
NOTE: If you don't have harissa, you can add some diced jalapeno and saute along with the red pepper and garlic.
VARIATION: For quick and easy shakshuka sauce, use marinara mixed with a little harissa and cumin or use store-bought matbucha.
TOPPINGS: If desired, top the eggplant with labneh, crumbled feta, za'atar, or roasted chickpeas.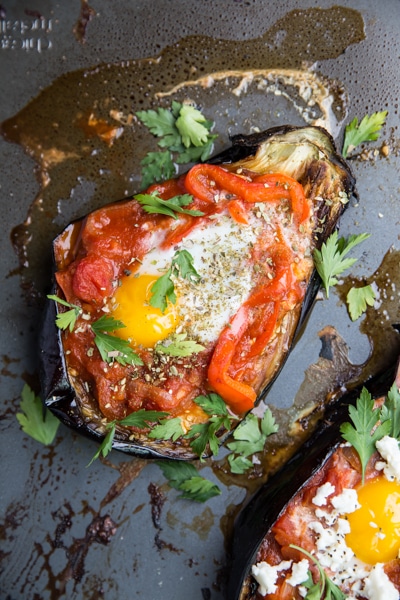 Related Recipes:
Mexican quinoa shakshuka,
beet, kale and goat cheese shakshuka
zoodle shakshuka,
garbanzo bean shakshuka with labneh
spaghetti squash shakshuka
stuffed portobello shakshuka