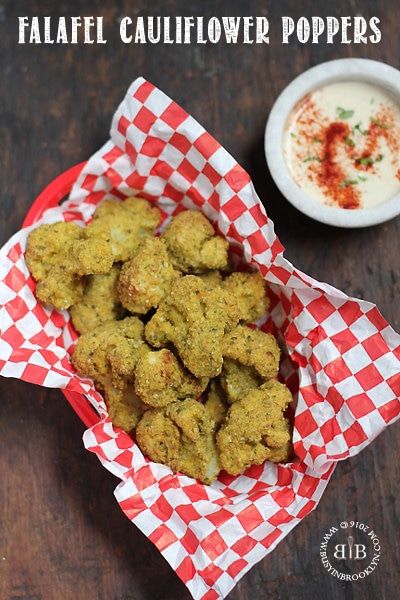 You guysssss!!! This post makes me so excited, I have no words! OK, I always have words, many of them. But where shall I begin?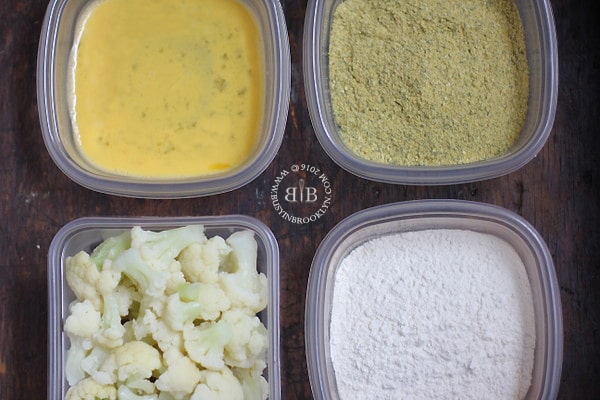 If you're a dedicated follower of my blog, you know how much I love
trendy recipes
hybrid recipes
ISRAELI recipes
healthy makeover recipes
Am I right? Does that just about sum up my food blogger style or what?!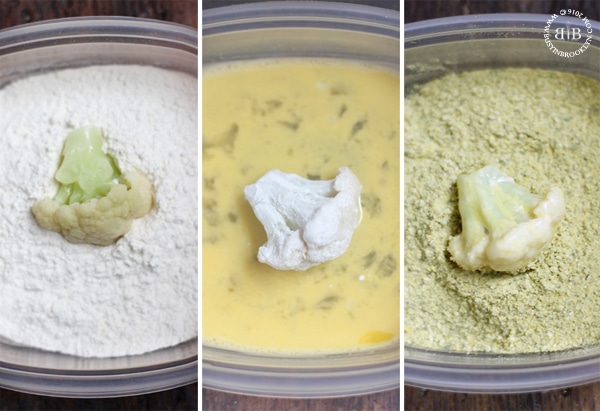 Well this here genius idea just about incorporates all of those passions! Cauliflower trend – check! Falafel/breaded cauliflower hybrid – check! Israeli recipes – Oh my god yes, check!! And healthy makeover recipes – definitely check, check!!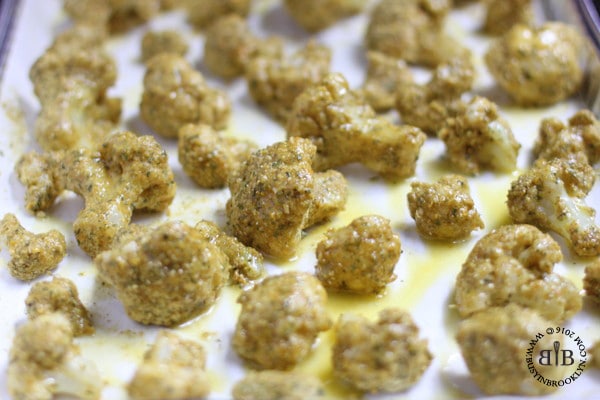 Ever since my crazy cauliflower nacho hack went ridiculously viral, I've been wanting to come up with an equally amazing cauliflower idea, and when Knorr sent me over some of their falafel mix, I knew I had it in the bag. And then I tasted them, and I was all "why hasn't the whole world made these like every single day of their lives?!?!" Yup. You're welcome.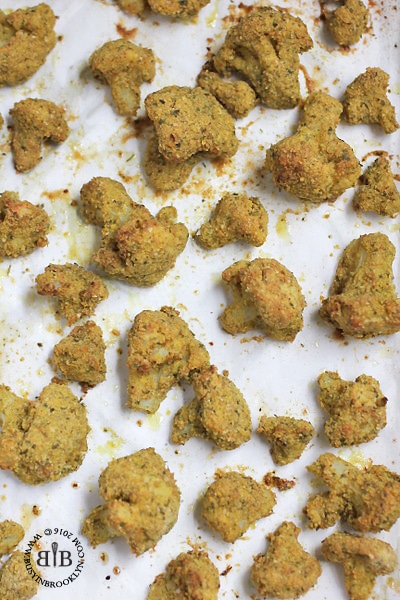 Breaded cauliflower has always been a favorite snack of mine, but since they're usually fried, I don't have them too often. I also avoid using fresh cauliflower, since it's such a pain to check for bugs (kosher law forbids the consumption of insects), so I came up with a recipe that solves all those problems! You're welcome.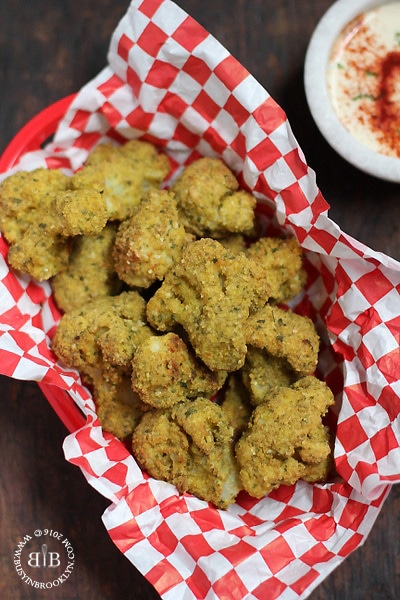 So, not only are these cauliflower poppers supremely delicious, they're made with thawed frozen cauliflower (no checking necessary) and they're baked, not fried! You wouldn't believe it from the insanely crunching coating, but oh yes, they are practically guilt free. Did I say you're welcome yet?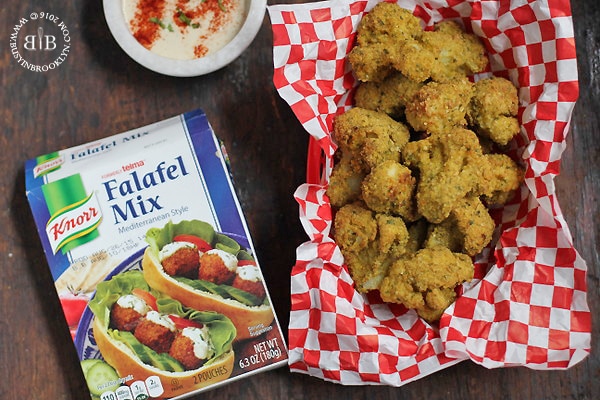 Speaking of which, I want to thank Knorr for making these semi-homemade poppers so easy to put together using their prepared falafel mix. I've not usually a fan of prepared mixes but falafel is an extremely time consuming effort – between soaking the beans, processing the mixture and frying the balls… I'm all for convenience in this case!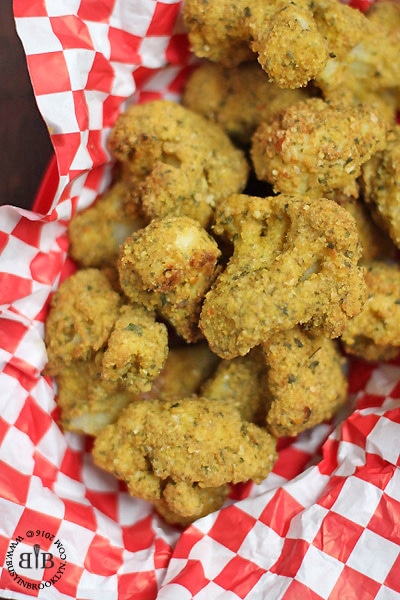 Convenience is the name of the game these days. With school out for most of the kids, I've got summer prep on my mind and lots to do. Plus the NYC heat is totally draining me and getting dinner on the table every night is not as easy as it used to be. I'm thankful for kid-friendly foods that might use some store bought ingredients to help me out – like bottled BBQ sauces for quick and easy pulled chicken/beef, frozen ravioli that I can just heat up with some marinara, and even pancake batter that makes breakfast a cinch. I may be a do-it-yourself, made-from-scratch gal at heart, but I'm a very practical mom IRL (in real life!). Summer conveniences, here we come!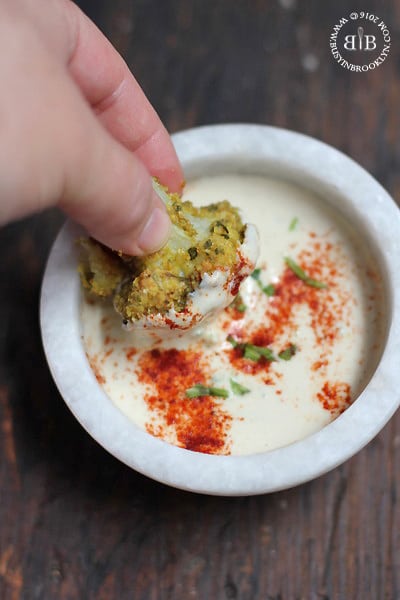 Speaking of summer, make sure you put these on your NINE DAYS menu, will you? You can thank me later.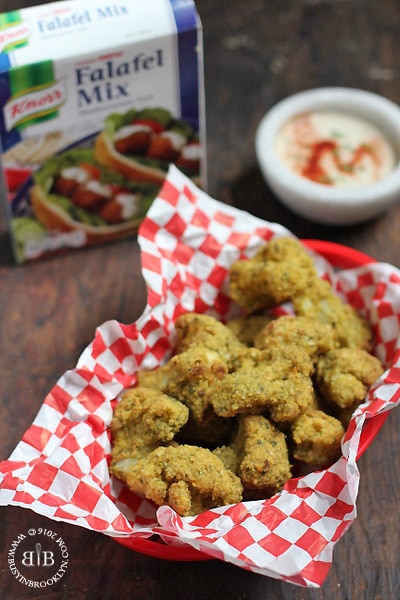 You're welcome!
Falafel Cauliflower Poppers
24oz. frozen cauliflower florets, thawed
1 cup flour, seasoned with salt and pepper
3 eggs, beaten and seasoned with salt and pepper
1 box (2 packets) Knorr falafel mix
olive oil cooking spray
prepared tahini, for serving
Method:
Preheat oven to 425 degrees.
Using paper towels, pat the cauliflower dry. Place the florets in a bowl. Set up a dredging station with the flour, eggs and falafel mix in separate containers.
Dip the florets in flour, shake off excess and dip in egg. Shake off excess and dip in falafel mix. Spread the breaded florets on a parchment lined baking sheet (don't overcrowd the pan) and spray both sides generously with cooking spray. Bake for 25 minutes or until browned and crispy.
Serve immediately with tahini for dipping.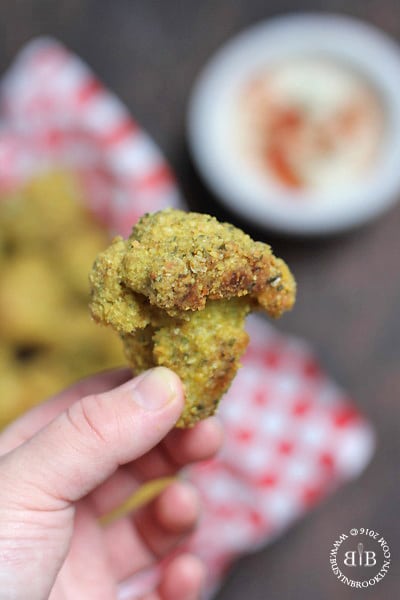 This post was sponsored by Knorr Falafel. All opinions are my own. 
Related Recipes:
falafel latkes with harissa tahini
spinach falafel burger
smoked paprika popcorn cauliflower
cauliflower nachos