I love cereal. I can hoard cereal day and night but the cost of cereal these days…are you kidding me?! $7.89 for Corn Flakes at my local kosher supermarket!
I took to Instagram with my shopping woes recently, talking about rising food costs and what we can do to save money on groceries. The feedback came pouring in strong! I have to admit, my attitude towards grocery shopping has always been: TIME IS MONEY. I love the one stop shop where I can get everything in one store – my produce, meat, groceries and cleaning supplies. I don't do the Costco haul and finding parking at Trader Joes is such as pain in Brooklyn (although the Williamsburg location now has a parking lot!!) that I only go when I need therapy (no joke, it's my therapy!).  As a recipe developer, I like to pick my own produce (so Instacart doesn't work for me), and I'm usually at the grocery store several times a week for different projects so pre-planning my list isn't realistic.
Recently, I went shopping at a grocery store outside of my neighborhood and I decided to price match my groceries with where I normally shop – and OMG I was shocked at the results! The supermarket where I usually shop was so much more expensive! I realized that if I shop with a little more intention, I can really start to save.
So with that, here are some great shopping pointers that my followers shared with me:
• Only shop in kosher stores for kosher products. All the national brand pantry basics are cheaper in mainstream grocery such as Shoprite, Walmart and Aldi.
• Buy the store brand whenever possible – Shoprite's Bowl & Basket, Target's Good & Gather and Walmart's Great Value are great brands.
• Asian markets such as HMart have much cheaper prices on produce than grocery stores.
• Shop in stores that offer additional discounts like Target – you get an extra 5% off using their card or 5% back with Amazon Fresh.
• Costco has great prices on produce as well as eggs, kosher cheese, salami, and even kosher meat and poultry.
• Use delivery apps such as Walmart, Stop & Shop and Aldi that have great prices and their own apps (or use Insacart)
• Aldi (and LIDL on the East Coast) & Trader Joes have great prices on produce (Aldi might be even cheaper), and sometimes Wholefoods too!
• Bingo is great for purchasing snacks, Cholov Yisroel cheese and meat/chicken.
• KRM is a great budget-friendly store for kosher groceries.
• Local Mom & Pop stores often have better prices than chain stores.
• Shop the sales and stock up on sale items.
• Buy in bulk at warehouse clubs and split with friends if you don't have the room or you don't need as much.
• Download digital coupons, sometimes available on grocery store apps. You can view kosher circulars on WhatsOnSale or major groceries on Flipp.
• Join a co-op! The KC Kosher Coop currently services 22 communities.
To demonstrate some of the price differences between kosher supermarkets and mainstream groceries, I price-matched Kellogg's Corn Flakes cereal and here were my findings:
Kellogg's Corn Flakes, 18oz:
The Marketplace (my local kosher supermarket): $7.89
Season's Kosher Supermarket $9.99
Walmart: $4.48
Target: $4.79
Amazon Fresh $8.49
Shoprite $6.98
Stop & Shop $8.39 for Kellogg's or $3.69 for Stop & Shop brand
Wegman's $6.89 for Kellogg's or $2.89 for Wegman's brand
Aldi – Millville brand $1.95
Sam's Club $9.61 for 2 bags (43oz)
Costco $9.94 for 2 bags (43oz)
The disparity between the prices at the kosher supermarkets versus the mainstream groceries is shocking to me! I don't know that I would give up my Kellogg's classic for store brand corn flakes (at just $1.95 at Aldi!), BUT I would definitely consider shopping online for pantry staples (to save time AND money). I do see the benefit in warehouse club pricing, however, I don't have the space for buying in bulk so that doesn't speak to me as much.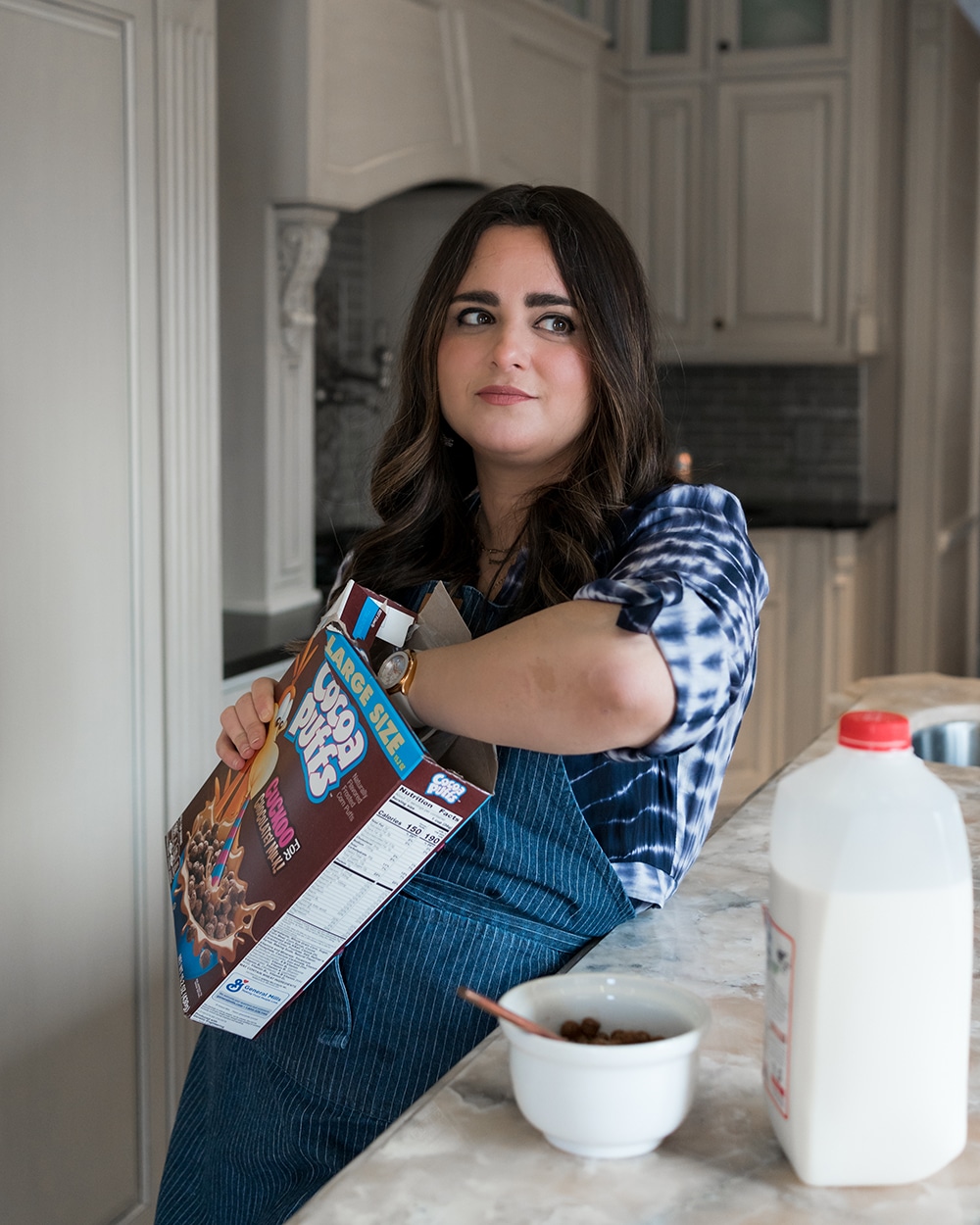 OK now that I can afford cereal again, there were also lots of great tips about how you can scale things down at home to help save money on groceries:
• Make a shopping list and plan meals ahead of time to avoid impulse buys.
• Consider eating less chicken and meat and eating a more vegetarian diet with eggs, beans and tofu.
• Scale down on gourmet meals – treat Shabbat dinner like a traditional dinner – with one course – plus challah and dessert to make it special.
• You can't change the price of food but you can change how much we waste – be frugal with leftovers!
• Make dishes that can be stretched further like chicken stir fry from chicken breasts or pepper steak from a London broil.
• Go back to basics and make your own food from scratch – easy no-knead bread and homemade nut milk can save lots of $!
• Buy bones and scraps for soup instead of using chicken or meat.
• Frozen fruits and/or vegetables are sometimes cheaper than fresh, especially when out of season.
• Make use of canned foods like beans as the base for a meal or to stretch a meal further.
Got more money-saving tips? Share them in the comments below!