It's been a while since I've updated you on my Paleo journey and I think it's about time! I first wrote about my diet struggles back in June, and I've since completed two (and a half) Whole30's. The 30-day cleanse is based on the Paleo diet, with some more stringencies to help the body reset it's natural rhythm. I love what the Whole30 did for me! It completely eliminated my sugar cravings, and got me back on track to a healthier lifestyle. Hundreds of you have jumped on the Whole30 bandwagon and purchased my Paleo 30-day meal plan filled with over 100 Whole30-compliant recipes!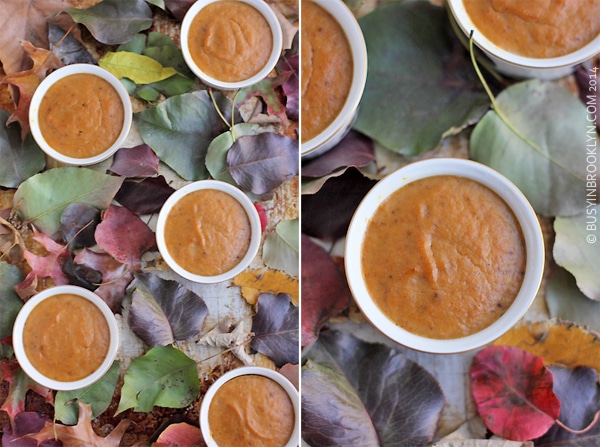 Now while I fully support the Whole30 concept, I think it works best as a 30-day cleanse, which is exactly what it is. It's too hard to live a Whole30 lifestyle all the time, especially being a foodie and recipe developer. Which is why I've transitioned to a mostly Paleo diet – rich in healthy proteins and fats, and limited to natural sweeteners and no-grain alternatives like almond flour.
I find that the Paleo lifestyle is pretty easy to stick to. I eat lots of eggs, chicken, meat, veggies and healthy carbs like sweet potatoes and pumpkin. Of course my spiralizer keeps things exciting with lots of zoodles (zuccchini noodles), veggie fries and cauliflower rice! I try to always think outside the box, preparing burgers with portobello mushrooms "buns", making eggrolls with an omelette, or sushi with cucumber ribbons. These original recipes can all be found in my ebook, which you can read about in more detail here.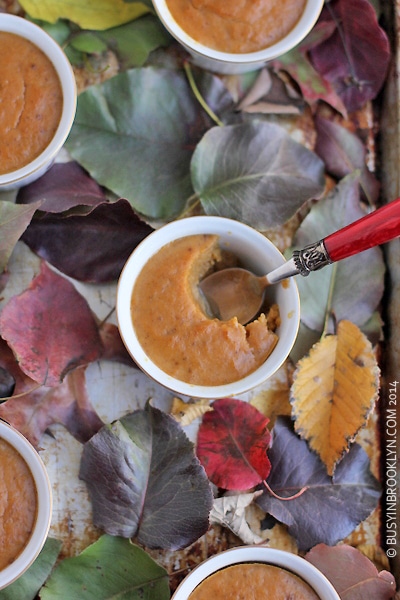 Although I've adopted a mostly Paleo lifestyle, I'm still a huge foodie who enjoys eating out, and developing fun and unique recipes for my blog. In those cases, I believe strongly in the principal "everything in moderation," so I try and give myself a break to enjoy every now and then. I still have lots of weight to lose, and I think it's time to head to the gym to get that ball rolling (literally!)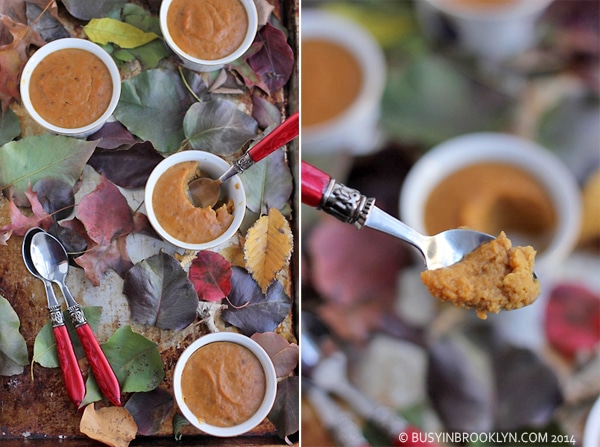 My blog is a reflection of my lifestyle, so I thought it was time to bring back some tried and true Paleo/Whole30 compliant recipes for all of my loyal Paleo followers to enjoy. This incredible pumpkin banana souffle is so ridiculously easy to make, you won't believe how good it tastes! The banana adds all the sweetness you need, so you can eat this without any guilt. I love that I can eat it warm or cold, for breakfast, dinner, or even dessert! It's nice enough to serve for company, and it's so versatile too! Top it with some bacon or sausage crumbles, eat it with some roast turkey, or spoon on some coconut whipped cream for a truly decadent treat!
Pumpkin Banana Souffle
1 15oz. can pumpkin puree (not pumpkin pie filling)
2 very ripe bananas, mashed
1 tsp pumpkin pie spice
2 eggs
1/2 cup full fat canned coconut milk (from the top of the can)
Method:
Add all the ingredients to a bowl and mix to combine. If desired, use an immersion blender to make it ultra smooth, or if you like bits of banana, you can leave it as is. Pour into a greased pie dish, or individual ramekins. Bake at 350 degrees for about 30 minutes (for ramekins) or about 45 minutes (for pie).
Paleo Variation: Add 1 tbsp maple syrup for some added sweetness and flavor.
Yield: one 9″ pie or 7 individual ramekins.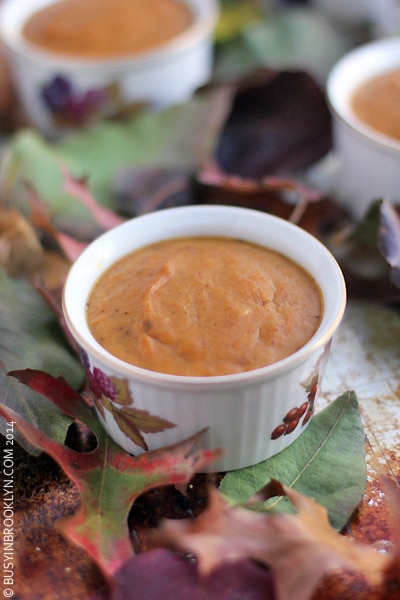 Other recipes that use pumpkin puree:
pumpkin ricotta pancakes
pumpkin pie smoothie
baked pumpkin oatmeal
pumpkin crisp
pumpkin whoopie pies