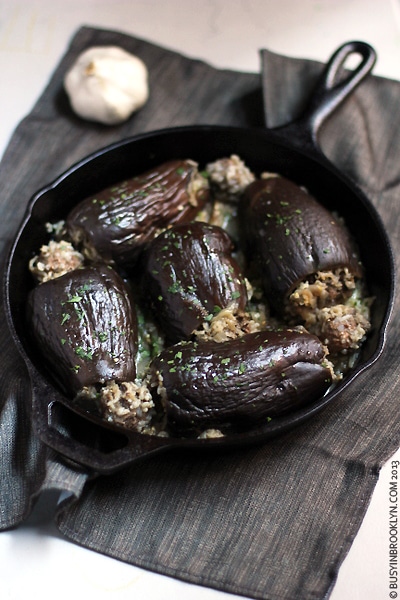 As we approach the last days of the holiday of Sukkot, I wanted to share a nontraditional "stuffed" recipe, for those looking for a change from traditional holipches/holishkes (stuffed cabbage). If you've always wondered why Hungarian style stuffed cabbage is served up on Sukkot, it's because we want to celebrate the abundance of the harvest season. Fall is when farmers harvest their wheat in Israel, and stuffing vegetables with filling symbolizes their desire for a year of overflowing harvest. Although it is customary for many to eat stuffed cabbage, any stuffed recipe is well suited to honor this custom. You can stuff grape leaves, zucchini, peppers, or even fruit for dessert!
As I mentioned in this post, I was first introduced to the idea of mechshie when I married into a sephardic family. My mother in law taught me to prepare various dishes of meat & rice filled vegetables – each with it's own unique flavor. Having grown up with these traditional Syrian dishes, my husband loves when I surprise him by making them. Although my twist on tomato & zucchini mechshie (which I've dubbed "mechshie ratatouille") is my all time favorite, this lighter stuffed eggplant version is a close second.
If you want to go the traditional route, but you're overwhelmed by the idea of making stuffed cabbage, try my Bubby's cabbage soup with flanken. It tastes just like stuffed cabbage, without all the work! You can even leave out the flanken and make mini meat & rice balls instead.
Meat & Rice Stuffed Baby Eggplants
6-8 baby eggplants
Filling:
1 1/2 lb ground meat
2/3 c rice (I prefer basmati)
1/2 cup water
1 tsp allspice
kosher salt, to taste
Sauce:
3 cups water
juice of 1 lemon
1 head garlic, peeled
2 tbsp olive oil
kosher salt, to taste
Method:
To prepare the filling, combine the meat, rice, allspice, salt and water in a bowl and mix well to combine (I like to do this by hand, using gloves). Try to handle the meat gently, don't squeeze it too much as this tends to toughen it up.
Slice the eggplants at both ends and core them using a paring knife (or a long vegetable corer, known as a ma'vdeh). Place all the pulp from the insides of the eggplants into a strainer and sprinkle generously with salt. Allow the pulp to rest for 20-30 minutes (this draws out the bitter liquid). Rinse the pulp with water to remove salt and add to the bottom of a wide saucepan.
Stuff the eggplants with the meat filling, taking care not to fill them too tightly as the rice will expand during cooking. Place them in the pot, sprinkling the garlic cloves all around. Drizzle the eggplants with olive oil, lemon juice and sprinkle with salt. Pour water into the pan, cover the pot and bring the liquid up to a boil over high heat. Lower the flame and simmer for 1-2 hours. For the last 30 minutes, uncover the pot and cook until the liquid reduces to a thick sauce.
NOTE: If you have leftover meat filling, roll it into small meatballs and place in the pot alongside the eggplant.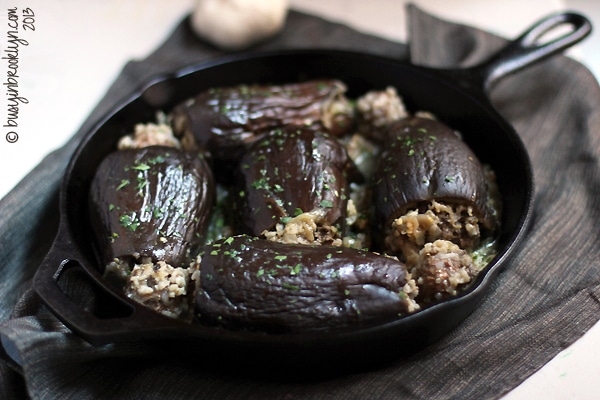 Related Recipes:
zucchini and tomato mechshie "ratatouille"
globe zucchini mechshie with tamarind and prunes