Growing up, my mom always taught me that you don't wear white after labor day. But as I grew older, I learned that there are certain types of white that are acceptable in the winter – Winter Whites. Now I can't say I ever really pulled off the trend, since I tend towards the slimming black clothes (especially in the winter!). But one thing I could do, is bring the trend into my kitchen.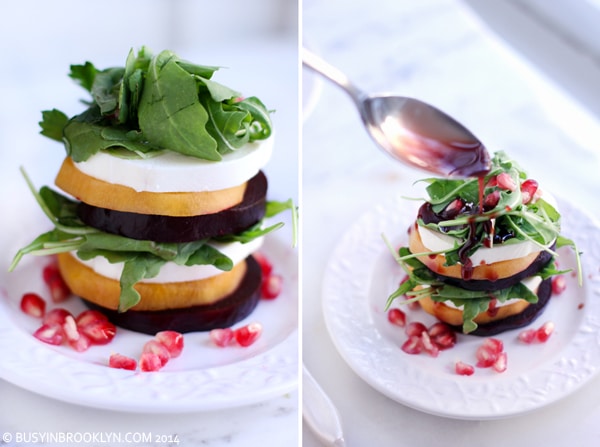 When Natural & Kosher Cheese came out with their prepackaged sliced fresh mozzarella, I was so excited to work with it! It takes all the work out of dishes like caprese salad, gourmet pizza and paninis. And while it's fresh and healthy, it doesn't have to be just for light summer dishes. Winter Whites belong in the kitchen too!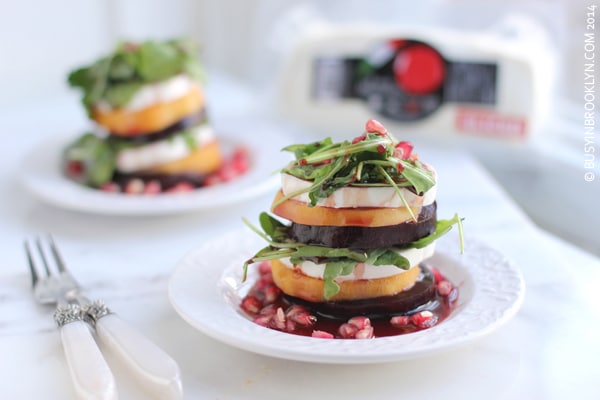 Now if you're winterizing a caprese salad, you have to do it right! You can't just use out-of-season tomatoes and basil. You've got to find the right in-season produce to complement the cheese.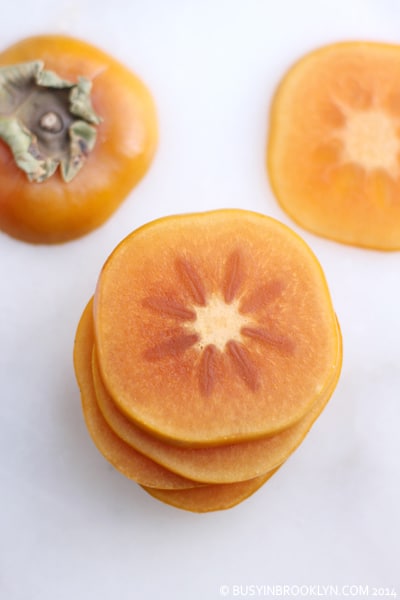 I was walking through the produce section this week thinking about what to use when I spotted my favorite winter fruit – persimmon! I've talked about my love of persimmon a lot on my blog. I'm just doing my part to get the word out about this often-overlooked fruit. They are just too delicious to pass up! Persimmon almost make the brutal New York winter worth it. Almost.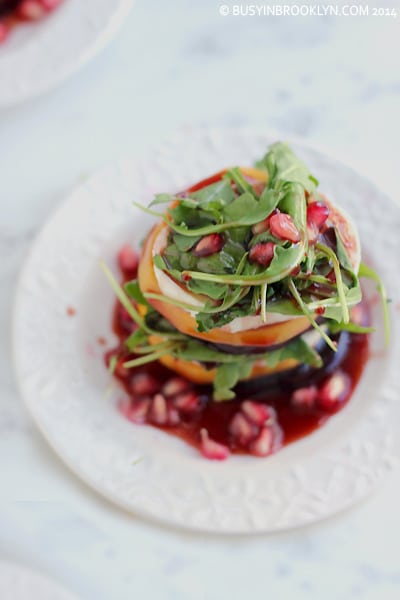 So when I spotted the fuyu persimmon (there are 2 types of persimmon, you can read about them here), it struck me just how much it resembles a tomato. They're crispy, with a sweet canteloupe and sugarcane flavor. Fruits work so wonderfully with cheese – so I decided to incorporate them into  my kitchen version of Winter Whites! I rounded out the dish with some delicous sweet roasted beets and added another seasonal fruit, pomegranates, for some crunch. Bitter arugula helps to balance out all the sweetness, and thick pomegranate molasses (inspired by Caprese's classic reduced balsamic vinegar) just seemed like the perfect finish.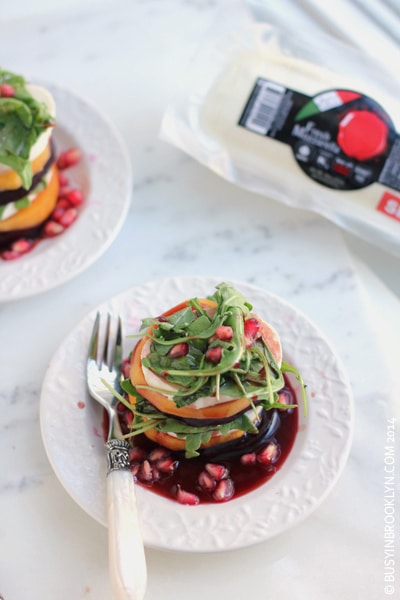 And there you have it – a stylish salad that makes a statement. That my friends – is MY VERSION of winter whites ;)
Winter Caprese Salad
1 medium purple beet
1 fuyu persimmon
4 slices Natural & Kosher Cheese fresh sliced mozzarella
2 cups loosely packed arugula
1/2 cup pomegranate seeds
pomegranate molasses
good quality olive oil
sea salt, to taste
Method:
Wash the beet well and pat dry. Wrap in foil and roast at 400 degrees until fork-tender, about 45 minutes. Set aside to cool (leave it wrapped).
Peel and slice the persimmon the same thickness as the cheese. Unwrap the beet, and remove the peel by pushing it off with your hands. It should slide off easily. Slice the beet the same thickness as the cheese and persimmon.
Layer the stacks by placing slicing of beet, persimmon and mozzarella on top of each other. Top with some arugula, and repeat. Sprinkle the stacks with pomegranate seeds and drizzle with pomegranate molasses and olive oil. Finish with a touch of sea salt.
Makes 2 caprese salad stacks.
NOTE: for the prettiest presentation, look for beets and persimmon that are roughly the same width as the sliced cheese.
VARIATION: For a large party, create a caprese salad platter instead of stacks (double the recipe if necessary). Place the arugula on the platter and layer the beets, persimmon and cheese so that they overlap all around the platter. Sprinkle with pomegranate seeds and drizzle with olive oil and pomegranate molasses. Finish with sea salt.
OFF SEASON VARIATION: If you want to make these when persimmon are not in season, you can use golden beets, mangos or canteloupe instead.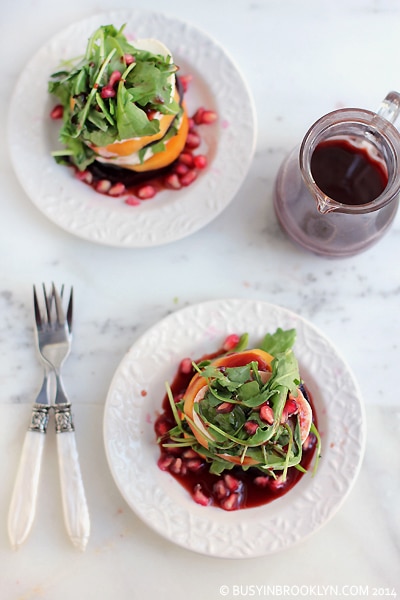 This post was sponsored by Natural & Kosher Cheese. Follow them on Facebook, Twitter, Pinterest, Instagram, YouTube, Google+, or via their Blog
Related Recipes:
passion for persimmon; salad and sorbet
persimmon coconut ice cream
persimmon guacamole
roasted beet salsa
summer tomato feta salad