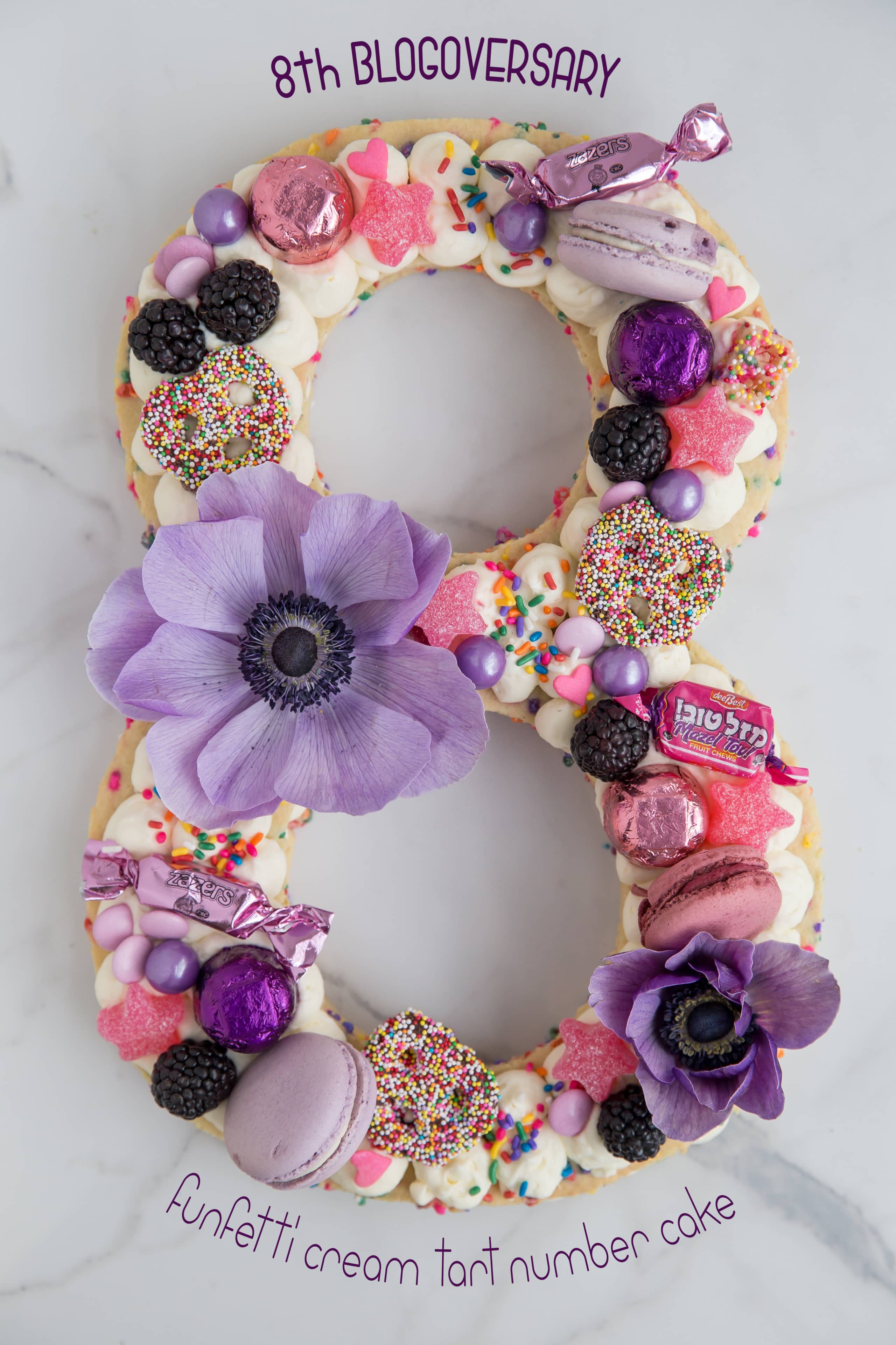 I've always held on to this self-limiting belief that I'm "not a baker". I backed it up by telling myself that baking is a science and I'm more of a creative.
I hate following the rules and I always think outside the box.
For 8 long years – yes 8! – I've been blogging here on BUSY IN BROOKLYN and sharing my love of food, family and tradition (+ some crafts!). I've always pushed myself to try new techniques, explore unique ingredients and cook up cultural dishes that I'd never tried before. But one thing always got the better of me – DOUGH. Because "I'm not a baker."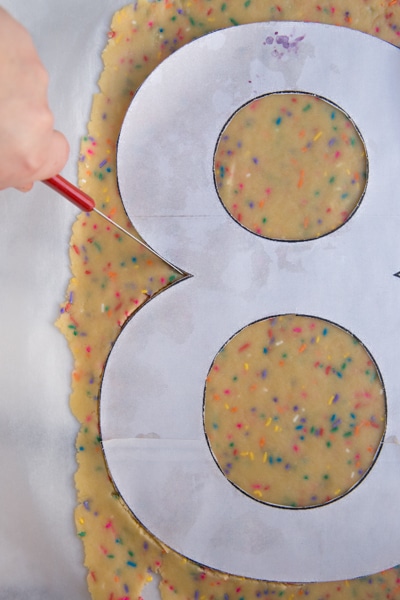 I always fell back on frozen pizza dough, puff pastry, and store-bought Artisan bread because I was afraid of anything that involved yeast. There was a short stint with sourdough, but I gave that up when more of my loaves flopped than succeeded.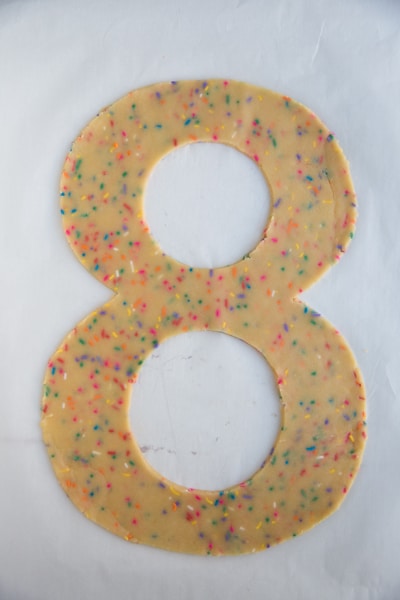 In the school of Hassidic thought, the number 8 resembles that which is above nature, and to celebrate Busy In Brooklyn's 8th Blogoversary, I decided to step outside my comfort zone and bake up something that's been both intriguing me and intimating me at the same time – the beautiful layered cream tart!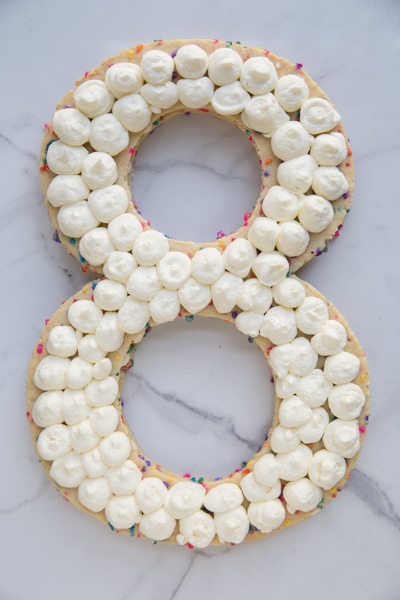 To stick with my blog anniversary theme of FUNFETTI, I designed this tiered sprinkle cookie cake in the number 8, and decorated it with colors inspired by my cookbook, Millennial Kosher! After 8 years of honing my skills in the kitchen, I am officially done with labels. I can be anything I want to be!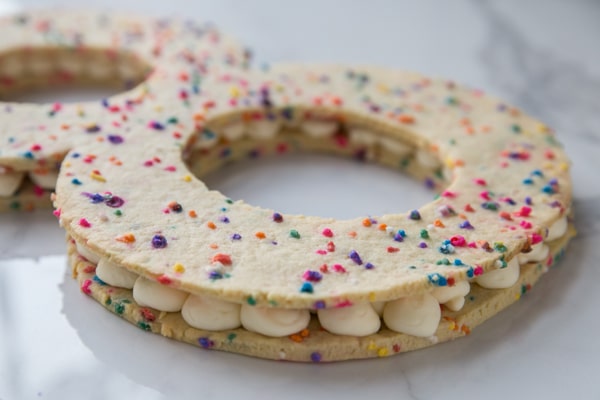 With close to a decade in the food industry, I have learned a lot of things.
How to develop and write a recipe.
How to compose, style and photograph food.
How to teach people about food in a fun way.
How to cook with color!
How to compose a dish.
How to plan a menu.
How to multiply a recipe for a large crowd.
How to network with people.
How to write a cookbook!!
and the list goes on…..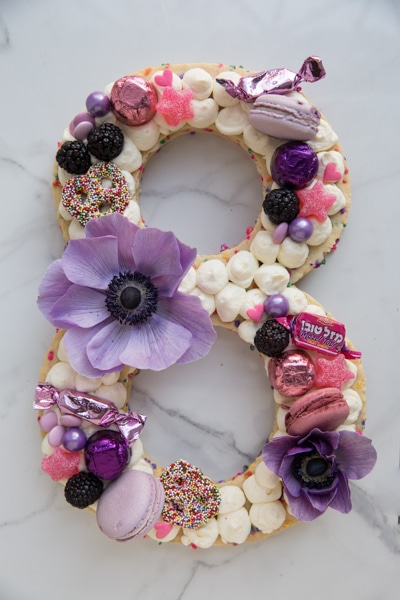 I've learned a lot of things, and I've acquired a lot of skills, but above all, I've come to realize that nothing stands in the way of good, old fashioned HARD WORK. Looking back at 8 years here on BUSY IN BROOKLYN, I can't believe that what I thought would be just a passing hobby, has turned into the most fulfilling career. That the young mom who was cooking traditional Ashkenazi food became a recipe developer with a broad palate. And that the clueless lady with a camera, became a food photographer with a pretty impressive portfolio and a cookbook to show for it. HOW DID THIS ALL HAPPEN??!!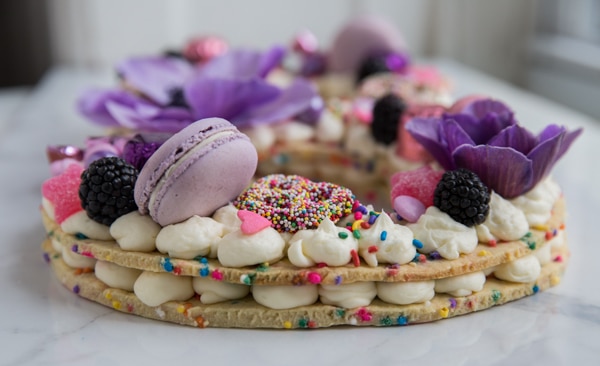 OK I'm a officially drenching my keyboard at this point, feeling so overwhelmed with emotion and gratitude. I don't know where I would be if all of YOU AMAZING PEOPLE weren't actually reading this and cooking up my recipes, and buying my book, and supporting me, and showing me so much love and appreciation and respect. How can I ever thank you?!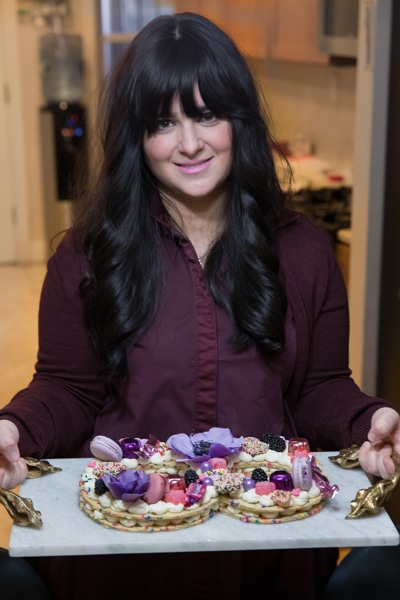 I always say that cooking is about so much more than satiating ourselves and others – it's about expressing yourself and showing love to the people who mean the most to you. I don't know how to thank you – so I will continue to do what I do best – cook – AND BAKE – for you all, because I am so grateful for this platform and it means so much to me.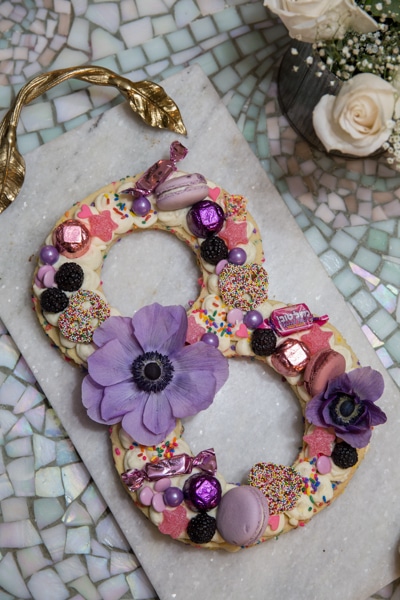 Thank you for joining me for these 8 wonderful years of cooking, crafting and coping here in Brooklyn. Looking forward to many more to come!
Funfetti Cream Tart Number Cake
recipe adapted from CookingLSL
For the cookie:
14 tbsp unsalted butter, softened
1 extra large egg
2/3 cups powdered sugar
1 tsp pure almond extract (or vanilla)
2 1/2 cups flour
3/4 cups almond meal
1/4 tsp salt
1/3 cup colorful sprinkles
For the cream cheese filling:
16 oz cream cheese, softened
1 1/3 cup powered sugar
2 cups heavy cream
3 tsp rosewater (or 2 tsp vanilla extract)
Decorations: macarons, flowers, berries, assorted candies and sprinkles.
Method:
Add the flour, almond meal and salt to a bowl, whisk to combine.
In a second bowl, use a mixer to beat the butter and powdered sugar for 2 minutes, scrape down the sides of the bowl and add the egg, vanilla and almond extract, beat to combine.
Add the dry ingredients to the wet ingredients and beat on low speed until incorporated. Add the sprinkles and mix by hand until a dough forms.
Divide the mixture in half (or in thirds, depending on how large you want the cake to be).
Preheat oven to 350 F.
Place the dough on a sheet of parchment paper, and cover with a second sheet. Roll out the dough to about 1/4″ thick and remove the top sheet of parchment paper.
Search for "number cake stencils" on Google until you find a shape that you like. Print it out on A4 paper (or tape 2 smaller papers together) and cut out the shape. Place the number stencil over the dough and trim the dough to desired shape with a small knife. Transfer to a baking sheet. Repeat the process with remaining dough to make an additional 1-2 layers (depending on how large you make the tart).
Bake for 12-15 minutes or until lightly golden. Cool completely.
While the cookies are baking, beat together the cream cheese and sugar in a bowl until creamy. Add the heavy cream and rosewater and continue to beat until thick and fluffy.
To assemble, use a Ziploc bag or a pipping bag fitted with a round tip to pipe the filling over one of the cookies. Carefully place a second cookie over the frosting, and pipe with remaining frosting. If a third cookie was prepared, repeat the process again to make a third layer.
Decorate the cake as desired using assorted candies, flowers, berries and sprinkles.
NOTES:
To make the cake nut-free, use additional flour instead of almond meal.
To make the cake pareve, use trans-fat-free margarine in the cookie and make a pareve buttercream frosting instead of the cream cheese.
The cookies and frosting may be made in advance – refrigerate the frosting and store the cookies wrapped, in a cool, dry place. Assemble the day you plan to serve it.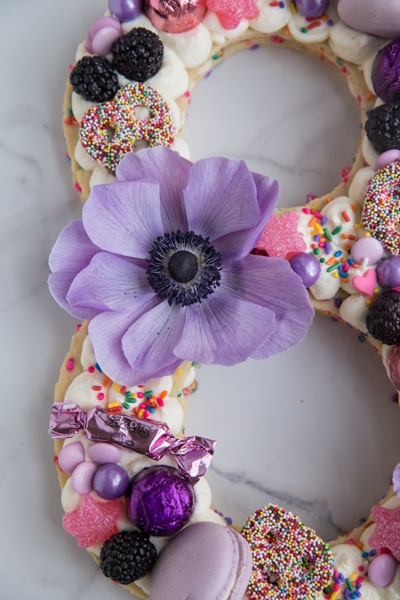 Related Posts:
7th Blogoversary} Funfetti Rice Krispie Bites
6th Blogoversary} Funfetti Raspberry Palmiers
5th Blogoversary} Funfetti Pecan Turtles
4th Blogoversary} Funfetti Cake
2nd Blogoversary} BBQ Brisket
1st Blogoversary} Mulled Wine