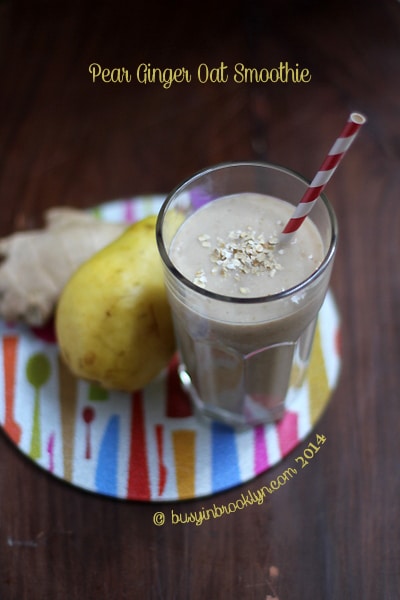 I'm always so inspired when I see people posting pics of their green detox smoothies and drinks. It makes me want to go out and buy a juicer. Today, my sister in law took me to an amazing smoothie bar on the Hollywood Beach Boardwalk. They make a mixture called Thank God Juice which includes a combination of spinach, kale, collard greens, parsley, celery, fennel and romaine. You can add Thank G-d juice to any other juice flavors, or drink it straight-up. I'm the type that needs to hide the greens in my smoothies so I added apple, beet and carrot juice.
Since I don't yet have a juicer, blended smoothies are all I can make – but they can be just as healthy and delicious! I love adding oats to my smoothies – they turn a fruity drink into an all out breakfast. Ginger adds great flavor and brightness, not to mention various health benefits.
What are some of your favorite juice or smoothie combinations? Share it with me in the comments below!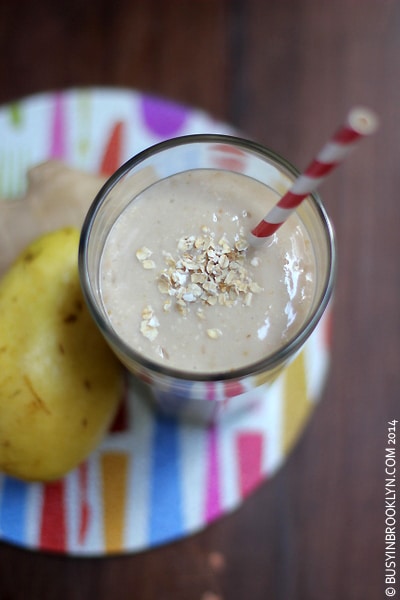 Pear Ginger & Oat Smoothie
1 ripe bartlett pear, cored
1 frozen banana
1/3 cup quick cooking oats
1 cup coconut milk
1 tbsp maple syrup
1 tsp freshly grated ginger (or, to taste)
Method:
Add all the ingredients to a blender or food processor and puree until smooth.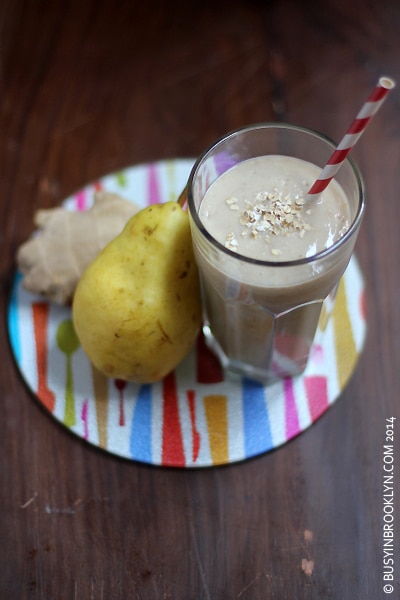 Other Smoothie Drinks:
pumpkin pie smoothie
tropical fruit smoothie
persimmon yogurt smoothie
banana, dates, milk & honey smoothie