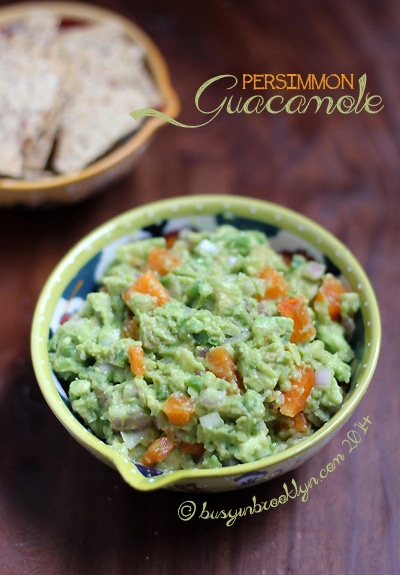 It's no secret that I'm kinda obsessed with persimmon. I gushed about it's awesomeness here and here and even made some persimmon coconut ice cream here. But as long as persimmon are in season, I'm gonna keep eating them. And if I'm eating them, I'm blogging about them. So there.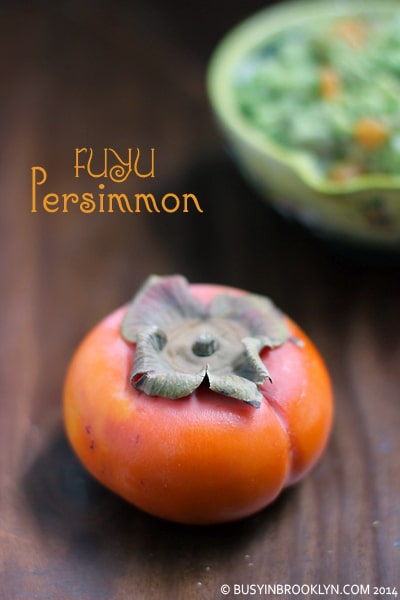 When it comes to fuyu persimmon, you can eat them straight-up. No need to wait till their uber-ripe. That's why they work so great in guacamole – it's almost like using mango, except so much more delicious!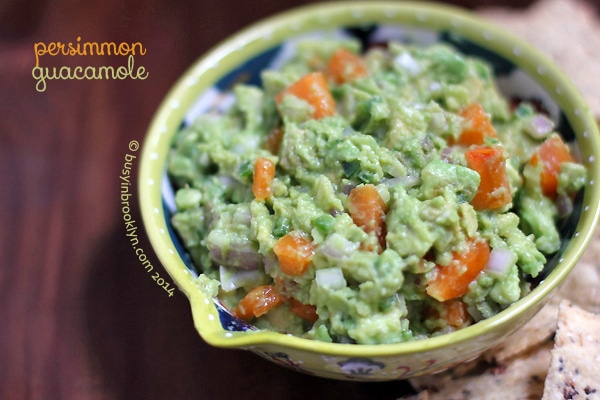 Guacamole is a great base for interesting add-ins. I love to make use of seasonal fruits and veggies and add them to creamy avocado dip. Pomegranates make an appearance in the fall, persimmon in the winter, and corn, of course, in the summer. The only classic ingredient not making it into my guacamole? cilantro. I've tried eating it, I really have. But it just tastes like soap over and over again.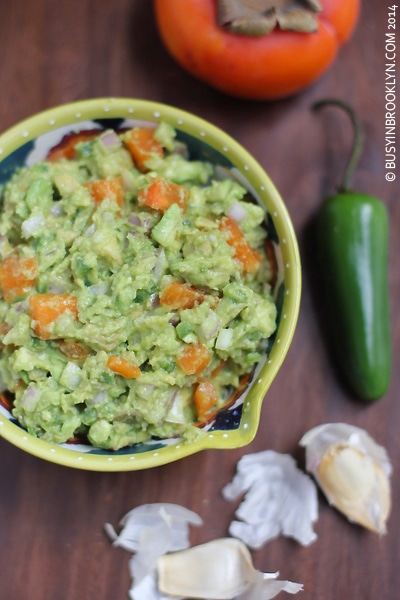 No matter how you take your guacamole – make sure to add some persimmon, they'll be gone before you know it!
Fuyu Persimmon Guacamole
2 ripe avocados
1 persimmon, peeled and diced
1/2 red onion, finely diced
1 jalapeño, seeds and veins removed, finely diced
2 cloves garlic, minced
1 tbsp extra virgin olive oil
juice of 1/2 lemon
kosher salt, to taste
1-2 tbsp cilantro, finely chopped (optional)
Method:
Peel and dice 1 avocado. Add to a bowl and mash. Peel and dice the second avocado and add to the bowl without mashing. Add remaining ingredients and mix to combine. Serve with chips.
NOTE: I'm not a fan of cilantro so I leave it out, but it is a classic accompaniment to guacamole, so if you like it, go ahead and add it in!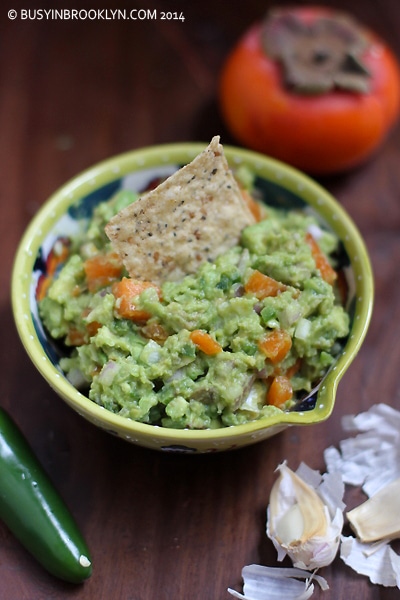 1 year ago: smoked paprika popcorn cauliflower
2 years ago: my ultimate guilt-free breakfast
3 years ago: chicken pot pie from leftover chicken soup