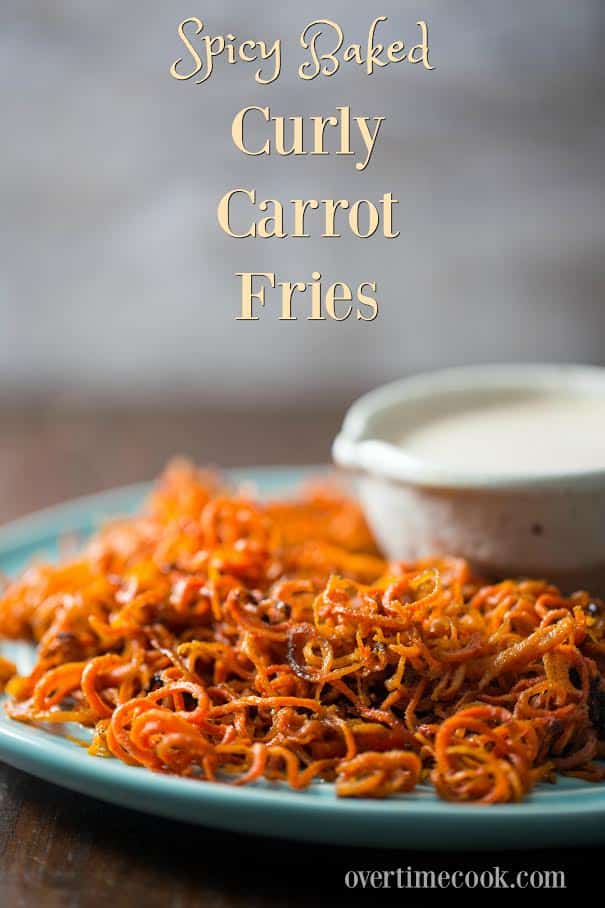 It's been such a pleasure having some of my favorite peeps guest post on my blog the past few weeks! I think the part I appreciate the most is how they all put so much thought into making something that was so ME. Amy made shakshuka which is one of my favorite foods. Sina made Paleo cookies 'cuz I'm a Paleo enthusiast who could eat cookies at every meal. Melissa made a deconstructed bakba (that went crazy viral!) 'cuz I'm all about putting my fun twist on traditional foods. And Miriam whipped out her spiralizer because as many of you know, it's my favorite kitchen gadget!
I'm sure most of you already know Miriam, the famous blogger from one of the most popular blogs out there – Overtime Cook. If you live in a far off country without internet, and you haven't yet made it to her blog [in which case, why would you be reading this? But lets not get technical here ;)], you've probably seen her amazing cookbook, Something Sweet. Whenever I'm looking for a dessert on the weekend, or a treat for my guests, that's the cookbook I go to – hands down. And whatever I make is always a winner! Besides being an awesome baker, Miriam likes to create simple healthy dishes and I'm so grateful that she's sharing one of them with you today!
Welcome Miriam!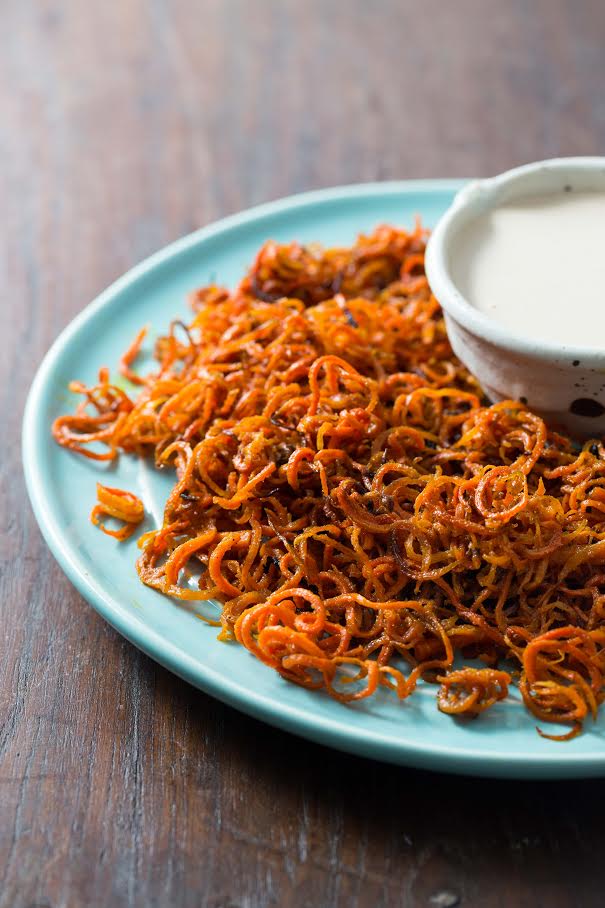 Hey Busy in Brooklyn readers! I'm so excited to be guest posting here while Chanie enjoys some special time with her gorgeous new baby! My name is Miriam Pascal, and you might know me from my blog, Overtime Cook, or from my cookbook, Something Sweet. And although my cookbook is all about desserts, I love to make simple and easy real food recipes as well, which brings me to these curly carrot fries.
When I was wracking my brains, trying to think of a good recipe to share here on Chanie's blog, I immediately thought of a recipe using a spiralizer. I think we all know how much Chanie likes to use one – right?! Well one of the great benefits of a spiralizer, aside from the ability to make zoodles and other spaghetti shaped veggies, is the ability to make super-fun curly shapes out of potatoes or veggies.
Did you grow up on those frozen curly fries? I know I did. These Curly Carrot Fries are a perfect way to enjoy that nostalgic memory without all the extra calories. They're baked, not fried, plus they're made out of carrot instead of potatoes. Oh, and did I mention the blend of savory and sweet flavors thanks to the spice mix?
I should warn you that you might want to double this recipe….or else the whole tray might get noshed on before you even get to the table!
Pssst… I don't mean to alarm anyone, but Rosh Hashanah is closer than you want to think, so put these carrots on your menu!
Spicy Roasted Carrot Fries
6 medium carrots, peeled
2 Tablespoons olive oil
1 teaspoon kosher salt
1 teaspoon garlic powder
1 teaspoon cumin
¼ teaspoon chili powder
¼ teaspoon cinnamon
Prepared tahini sauce, optional, for dipping
Method:
Preheat oven to 425. Line a baking sheet with parchment paper and set aside.
Use a spiralizer to cut carrots into curly "spaghetti" shapes and place into a bowl. Cut the leftover cores into thin strips and add to bowl. Add oil, salt, garlic, cumin, chili and cinnamon to the bowl. Toss until all carrots are fully coated.
Spread carrots over the prepared baking sheet and bake at 425 for 35-45 minutes, until the carrots are starting to brown and turn crispy. Serve hot, with tahini, if using.
Plan Ahead: These are best straight from the oven, but can be reheated just like they cooked – flat on a cookie sheet, uncovered. They're also really good served at room temperature.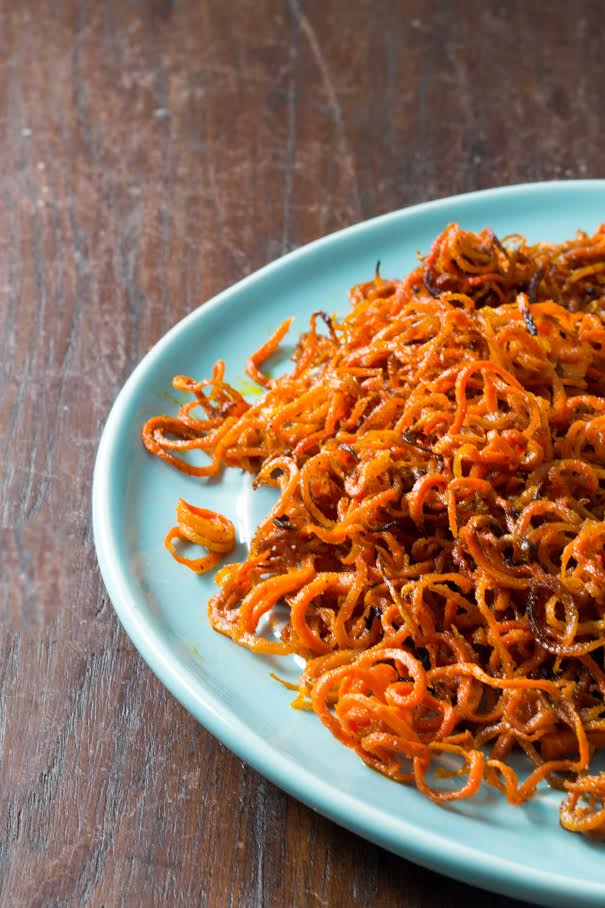 Related Recipes:
gluten free zucchini fries
butternut squash fries
veal marsala with turnip noodles
cheesy zoodle marinara