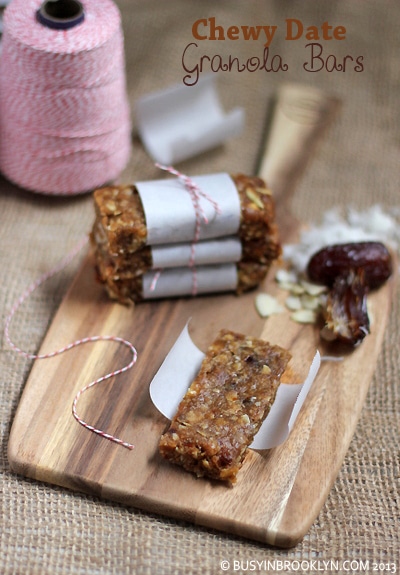 I love a good snack. One that's sweet and chewy and wrapped in bakery twine. I've wanted to develop a recipe for homemade granola bars for the longest time, but I also wanted them to be somewhat healthy. My latest infatuation with coconut oil helped me bring all the components together (quite literally) – for a sweet and tasty bite. Wrap these chewy guys up in parchment paper, and throw them in your bag for the perfect healthy snack on the go.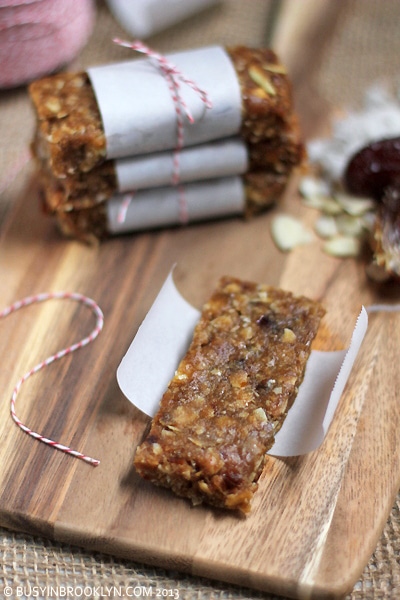 Chewy Date Granola Bars
3/4 c white whole wheat flour
3/4 c oats
1/3 c shredded coconut
1/3 c ground flaxseed
1/2 tsp salt
1 1/2 tsp pure vanilla extract
5 tbsp pure maple syrup
3/4 c brown sugar
4 tbsp solidified coconut oil
1/2 c sliced almonds
8 medjool dates, pitted and roughly chopped
Method:
Add all ingredients to a bowl and mix with your hands to form a dough. Grease an 8″x8″ baking dish with coconut oil and add the mixture, pressing down on it to condense. Bake at 350 degrees for 20 minutes, or until browned around the edges. Cool and cut into bars. For a crunchier texture, bake an additional 15-20 minutes.
VARIATION: For no-bake, raw granola bars, you may substitute 3/4 cup oat flour for the whole wheat (just add oats to the food processor and blend until flour consistency).  Toast the nuts and oats in the oven at 350 degrees and set aside to cool. Press ingredients into the baking dish and slice. No baking required.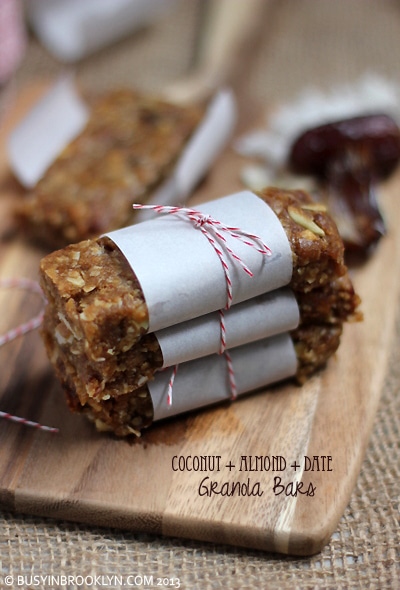 1 year ago: roasted chickpeas
2 years ago: healthy baked pumpkin oatmeal